In the future, the time will come when you need to replace your vehicle's battery. If you own a medium-sized SUV such as a Toyota RAV 4, the manufacturer's battery installed in the car will be a Group 24F model.
However, you may be surprised to find out that when it comes to replacing the battery in your car, you don't need to go like for like. You could replace it with one from another battery group. Therefore, we look at the Group 24F battery vs. Group 35 battery.
Before you go out and spend cash on replacing your current car battery with a new one, you need to be aware of certain things, all of which will help you make a more informed decision about which battery is best for your vehicle.
As well as looking at the key differences that you'll find between the Group 24F battery and the Group 35 battery. We will also look at whether it is a good idea to install a more powerful battery in your car.
Finally, we will then provide you with a few batteries that we would consider worth buying to replace the one you currently have in your vehicle.
What Is The Difference Between Group 24F and Group 35 Batteries?
The differences, as you will soon see between these two groups of batteries, are pretty minimal. So it would be best if you still were careful about which one you choose to buy.
#1 Difference: Physical Appearance
Dimensions
With these two batteries, the difference in size is relatively minute. Group 24F batteries measure 10.3 x 6.8 x 8.9, whereas the Group 35 batteries measure 9.1 x 6.9 x 8.9.
Immediately you can see that the 24F battery is that bit longer than the Group 35 battery. So if you were to buy a Group 35 battery, you might need to make some adjustments to the battery box to ensure that it cannot move around.
Weight
Although the Group 24F battery is only around an inch longer than the Group 35 battery, it weighs more. A Group 24F battery weighs around 4 lbs more than the Group 35 battery does.
Terminal Positions
The terminal arrangement for these batteries appears to be the same, meaning that the positive terminal is on the right-hand side of the battery.
If you consider replacing a Group 35 with a Group 24F, you will need to either alter the battery box already fitted in your vehicle or replace it.
#2 Difference: CCA Rating
The first actual difference between the Group 24F battery vs. Group 35 battery is the CCA rating. 24F batteries have a much higher CCA rating compared to the 3 batteries.
It is vital that when you are replacing the battery in your car, you go for one that has the same or a slightly higher CCA rating than the one in it now. It will ensure that you will not have any problems with you starting your car.
Also, think about where you live. If you live somewhere that gets cold, you need a battery with a high CCA rating. So it would be advisable to say a Group 24F battery with an 840 CCA rating. It will help ensure that the battery has enough power to help get your car's engine started.
#3 Difference: RC Rating/Ah Rating
The third difference between these two batteries is that the 24F comes with a higher RC rating. The highest rating for a Group 24F battery is 160 minutes, whereas, for a Group 35 battery, it only has an RC rating of 130 minutes.
You must be aware that both the RC rating and Ah rating on a battery are essential as part of the battery's deep cycling feature. The only difference between them is that Ah = (RC: 2) + 16.
Can You Put A More Powerful Battery In Your Car?
You can replace a Group 35 battery in your car with a Group 24F one if you want to. But before doing this, you need to look closely at the size of the battery box in which the battery will sit.
As the Group 24F battery is slightly longer than the Group 35, you may need to make alterations to the battery box to get it in. The other thing you could do is choose to replace the battery box altogether with one specifically designed for a Group 24F battery to sit in.
Only consider replacing the battery box if you intend to continue using a Group 24F battery from now on in your vehicle.
Best Group 24 Batteries
When replacing batteries in your car, you have a wide selection of different makes to choose from. So finding one that is suitable for your vehicle shouldn't prove too difficult.
But below, we look at 2 batteries that you might invest in.
NORTHSTAR Group 24F Pure Lead Battery
NORTHSTAR Group 24F Battery
NORTHSTAR NSB-AGM24F is flawless with a 5-year warranty. 160 RC will fully power the audio systems without light dimming. You get what you pay for, and that is top quality!
This battery measures 10.9 x 6.77 x 8.74 inches and weighs 58 lbs.
When it comes to getting a battery that delivers excellent reserve capacity cycling ability and an excellent RC rating, then this is the one for you. It comes with a CCA rating of 840 and an RC rating of 160 minutes.
It also has a much faster recharge facility compared to conventional batteries. Therefore, it makes it so suitable for use in SUVs, off-road vehicles, and luxury cars.
Delphi MaxStart AGM Automotive Battery
Delphi Group 24F/34R Battery
At an affordable price, you can consider buying Delphi BU9034R AGM battery. It is superior vibration resistant (20x vibration resistance) which is perfect for traveling regardless of rough terrains.
This is one of the biggest of all Group 24F batteries you can buy today as it measures 11 x 8 x 7.5 inches. Yet, for such a large-size battery, it only weighs in at 42.5 lbs. Because of the size of this battery, you may need to alter or replace your car's current battery box to put it in.
With a CCA rating of 775, it will provide the power needed to get your car started even when it's cold. Also, with an RC rating of 120 minutes, you know that this battery will provide the power necessary to run different electronic accessories in your car, whether it is heated seats or a DVD player.
Best Group 35 Batteries
Below we made a list of the top 3 best AGM Group 35 batteries based on compatibility, CCA rate, and RC rate factors.
Optima 8020-164 Group 35 Starting Battery
Optima Redtop Group 35 Battery
This AGM battery doesn't spill acid, can be installed in odd positions if need be, and also provides plenty of power to the vehicle for starting. It is sold online for around $50 less than locally. Better price on the best auto battery from Optima brand.
Are you looking for a battery that will provide you with sufficient energy to give a burst of energy when you turn your car's engine on? Then this is one you really should consider getting.
It delivers plenty of power for a battery measuring only 9.38 x 7.69 x 6.75 inches and weighing in at 31.7 lbs. It is a battery that will even help to get your car started when the weather is terrible. This is because it comes with a CCA rating of 720. However, essential to note it only comes with an RC rating of 90 minutes.
Deka Intimidator Group 35 Battery
Deka Intimidator Group 35 Battery
An American-made battery with good quick cranking power at 640 CCA. It fits vehicles with a battery group size of 35/85: Ford, Mazda, Nissan, and Toyota, SUV's, trucks, and vans.
As with other Group 34 batteries, this one measures in at 9.563 x 6.75 x 7.75 inches and weighs 41 lbs. So does not differ much from the previous Group 35 battery we have discussed.
However, two things may get you to buy this battery over other batteries in this group. The first comes with a 640 CCA rating, and the second comes with an RC rating of 100 minutes.
This is a highly efficient battery that will meet your vehicle's power needs. It is suitable for all kinds of vehicles, including SUVs.
Optima 8040-218 Group 35 Dual Purpose Battery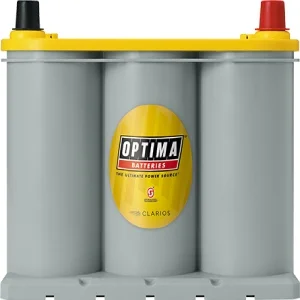 Optima Yellowtop Group 35 Battery
This Optima is the primary killer of a battery. It is tough and resists vibration, helps car cranks nice and strong every time even if it sits for a week or two. Another bonus is that this is the cheapest place comparing to online shops or even in any of the closest auto stores.
Not only does it come with excellent cranking power but great recharging ability. It is the perfect Group 35 battery for you to put into your vehicle. It comes with lower internal resistance so that it can provide power to your car more consistently. Plus, you'll find it recharges a lot quicker than some other batteries.
This battery measures 9.5/16 x 6.13/16 x 7.5/8 inches and weighs only 36.4 pounds. It comes with a CCA rating of 775 and an RC rating of 100 minutes. So will provide your vehicle with exactly what it needs.
Hopefully, this article has helped you understand the differences better when looking at Group 24F vs. Group 35 battery.