NOCO's extremely successful GB series of boost batteries are very well-known and respected products. The GB series has been around for a while now, but NOCO is not resting on its laurels, and in June 2021, they launched the new, more powerful GBX versions.
Featuring increased power outputs and added features, we wanted to bring you all the details and compare the new GBX series to the older GB series.
What Is The Difference Between Noco GB vs. GBX?
Several changes have been made to improve the GBX series of battery boosters over the old GB series, and we discuss the main ones here.
Higher output amps with GBX series
The maximum current output of the GBX range has been increased across all models compared to the equivalent GB series model.
For example, GBX45 has 1250 peak amps, but GB40 can supply only 1000A. The largest GBX jump starter – GBX155 has a maximum output of 4250A, whereas the GB150 can supply 4250A.
A higher maximum amp rating gives two distinct advantages. First, the booster will be able to crank larger engines, and second, it will also be able to crank the engine more times before it needs charging.
See Noco GBX45, Noco GB40 for sale:
Noco GBX45 1250A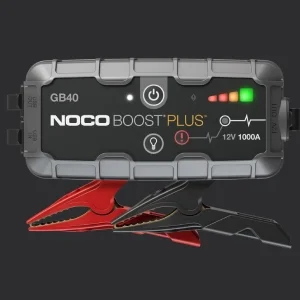 Noco GB40 1000A
USB-C with fast charging function on all GBX models
All the GB models offered USB connectors, but the improved specification of the GBX versions gives you a USB-C connection on all models. The Type C USB is the latest version that offers fast charging on all GBX boosters. On the older GB series, only the GB70 or higher specification models offered fast charging.
A Type C USB also gives you a 60W output, providing enough power to run laptops, tablets, and cell phones. Output power from the older GB series was only 2.1 amps from the USB port or 15 amps via the XGC port on the GB70 and larger models.
Buy Noco GB70, Noco GBX75 here:
Noco GB70 2000A
Noco GBX75 2500A
4 additional indicator LEDs on Noco GBX boosters
For additional safety and improved diagnostics, NOCO has added four extra warning LEDs to the GBX series. With the GB series, the type and number of warning LEDs varied between models. These have now been standardized across the whole of the GBX versions.
Reverse Polarity LED: This warning LED tells you that you have connected the cables back to front. The boost will not work until you correct this error.
Hot Indicator: If the booster has overheated, this LED will illuminate, and the boost function will be inoperative. Move the booster out of the direct sun and to somewhere cool if possible.
Cold Indicator: Illuminated if the internal temperature of the booster is too low.
Fast Charge LED: Indicates when fast charging is active and displays red if an error is detected.
Automatic timeout – New feature on all GBX models
NOCO has introduced a 60-second timeout feature on all the GBX models. This is designed as a power-saving feature, giving you 60 seconds to start your vehicle.
After this time, the boost power is switched off, and you must power the unit off and back on again to reset the timer for another 60 seconds.
See the Noco GBX jump starter with the new interface & advanced features here:
Noco GBX45
Noco GBX55
Noco GBX75
RELATED: Noco GB20 Vs. Noco GB40 Vs. Noco GB50: Honest Review and Comparison
Noco GBX45 vs. GBX55 vs. GBX75: What Are The Similarities?
Overall design
Anyone that has used a GB series booster will instantly recognize the GBX as a NOCO product. The company has stuck firmly to the same overall design.
Basic functions
Error LED: It is illuminated when there is an issue with the booster or the connection to your battery.
Charge LED: Graded LEDs, from red to green, indicate the charge level of your booster.
Boost LED: Switched on when the battery boost function is active. If you select the protection override function, the boost LED will flash to warn you.
Manual Override Mode: The manual override feature allows you to disable the safety features of a NOCO booster if it fails to detect your battery. This commonly occurs when the battery voltage is too low.
Additional advanced functions
The all-new GBX models have acquired some great new advanced features compared to the GB range. These include four more warning LEDs for Reverse Polarity, Hot Indicator, Cold Indicator, and Fast Charge function.
In/out ports
The GB and GBX series boosters offer standard USB connectors, but all the GBX models now come standard with a USB-C port. This is a significant upgrade, allowing fast charging of the internal battery and the ability to power larger external devices like a laptop from the booster.
Automatic timeout
To preserve the internal battery charge for as long as possible, NOCO has added the auto timeout feature. When you power on the booster, you have 60 seconds to start your vehicle. After this time, the power output is disconnected. To reset the timer, switch the booster off and on.
Noco GBX45 vs. GBX55 vs. GBX75: What Are The Key Differences?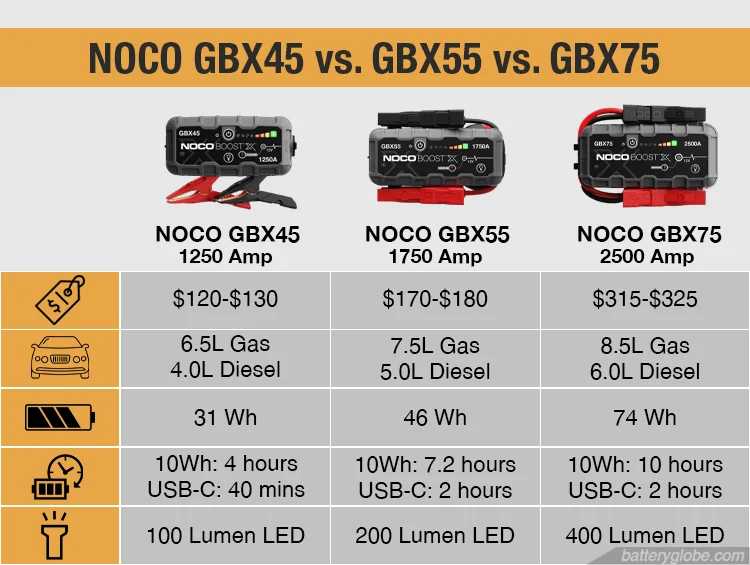 GBX45 battery booster: Best choice if you are on a budget
Noco GBX45
Supported Vehicles Models: The GBX45 is the smallest model in the range but packs a punch nonetheless. The peak current is 1250 amps, suitable for cranking engines up to 6.5-liter gas or 4.0-liter diesel. For most buyers, this will be enough.
Internal battery: The internal battery is a 31 Wh Lithium-Ion cell, with plenty of power to operate various electronic devices, from laptops to cell phones.
Connection Ports: Using a standard ten-watt USB connector, you can recharge the battery in around four hours. The battery can be fast-charged in approximately 40 minutes using the USB-C port, but a fast charger is not supplied and must be bought separately.
LED: On one end of the case is an LED light, providing 100 lumens to help you safely connect the booster at night or in dark recesses.
Pros
The cheapest version
Suitable for most applications
Spark proof technology
Cons
The cheapest version
Suitable for most applications
Recommendation
The GBX45 will suit many buyers, despite being the smallest on offer, as it can start the vast majority of family cars.
GBX55 battery booster: Best choice for mid to large-engine vehicles
Noco GBX55
Supported Vehicles Models: The GBX55 adds an extra 500 amps of cranking power than the GBX45, taking peak output to 1750A. With the extra power, the GBX55 is recommended for gas engines up to 7.5 liter and diesel engines up to 5.0 liter.
Internal battery & Connection Ports: Inside this model is a 46 Wh Lithium-Ion battery, which makes light work of starting your vehicle when you most need it.
Even if your NOCO GBX55 has a flat battery, just 5 minutes charging using the fast-charger port, and it will have enough power to turn your engine over. The internal battery can be fully charged in just two hours using the fast charger port.
LED: A useful 200 lumen LED light is built-in to this model, providing plenty of light if you break down in the dark.
Pros
Suitable for large engined vehicles
200 lumen LED light
Value for money
Recommendation
The GBX55 offers an extra power boost over the smaller GBX45 and is recommended for anyone with slightly larger engines.
GBX75 battery booster: Best jump starter for large engine vehicles
Noco GBX75
Supported Vehicles Models: For anyone that needs real starting power for large engines, the GBX75 could be the answer. Providing 2500 peak amps, it can start gas engines of up to 8.5 liter and diesel engines up to 6.0 liter.
Internal battery & Connection Ports: A powerful 74 Wh Lithium-Ion battery gives you the power to start large engines and easily power a whole range of electronic devices.
A bonus over the smaller versions is that NOCO supply a 12 volt to USB-C fast charger cable with the GBX75. Using this cable, you can recharge the internal battery in under two hours.
LED: On one end of the case is a more powerful 400 lumen LED light giving plenty of illumination to safely connect the starter to your dead battery in the dark.
Pros
Fast charger included
2500 amps peak current
Cons
2 times more expensive than GBX45
Recommendation
While not the most powerful model, the GBX offers serious peak current output and is recommended for any owners of large engined vehicles.
RELATED: Best Jump Starter For Diesel Engines Review 2022 [with Buying Guide]
FAQs
Can GB be used for commercial purposes?
NOCO does not recommend the GBX for commercial use because the higher amperage output means the booster will require more frequent charging.
Where can I buy a 60-watt charger adapter for Noco boost X GBX models?
USB-C type charger adaptors are readily available from electrical stores and online retailers such as Amazon.
Buy 60W USB-C chargers here:
Anker 60W USB C Fast Charger
Nekteck 60W USB C Fast Charger
Is there a storage case for the GBX model?
NOCO has not released storage boxes for the GBX series yet, but some models may fit the equivalent GB series boxes. Check the size before purchasing. All models are supplied with a cloth storage bag.
You can buy a Noco GBC013 case on Amazon. It's a case for GB40 but it fits GBX45 perfectly as well. With around $17, it's worth the investment to easily hold and protect all of the included components.
Protection Case For GB40/GBX45
How many times can GBX jump before recharging?
Each model offers a different battery capacity and output amps, so the number of starts will vary. This is also affected by the size of the engine you are starting, the outside temperature, and other factors. NOCO no longer states the number of starts for each model.