Obviously, it is important to make sure you buy the right battery for any vehicle you own, whether or not it has a diesel engine.
However, there are special considerations for diesel engines that do not apply to gas engines, as well as unique requirements for diesel trucks as opposed to diesel cars. 
AT A GLANCE: 3 BEST BATTERIES FOR DIESEL TRUCK
| | XS Power D6500 | ODYSSEY 31-PC2150S | Optima Yellowtop DH6 |
| --- | --- | --- | --- |
| Price | | | |
| Group size | Group 65 | Group 31 | Group 48 (H6) |
| CCA rating | 850 | 1150 | 800 |
| Battery Capacity | 86Ah | 100Ah | 72Ah |
| Weight | 53.8 pounds | 77.8 pounds | 54 pounds |
| Our Recommendation | Best group 65 battery for starting in cold weather | Best group 31 battery for heavy-duty | Best price for group 48 battery for diesel truck |
| Score | 9.5 | 9 | 8.5 |
| | | | |
4 Important Things Need To Notice When Buying A Battery For Diesel Truck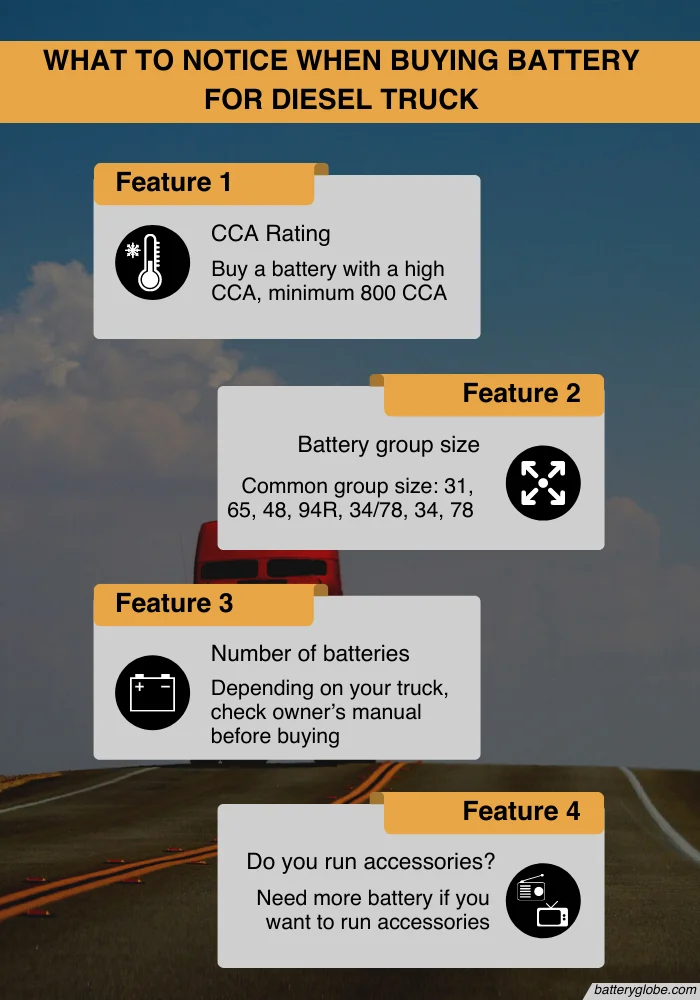 CCA rating
CCA stands for Cold Cranking Amps. It refers to how many amps can be continuously supplied by a 12-volt battery for up to 30 seconds when the temperature outside is 0 degrees Fahrenheit. Additionally, the battery has to do this while maintaining 7.2 volts.
That's the technical definition. In simpler terms, the higher the CCA rating, the better the starting capacity of a battery. 
Why is this important for diesel trucks? A diesel engine needs more power to start than a gas one. 
In a gas engine, spark plugs create, literally, the spark that ignites the air/fuel mixture in the combustion chambers. Diesel engines, on the other hand, use compression to ignite the air/fuel mixture. 
To accomplish this when starting the vehicle, diesel engines rely on something called glow plugs to provide sufficient heat for successful compression. 
While gasoline engines continuously use spark plugs after the engine is started, diesel engines only have to rely on glow plugs during a cold start. Heating the glow plugs demands a lot of energy, so diesel engines require more power to start than gasoline ones. 
This greater energy requirement is true in any type of weather but becomes even more important during colder months. 
Knowing this, you want to buy a battery with a high CCA rating. Go with one that at least meets the CCA rating of the OEM battery, but ideally, you would get one that exceeds it. You can usually find this specification written somewhere on the battery itself. 
For most climates within the continental U.S., you want a minimum 800 CCA battery. However, this varies based on your truck, the environment, and any accessories you use while driving. 
Recommended CCA rating table for popular diesel trucks
This table shows some recommended CCA ratings for popular diesel trucks.
| No | Diesel truck | CCA Rating |
| --- | --- | --- |
| 1 | Ford F250 | 850 CCA |
| 2 | Chevy Silverado | 850 CCA |
| 3 | Chevy Colorado | 900 CCA |
| 4 | Nissan Titan XD | 750 CCA |
| 5 | Dodge Ram 1500 | 730 CCA |
| 6 | Dodge Ram 2500 | 850 CCA |
Recommended CCA rating table for popular diesel trucks
Buy batteries with the highest CCA rating on market here:
ODYSSEY 1150 CCA
XS Power 850 CCA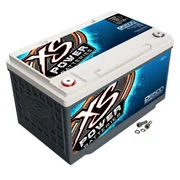 ACDelco Gold 850 CCA
Number of batteries and battery group size
As already discussed, diesel trucks use a lot of energy. This usually means they also need large batteries, as well as more than one battery, to function.
Of course, this varies from truck to truck, so we cannot give a rule for how many batteries are needed or the correct size. However, we can guide you in figuring out what size and number you need. 
Battery group size
Battery group sizes 31, 65, 48(H6), 94R(H7), 34/78, 34, 78 are common battery group sizes for diesel trucks.
| | | | | | | |
| --- | --- | --- | --- | --- | --- | --- |
| BCI Group Number | L(inches) | W(inches) | H(inches) | L(mm) | W(mm) | H(mm) |
| 31 | 13 | 6.8 | 9.4 | 330 | 173 | 240 |
| 65 | 12.1 | 7.5 | 7.6 | 306 | 192 | 192 |
| 48(H6) | 12.1 | 6.9 | 7.6 | 278 | 175 | 190 |
| 94R(H7) | 12.4 | 6.9 | 7.5 | 315 | 175 | 190 |
| 34/78 | 10.3 | 6.8 | 7.9 | 260 | 173 | 200 |
| 34 | 10.3 | 6.8 | 7.9 | 260 | 173 | 200 |
| 78 | 10.3 | 7.3 | 7.1 | 260 | 180 | 186 |
Dimensions of common battery group sizes for truck
However, to make sure that you choose the right battery group size for your truck, you can try three different methods below:
Check your owner's manual for information about battery group size. If you don't have a physical copy of the manual, you can usually go online and search for the owner's manual for the make, model, and year of your truck.
Check your old battery's label to find the group size. This can usually be located on the top or side of the battery. 
If neither of the above methods work, you can measure the battery box to find the correct battery group size. Measure the length, width, and height of the battery and take note of this. You can use a site such as this one to match your measurement with the proper group size: Maximum Outside Dimension Chart for Automotive Batteries (raybuck.com).
Number of battery
Before you go to replace the battery for your diesel truck, you need to check how many batteries are actually under the hood. This information can also often be found in your truck owner's manual.
A diesel truck often needs at least two batteries, but some have 3, 4, or even 6 batteries (often for heavy-duty trucks)! As noted above, the reason diesel trucks have more batteries than gasoline trucks or even diesel cars is that they require more power to start the truck successfully.
As an example, some diesel truck owners' have discussed how many batteries they use for their trucks. A 7L Diesel engine often requires 2 batteries (For example, Ford F250, Ford F350), and a 14-15L Diesel engine often requires 4 batteries (For example, Freightliner Cascadia).
Do you run accessories?
While the CCA rating is important, another rating is also worth paying attention to. This is known as the AH rating.
The Ah rating tells us how many amps the battery can provide over 20 hours of use before voltage drops.
With diesel trucks demanding a lot of power, you want a high ah rating to ensure your truck runs well even when also using accessories such as air conditioning, radio, etc. 
Remember that if you plan on adding more electrical equipment than came with your truck, you might increase the overall power requirements. For example, an aftermarket stereo system might draw more power than the factory system. 
Most diesel owners in the UK have two batteries, but he uses 4 to power air conditioning and heating when the truck is parked but running. The extra batteries he uses are deep cycle marine batteries. 

Geoff Young – Quora
In other words, be sure to take your personal situation into consideration. If you are running a lot of equipment, you might need more batteries than the truck came with from the factory.
See battery with a high Ah rating for sale here:
ODYSSEY Group 31 100Ah
XS Power Group 65 86Ah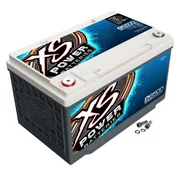 Best Diesel Truck Batteries For Cold Weather
ODYSSEY 1150 CCA Group 31
ODYSSEY 31-PC2150S Group 31
The Odyssey 31-PC2150S is a heavy-duty, well-constructed battery that can handle the toughest of demands.
ODYSSEY 31-PC2150S is a premium battery featuring a non-spillable AGM design and a high CCA rating of 1,150 amps. It uses a lead plate design for greatly increased power and lifespan when compared to other batteries. It also has a convenient rectangular shape. 
You can be confident this battery will work well for your diesel truck, as it's rated to be used on heavy-duty equipment like tractors. Heavy-duty equipment has to perform under demanding loads consistently, which will be more than enough for your truck. 
In fact, the NOAA, which is the scientific organization responsible for weather monitoring and forecasting, uses these batteries instead of the recommended batteries because they work better. Their batteries are exposed to the elements, anywhere from the dry desert to the Northern Montana climate. 
In other words, if the batteries are good enough for powering official scientific instruments, they are definitely good enough to power your truck! 
A possible downside, however, is that Odyssey's customer support may be hard to reach in the event you have an issue. Luckily though, their products are reliable. 
Being such a rugged battery, expect them to be heavy, too. One of these batteries weighs a little more than 70 pounds. 
Overall, this is a great choice for your diesel truck if you need a powerful battery (or set of batteries), whether that is due to living in a cold climate or simply running a lot of accessories.
Customer's feedback
I have 3 Odyssey PC2150S AGM batteries and they work great, I highly recommend them

Salty G – The Hull Truth
I got one of the 2150 and it has been truble free, by far the best battery i have ever used. The reserve is amazing. I left the fan on overnight and the thing still started up. If you can aford it i would requment it

Scott 9835 – Defender Source
Pros
Comes with a high CCA rating
Rugged construction
High-performance battery, can last all-day
Long-lasting lifespan
Cons
Customer service can be hard to reach
ODYSSEY 31-PC2150S Group 31
XS Power D6500 Group 65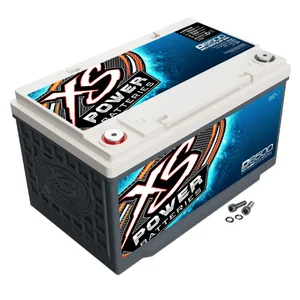 XS Power D6500 Group 65
The XS Power D6500 battery is constructed with a unique non-spillable AGM design that makes them safer and more long-lasting than other batteries on the market.
XS Power D6500 is intended to be used for racing applications, but even if you have no intentions to race your truck or go fast, this is a good battery choice. A battery that has been engineered for racing is built to withstand being pushed to the limits in dynamic environments. 
The battery features a high CCA of 850 amps and has zero external vents. The lack of external vents is a big benefit because you can mount the battery pretty much anywhere without worrying about possible damage. 
Plenty of people has used these batteries to successfully power their upgraded sound systems. However, do double-check the battery condition upon shipping to ensure they are sealed/not leaking. 
This is another good choice for cold weather environments because you get a super powerful battery that will stand up to the task of starting up your diesel truck even when it's super cold outside. 
Customer's feedback
Just saying but the D6500 and this battery have the same amount of Amp Hours. Of course the D6500 is the better battery, but they are close in ratings and a big diff in price. why dont you just a 2nd batt in back by the amp to help instead of just running 1 batts?

bgowdy – Car Audio
The D6500 has a lot more capacity and produces a lot more instantaneous power, which is what you need for mobile audio and starting power. One of the smallest XS Power batteries (D375) started a 12V diesel truck 15 times in a row before we had to stop, because the starter was getting hot.

The D6500 is more expensive than the average battery.

XS_Power – Titan Talk
Pros
Has a ton of power
Spill-proof
Easy to install
A high available amperage output has stopped headlights from dimming
Cons
Have been known to arrive damaged occasionally
Not fit in the battery holder of some vehicle types
XS Power D6500 Group 65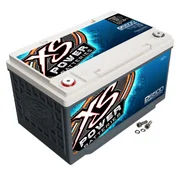 Optima Yellowtop DH6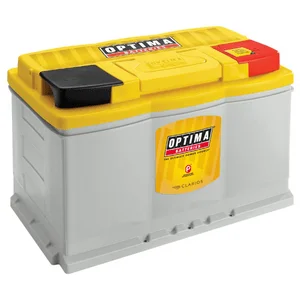 Optima Yellowtop DH6 Group H6
With 800 CCA, a cool yellow color and unique shape, and a design meant to ensure your vehicle start on even the coldest mornings. The Optima Yellow Top DH6 is an excellent choice for diesel trucks.
Optima Yellowtop DH6 is guaranteed to provide a start even if the weather is bad, giving you the confidence you need when you go out to your truck for that first start of the day. 
Plus, Optima has been around for over 40 years. They are one of the most trusted names in the battery industry. When you buy an Optima battery, you know you are going to get high quality. 
One drawback is that it is vehicle specific, so you need to make sure the battery is compatible with your truck's make, model, and year. 
Like the other batteries mentioned already, this one is a spill-proof AGM design. You can mount it almost anywhere it will fit, too. 
While this battery has less overall power than the above two options, it still features a healthy amount of power. Moreover, you get the reliability and quality that comes with the Optima brand. 
Customer's feedback
Jay Leno uses Optima batteries in all his cars. He says you don't have to worry about fluids leaking out..

Ron_Attleboro_MA – Corvette Forum
I have 2 Optima yellow tops with my Genesis Offroad Dual Battery kit and love it.

gfe jeep – JK Forum
Used Optima in my hot rod truck is the past. When I went to the local battery shop asking about an Optima a few years back, found out that they are no longer made here in the USA, but in Mexico. That makes me question about the quality control of the battery.

LanceVette – Corvette Forum
Pros
Top brand
Can be mounted anywhere
Fast start, plenty of power
Built-in handle
Cons
Vehicle specific
Have the recessed terminals, it is often difficult to wire
Optima Yellowtop DH6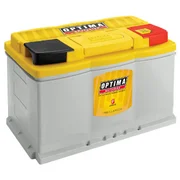 Best Price For Diesel Truck Batteries
ACDelco 850 CCA Group 94R
ACDelco Gold Group 94R
The ACDelco 850 CCA is a good choice for the more budget-conscious diesel truck drivers who want a good battery without breaking the bank.
Coming in at a little over $160 is the ACDelco Gold 94RAGM battery, featuring 850 CCA, corrosion resistance, and a spill proof AGM design.
ACDelco is a well-known and respected brand in the automotive world, as well, so you can be confident that even buying their lower-priced options still guarantees good quality. 
Both truck and SUV drivers have used this ACDelco battery without fail. It is powerful enough to meet the high demands of diesel trucks for starting and running accessories. 
Some buyers have reported that while the product description might say "does not fit your vehicle," the battery might still fit. Be sure to check your group size; if you have a 94R group size, then this battery will most likely fit in your engine bay. 
This is a good option to upgrade your diesel truck's stock battery (or batteries) affordably while still increasing the power, durability, and performance.
Pros
Affordable
Powerful battery, with 850 CCA
Has the twin handles design 
Exact dimensions, with good capacity
Cons
It might not be as long-lasting as other options
ACDelco Gold Group 94R
Optima Redtop Group 34/78
Optima Redtop Group 34/78
The Optima Redtop battery is a spill-proof AGM battery with a unique red color, 800 CCA, and the power to start even in cold weather.
We mentioned the Yellowtop from Optima above, and the Redtop is the less powerful version of the Yellowtop. Optima recommends the Redtop for diesel trucks and other vehicles without aftermarket electronics. 
In other words, if you need a battery that is affordable and can handle the needs of your diesel truck but has not added accessories/drive a stock truck, the Redtop is a good choice. 
The Redtop, however, does not come with a warranty when purchased from Amazon. Keep this in mind if having a warranty or guarantee from Optima is important to you. 
Some users have also reported their Redtop batteries dying after only one year of use. Be sure not to overload the battery. If you have aftermarket electronics, it would be better to go with the higher-priced and more powerful Yellowtop than the Redtop. 
Ultimately, this battery comes in at a little over $260, has good power, and can handle the demands of stock diesel trucks. However, you might want to choose another option if you have add-ons that increase the power demand on your battery.  
Pros
Long lifespan, can last 8-9 years
Trusted battery brand
Cons
No warranty if bought from Amazon
Optima Redtop Group 34/78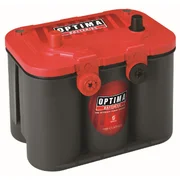 Conclusion
In sum, if you live in a cold climate and want to have the most reliable starting power for your diesel truck, we recommend you go with the Odyssey 31-PC2150S. It is reliable, durable, and very powerful. 
If affordability is of utmost importance, choose the ACDelco Gold 94RAGM. It is fairly cheap (when talking about batteries) yet has good power and a spill-proof AGM design. In other words, you get a lot of battery for not a lot of money.
Odyssey 31-PC2150S Group 31
ACDelco Gold Group 94R
RELATED: Top 6 Power Inverters For Truck Review 2022 [with Buying Guide]