A flat battery on your car is a genuine inconvenience, but a jump starter can save the situation. The problem is, there are so many to choose from on the market.
But we are here to help, comparing two top products from well-known manufacturers, NOCO and Stanley. We'll compare the features one by one to see the differences and decide on the best product for you.
Noco GB40 vs. Stanley J5C09: Comparison Table

Noco GB40


STANLEY J5C09

Customer Rating

Price
Size (inches)
6.57 x 3.15 x 7.72
1.25 x 8 x 13.5
Weight (pounds)
2.4
17.2
Peak Amps
1000
1000
Jump Starts Per Charge
Up to 20
4
Charging Time
3 hours – auto cutoff
6 hours – auto cutoff
USB Port
✔
✔
On / Off Safety Switch
✔
✔
Reverse Polarity Alarm
✔
✔
12V Port
--
✔
Compressor
--
✔
Flash light/ LED light
100 lumen LED
270 deg rotating LED
Warranty
1 year
1 year
Pros
+ Small size, lightweight
+ Perform 20 times per charge
+ DC & USB charging plugs
+ Powerful compressor
+ Accurate pressure gauge

Cons
- No 12V port
- Bulky size
- Need to be recharged regularly
Score
9.5
8.5
Key Things Noco GB40 & Stanley J5C09 Have In Common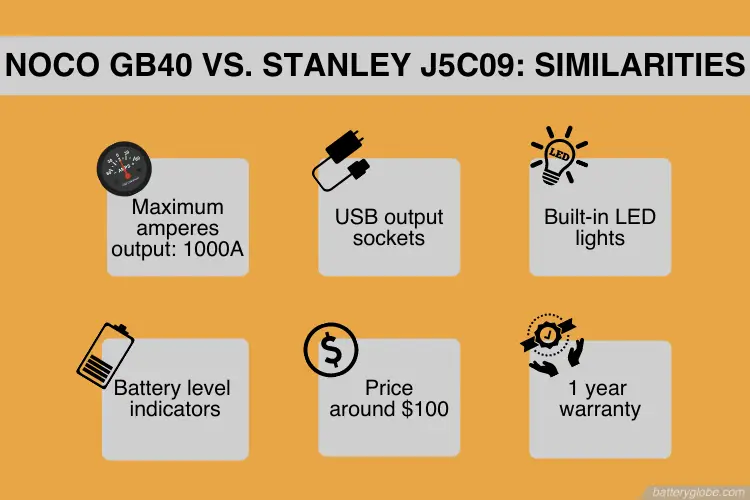 Both the NOCO and Stanley aim to achieve the same thing – getting your car running and you back on the road. For this reason, they share several similarities that we will look at first:
Maximum amperes output: Both jump starters can provide a maximum output of 1000A. Both should be able to start 6.0L gas engines or 3.0L diesel engines.
USB output sockets for charging devices such as smartphones or tablets.
Built-in LED lights for working at night.
Battery level indicators to show how much charge is left.
Same price for around $100.
Be supplied with a one-year warranty.
Noco GB40 Vs. Stanley J5C09: Key Differences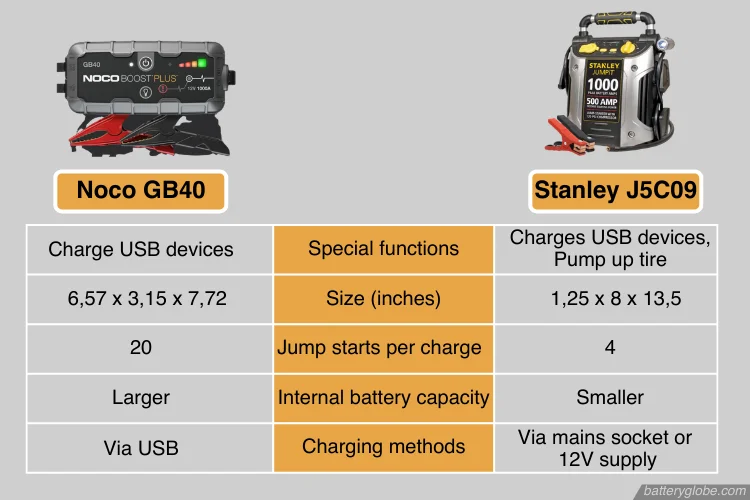 Features and Functions
The NOCO GB40 is a power pack only, allowing you to jump start your car, charge your USB devices, and that's it. It includes a 100 lumen LED light for working at night.
By comparison, the Stanley not only charges your batteries and provides light but also has a built-in compressor to pump up your tires.
A Compact Noco GB40 For Small Space In Your Car
NOCO has stuck to its traditional design, keeping the GB40 small, compact, and lightweight. Anyone that has used NOCO products in the past will instantly recognize their style.  
On the other hand, Stanley has a much chunkier design, but this is partly to make room for the built-in compressor. The Stanley will take up much more space in your trunk but offers additional features that you may want.
Jump Starts Per Charge: Noco outnumbers Stanley 20 to 4
The number of jump starts you can perform from a single charge is a significant difference between the NOCO and the Stanley. NOCO claims up to 20 separate jump starts before you need to recharge.
On the other hand, Stanley recommends just 4 jump-starts before you charge the battery. In reality, for a private owner, this probably doesn't matter. Once you have started your car, you'll investigate why your battery was flat and fix it. In the meantime, your Stanley jump starter is recharging, just in case.
270 Degree Rotating LED on Stanley J5C09 For Focused Light
It's worth talking about the LED light, which both feature.
On the NOCO, it is part of the case, giving you a general overall light to work with. On the Stanley, you can move the light through 270 degrees, giving you a more focused light.
Internal Battery Capacity
Neither manufacturer specifies the internal battery capacity, just the maximum output, 1000 amperes for both.
However, NOCO claim the GB40 can perform up to 20 jump starts on a single charge. Stanley only claims up to 4 jump starts, which indicates that the Noco battery capacity is much larger.
Various Charging Methods on Stanley J5C09
The Stanley can also be charged via a mains socket or a 12V supply, unlike the NOCO, which is via USB only. With the 12v option, it means you can recharge Stanley J5C09 in your car while driving along.
Noco GB40 vs. Stanley J5C09: Which One Is Better?
Noco GB40 and Stanley J5C09 are all used to get your car's engine running when your car battery is dead. But which one should you buy?
Noco GB40: Compact Jump Starter for Vast Range of Car Models
NOCO Boost Plus GB40 1000 Jump Starter
It should be a portable roadside emergency kit for every car owner. High Internal Battery Capacity allows you to only freshen up the charge every 4 months or so. What a very impressive power and lightweight product under $100.
Pros
Small size, taking up little room in your trunk
Can be used up to 20 times before recharging
Spark-proof technology
Noco GB40 will start your car and get you on your way. It is much more compact than Stanley J5C09, so ideal if your space is at a premium.
Stanley J5C09: Combination of Jumper Box and Air Compressor
STANLEY J5C09 1000 Peak Amps Jump Starter with 120 PSI Air Compressor
It is a great dual-purpose tool for jumping dead car batteries and inflating vehicles. It is easy to use with safety features: On /Off Safety Switch, Reverse Polarity Alarm to protect your battery from damage while charging.
Pros
A powerful built-in compressor
DC & USB charging plugs
Accurate pressure gauge
Cons
Bulky size
Need to be recharged regularly
Stanley scores well by having additional features, such as the air compressor, but this makes it bulky. If you also need a portable compressor, then the Stanley J5C09 is a more suitable choice.
FAQs
How Do Jump Starters Work?
Portable jump starters have an internal battery that can provide the high current required to start your car. Connect the red clamp to the red (positive) terminal of your battery and the black clamp to the black (negative) terminal.
Switch on the jump starter, start your car and then disconnect the jump starter. Remember to recharge your jump starter for next time.
How do I Charge My Jump Starter?
How you charge a jump starter varies from model to model. Some will charge from the mains supply, some via a USB cable, and others can use a 12v input. Check which is more suitable for your needs.
Can I Charge my Battery with a Jump Starter?
No, these products cannot charge your battery.
How Often Do I Need to Charge the Jump Starter?
A good quality jump starter will hold its charge for many months. However, as you will rely on it in an emergency, it is good practice to charge your jump starter regularly. The manufacturers recommend charging at least every six months.
What Size Jump Starter Do I Need?
You need a jump starter with a maximum ampere output equal to or more than your car's battery. Look for the Cold Cranking Amp (CCA) rating on your battery or check the vehicle specification.