The battery in your car is crucial, not only does it help to start your engine, but also provides power to the electrical components in it. If your car's battery isn't functioning correctly, then the time has come to replace it. You should also replace the battery if it has been in your vehicle for four years or more.
These days you don't need to replace batteries like for like. You can choose to put in a battery from a different group altogether. So we are going to take a look at a Group 59 battery vs. Group 65 in this article.
3 Differences to Consider When Replacing a Group 59 Battery with a Group 65 Battery
Physical Size
| | | |
| --- | --- | --- |
| Group | Size | Terminal |
| 59 | 10.1×7.6×7.8 in | Left Positive |
| 65 | 12.1×7.5×7.6 in | Left Positive |
When it comes to replacing the battery in your car, Ford/Mazda for example, make sure that the new one is like the one in it at the moment. Ideally, go for one that has the same or better electrical features.
Of course, size matters, as the new one should fit comfortably into the battery box with no need for alterations to occur. Size is the first thing to be aware of when it comes to the difference between Group 59 and Group 65 batteries.
A Group 59 battery measures 10.1 x 7.6 x 7.8 inches, whereas a Group 65 one measures 12.1 x 7.5 x 7.6 inches. Important to note here that a Group 65 battery is 2 inches longer than a Group 65 battery.
As for the weight of these batteries, again, the difference is quite a lot. Group 59 batteries weigh between 30 and 40 lbs. As for Group 65 batteries, these weigh from 45 to 55 lbs.
RC or AH Rating
Either of these batteries is suitable for all kinds of road vehicles and marine ones. However, be aware that the RC and Ah ratings of each of these batteries are different.
You'll find Group 59 batteries come with an RC rating of 100 minutes and an Ah rating of between 50 and 55 Ah. As for Group 65 batteries, these come with an RC rating of between 130 and 150 minutes. They also come with an Ah rating of 70 to 75 Ah.
Be aware that when the discharge time of the battery is shorter, then the actual reserve capacity also decreases. As a result, the amount of time that the battery can operate for will become a lot shorter.
CCA Rating
The reason we suggest replacing Group 59 battery with a Group 65 relates to its CCA rating. Most Group 59 batteries come with a CCA rating of between 590 and 600. As for Group 65, batteries come with a CCA rating of between 750 and 1100.
Is It Okay to Put a Bigger Battery in Your Car?
Suppose you are thinking of replacing your current car battery with a bigger one you can. Indeed, going with one that comes with a higher CCA rating is a good idea, as it will ensure that you won't have any problems getting your car started.
But before you go out and buy a bigger battery, consider the actual size of the battery itself. If you go for a larger battery in size, will you need to make any alterations to the battery box where it sits? So take into consideration the cost of either carrying out the alterations or replacing the battery box altogether.
What is important is that the terminals on the battery are in the same location. If not then this can lead to the wire that you connect to them becoming stretched. Which will result in issues relating to the charging system of the battery.
However, there isn't an issue with regards to the polarity of replacing a Group 59 battery with a Group 65 one. This is because the positive terminal is on the left-hand side of each of these batteries.
Pros & Cons of Replacing with Group 65 Battery
As you've seen above, there are many benefits to replacing the Group 59 battery with a Group 65 one. So it is something to consider when your current Group 59 battery needs replacing:
Pros
A group 65 can provide enough power to the electrical components in your vehicle for a period without the engine running.
Such batteries have a much longer life span.
They are easy to carry as they come with built-in handles.
Cons
If you are using your car to commute to and from work every day, then you don't need a bigger battery.
Best Group 65 Batteries for Replacing Your Group 59
Lowest Priced Group 65 Battery for Replacement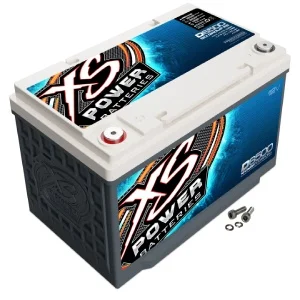 XS Power D6500 Group 65 Battery
Batteries from XS are always highly recommended but pricey, and so D6500 is. It's a battery that can start the car up right away and power the audio systems without dimming the light.
The XS Power D6500 Group 65 battery measures 11 13/16 x 6 13/16 x 7 1/4 inches and weighs 58 lbs. It has an RC rating of 150 minutes and a CCA rating of 1070.
This 12-volt battery provides your car with a supplemental power source. It has enough power to run even the most powerful audio car systems available. So if you are looking for a battery to provide your car with a bit of extra power, then look no further.
This battery contains more lead; unlike other traditional batteries, it can produce a lot more power. Plus, the fibrous material in them helps to keep the acid in them against the lead plates. So should the battery case get damaged, the risk of acid leaking out is significantly reduced.
Best CCA Rating for a Group 65 Battery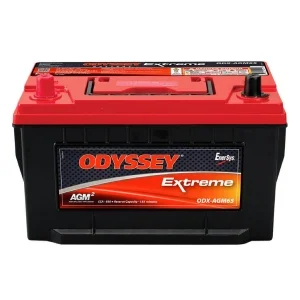 ODYSSEY 65-PC1750T 950 CCA Battery
Pay a little more for this battery but it is well worth the cost. It fits perfectly and works great for many Ford models. With 950CCA, you get the cranking you want for fast starting.
The Odyssey 65-PC1750T battery measures 11 3/4 x 7 x 6 7/8 inches and weighs 58 lbs. It has an RC rating of 145 minutes and a CCA rating of 950.
They make the plates inside this battery from pure lead rather than lead alloy. As they are much thinner, they can place more of them inside the battery. As a result of this, it can produce more power. Also, these batteries have much better deep cycling capability and can recover much faster.
If you want a battery for your car with longer service life, this is to consider. It comes with a 70% longer cycle life compared to other car batteries. Plus, it only takes between 4 to 6 hours before the battery is fully charged and ready to use again.
Best RC Rating of a Group 65 Battery to Replace a Group 59 Battery
Delphi BU9065 MaxStart 150 RC Battery
This 65 battery will work great on the large stereo systems and all car electricity needed at a decent price. However, a few users seemed to get to the problem with battery life after 1 year using.
Measuring 10.6 x 10.4 x 8.2 inches the Delphi BU9065 is the smallest of all three batteries we review here. It also weighs less, only 47.5 lbs. Yet, for the smallest battery here, it has an excellent RC rating of 150 minutes and a CCA rating of 770.
This battery will deliver all the power that your car needs to get it started. It also has the sufficient ability to run all the electrical components in your vehicle.
The great thing is you don't need to charge the battery up before fitting it in your car. It comes fully charged. Also, like the previous battery, it has a much longer cycle life. It has double the cycle life you would usually find in conventional car batteries. So you know you won't need to be replacing it as often.
Conclusion
So next time you need to replace your Group 59 battery, it is worth considering getting a Group 65 one instead. As you will see, there are many benefits to be had from choosing one after reading our Group 59 battery vs. Group 65 article.
Read also: Best Group 94R/H7 Batteries 2021 [Review & Buyer's Guide]