When replacing the battery in your car, you will often choose to go with the same make and model. However, sometimes it may be worth considering choosing a different group battery altogether.
Below we look at a Group 24 vs. 34 battery and why you should consider each one for your vehicle.
This will help ensure that you choose the right one to provide you with all the power that your car's engine and electronics need.
Group 24 vs. 34 Battery: 4 Differences To Consider Before Replacing Your Battery?
One of the first things to note is that Group 34 batteries are much more common than the Group 24 models for use in vehicles such as cars, SUVs, and trucks. More often, you'll find that Group 24 batteries are the kind of battery that will be used in motorboats, speed boats, and jet skis.
When it comes to replacing the old battery in your car with a new one, you need to make sure that the new one is the same as the old one. However, when it comes to deciding to go with a battery from a different group, there are certain things you need to consider.
The main features that you need to look at closely, especially if you are thinking of replacing a Group 24 battery with a Group 34 battery, are as follows.
#1 Difference: Physical Size – Dimensions
Group 24: 10.3 x 6.8 x 8.9 (inches)
Group 34: 10.3 x 6.8 x 7.9 (inches)
There isn't that much difference in their dimensions when it comes to Group 24 vs. 34 batteries. The only real difference between these two particular batteries is that the 24 is slightly taller than the 34.
This means that the Group 34 battery will fit easily into the battery box already in your car.
#2 Difference: Terminal Positions
When it comes to the position of the terminals, you will find that with most Group 24 and Group 34 batteries, the positive terminal is located on the left-hand side.
However, be aware that if you purchase either a Group 24F or a Group 34R battery, the positive terminal is located on the right-hand side.
Weize Group 24 75AH Deep Cycle Battery
Odyssey Group 34 850 CCA Battery
#3 Difference: CCA Rating
If you consider replacing your Group 24 battery with a Group 34 one or vice versa, this is an important feature to consider. You will find that the CCA rating for each of these types of batteries does vary, although not by a great deal.
But it would help if you chose a battery that comes with the same CCA rating as the current battery in your car. It is best to choose a battery with the same or a higher CCA rating for replacing your car's old one.
If you choose one with a lower rating, it could lead to performance problems in the future. Plus, you may find starting your car a problem.
#4 Difference: RC Rating
Again you'll find that the RC rating on either of these batteries is very much the same. However, when you look closely at Group 24 vs. 34 battery RC rating, sometimes the 24 comes with a better one than the 34.
It is important that you look closely at any battery's RC rating. This indicates just how long the battery can power a vehicle should its charging system fail. So the longer it runs for means, the more chance you get your vehicle where it can be repaired.
Which Group Size Battery Is Better: 24 or 34?
Whether you are considering replacing an old Group 24 battery with another one, or a 34, you are probably wondering which would be better?
Well, as already mentioned, you'll find that these two Group batteries don't differ very much. So being able to replace a 24 with a 34 is acceptable, and the same goes for replacing a 34 with a 24.
However, when deciding which one is better, it depends on making sure that it meets your vehicle's requirements, and keep the following in mind:
Choose the battery that fits easily into the battery box already in your car first.
When you need a battery to only run the radio/AC and other electrical components when the engine isn't running, get a deep cycle battery. These batteries come with a higher RC/Ah rating and yet cost less than a conventional battery.
If you live where it is cold most of the time, go for a battery with a high CCA rating.
Need a battery to both start and power other electrical equipment in your car, go for a dual-purpose battery.
In a hurry? Find a list of the best Group 34 and Group 24 batteries below:
What Is The Best Group 34 Batteries?
As you can imagine, there are numerous different types of Group 34 batteries to choose from. So deciding which one is best for you to use in your vehicle can prove challenging.
But below, we take a look closely at 3 you may want to consider buying:
Best Battery For Starting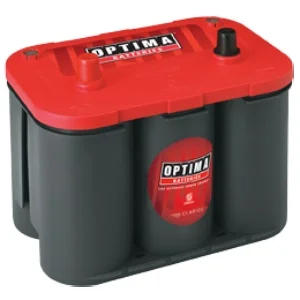 Optima RedTop Group 34 Battery
This cranking battery requires just a minimum time to start up your engine in any weather condition. Why don't you add this to your cart as it's cheaper on Amazon than any of the local auto shops?
Looking for a new battery to provide you with optimal starting power, even when the weather is terrible. Then this battery is one to consider investing in seriously.
It measures 10 x 6.7/8 x 7.13/16 inches and weighs in at just 37.9 lbs. Comes with a CCA rating of 800 and an RC rating of 100 minutes. All of which helps to ensure it provides your car's engine and electrical with a good source of power at all times.
This battery has been designed to provide a powerful burst of power when starting your car. Not only suitable for use in cars but also in trucks and SUVs.
RELATED: Optima Battery Options – Red Top vs Yellow Top vs Blue Top Batteries
Best Battery For Dual Purpose
XS Power Group 34 Battery
XS Power brand is well known for powering serious car audio systems without running the vehicle engine. It's pricey but highly recommended by 10 out of 10 users.
This battery is suitable for use in a wide range of vehicles where a burst of power is required, even over a long period. It is most often used in vehicles with either single or dual battery systems as the starting/cranking battery. It can also provide power to various electronic and electrical systems in a car even when the engine is turned off.
This battery measures 10.24 x 6.89 x 7.16 inches and weighs in at just 48 lbs. It comes with a CCA rating of 850 and an RC rating of 135 minutes.
Best Dual Purpose Battery For Price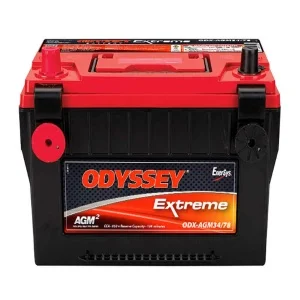 Odyssey Group 34 Battery
Odyssey 34/78 is one of the best and longest-lasting batteries that you get your money worth. There is no reason that this battery will not last for ten years plus with a good charging system.
Like other batteries from Odyssey, this one has been designed to ensure that it provides your vehicle with the power it needs. The use of pure virgin lead for the plates, means that more can be fitted into the battery.
With more plates, this means the battery can produce more power. It can produce 2250 amps for 5 seconds when used to start a car's engine.
Yet, it still only measures 10.85 x 6.99 x 7.82 inches and weighs in at just 51.5 lbs. But unlike some other Group 34 batteries, this one only has a CCA rating of 850 and an RC rating of 135 minutes.
What Is The Best Group 24 Battery?
Again, when deciding which Group 24 battery to buy, you have many options to choose from. But here are 3 we think are worth considering investing in.
Best Battery For Deep Cycling
Weize Group 24 Deep Cycle Battery
It is a cheap replacement for battery backup for sump pump. It gives you all the reliable power needed for hours of boating all day.
This is a great battery and will provide your vehicle with power for much longer periods. As well as being suitable for use in cars, also ideal for use in smaller vehicles such as mobility wheelchairs, solar systems and even trolling motors.
This sealed lead acid battery measures 10.02 x 6.65 x 8.94 inches and weighs in at just 46 lbs. You'll notice this doesn't come with a CCA rating as it has no starting feature but does have an RC rating of 180 minutes. So it is certainly going to prove very effective at providing your vehicle with power when it needs it.
Second Choice For Deep Cycle Battery
Mighty Max Group 24 Battery
Mighty Max 75Ah has the BEST performance for self-discharge rate over most SLA competitors. At a reasonable price, it's a great choice for backup sump system, RV, trolling motor.
Another great battery that can provide power to your car for much longer periods. This is a very versatile general-purpose Group 24 battery that you can mount in any position. It is also able to tolerate a wide range of temperatures. It can also be used for both cycle and float applications.
Like many other Group 24 batteries, this one measures 10.24 x 6.61 x 9.06 inches but weighs 50.71 lbs. Like other deep cycle batteries in this group, it isn't designed to start an engine, so it doesn't come with a CCA rating. But it does have an RC rating of 180 minutes.
Best Dual Purpose Battery For Small Engines
ACDelco Gold Group 24 Battery
This is the best replacement battery for Prius, Nissan Altima Hybrid. It will perfectly fit and work like a champ after a quick installation.
If you are looking for a suitable battery for a car with a small engine, then look no further. As with all batteries from ACDelco, this one will provide more than enough power for your vehicle. Not only will it start your car quickly, but it provides all of the power the electrical systems in your car need.
You'll notice that the dimensions provided by the supplier on the Amazon description are the box dimensions. The actual battery is approximately 9.2 x 4.8 x 8.8 inches, which is a lot smaller than some other Group 24 batteries. Yet, for its size, it only weighs in at 31.5 lbs.
You'll also notice this one comes with a CCA rating of 325 and an RC rating of 70 minutes. Yet, the deep cycling capabilities of this battery are still very impressive.
RELATED: AC Delco Battery Review 2022 [with Comparison Chart]
Hopefully, this article helped you decide when you look at a Group 24 vs. 34 battery that best suits your needs.