Batteries only have a finite life and need replacing regularly, but should you choose an ACDelco battery next time?
ACDelco is one of the most well-known brands on the market, with an impressive reputation. For this reason, you should definitely include ACDelco batteries on your shortlist. 
This article lists some of the most common battery types and reviews the ACDelco products on the market. 
AT THE GLANCE: ACDelco Gold 94RAGM VS. ACDelco Gold 48AGM VS. ACDelco Gold B24R
Is An ACDelco Battery Good? 
Who makes ACDelco batteries? 
ACDelco is a part of the General Motors (GM) company and produces factory parts for GM vehicles. The Middle East Battery Company manufactures the batteries, part-owned by Johnson controls. 
Gold warranty 
They offer the Gold warranty on ACDelco Gold lines, giving a two-year unlimited mileage warranty. Other ACDelco products only benefit from their one-year warranty. 
Where to buy an ACDelco battery? 
It is paramount that you buy your ACDelco battery from an authorized parts supplier. If not, you may not be able to make a claim on the warranty if something goes wrong. 
Is it easy to find ACDelco batteries in local stores or online? 
Yes, ACDelco batteries are available at General Motors Part Stores, local retailers, and many online retailers.
Popular Products From ACDelco 
Automotive AGM batteries. Automotive batteries from ACDelco are available in two basic types: Gold or Silver.

Gold batteries come with full replacement warranties that last between 30 and 42 months.
Silver batteries offer full replacement warranties for 18 months. 

Dry cell battery for electronic devices. Considering their expertise in lead-acid batteries, it's not surprising that ACDelco also makes AA and AAA batteries.
They are available in various stores and online through sites such as Amazon. 
AC Delco Automotive AGM Batteries Review
What are the pros and cons of AC Delco automotive batteries?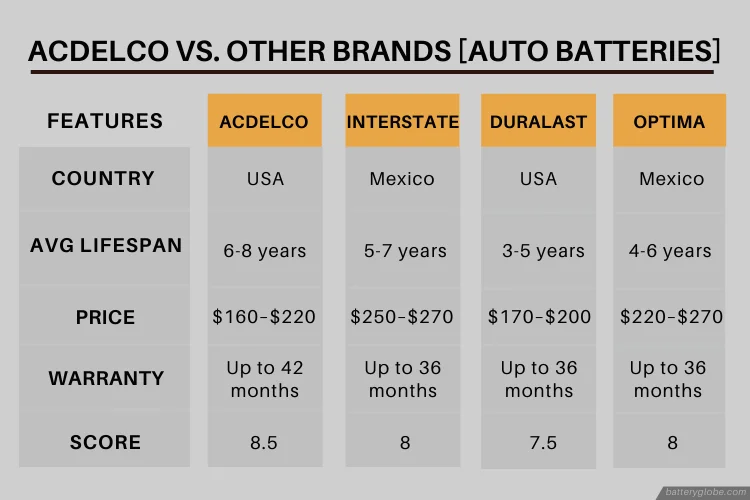 Pros of AC Delco batteries
Great prices, often cheaper than competitor's equivalent
Long lifespan up to 8 years 
100% maintenance-free AGM construction
Shock and vibration resistance 
Up to 42 months warranty 
Cons of AC Delco batteries
Some buyers had problems with the battery discharging quickly
Is AC Delco a good option to consider?
If you're in the market for a new car battery and don't know which way to turn, we highly recommend an AC Delco battery.
We've had great experiences with their products and have never been let down. Not only are they reliable, but they also come at an affordable price. Why not give them a try? You won't regret it.
Best ACDelco AGM GOLD Batteries 
ACDelco makes a range of batteries to fit most cars. Here, we briefly look at three top-of-the-range AGM Gold batteries from ACDelco.
Between them, these three batteries cover a broad range of vehicle fitments.  
ACDelco Gold 94RAGM 
ACDelco Gold 94RAGM
With 850 cold-cranking amps (CCA), the 94RAGM can start big engines even at subzero temperatures.
The 94RAGM uses ACDelco's Absorbed Glass Matt (AGM) technology. The internal construction of the battery is ideal for today's modern automatic start/stop engines.
ACDelco AGM batteries are completely maintenance-free, sealed for life, and use advanced chemical technology for improved battery life. 
With 850 cold-cranking amps (CCA), the 94RAGM has the power to start large engines, even in freezing conditions. Add a reserve capacity (RC) of 140 minutes and you have a powerful, reliable battery for your vehicle. 
Size: 12.4 x 6.9 x 7.5 inches  
Supported vehicles: They designed the 94RAGM for light commercial and passenger vehicles, particularly those manufactured by German brands. 
Specs: 850 CCA, 140 RC, and 80 Ah ratings 
ACDelco Gold 48RAGM 
ACDelco Gold 48AGM
The 48RAGM will give years of trouble-free starting thanks to ACDelco's absorbed glass mat structure and high-tech internal design.
Looking for a group 48 battery for your SUV, ATV, or similar vehicle? The ACDelco Gold 48RAGM should be top of your list. Putting out 760 cold-cranking amps, this battery will get your vehicle started in almost any condition.
In addition, a long reserve capacity of 140 minutes allows you to run your accessories, such as a radio. 
Using ACDelco's absorbed glass mat construction and hi-tech internal design, the 48RAGM will provide years of trouble-free starting. This is a fit-and-forget battery, requiring zero maintenance except keeping it fully charged. 
Size: 11.9 x 7.5 x 7.6 inches  
Supported vehicles: ACDelco's 48RAGM battery fits a wide range of vehicles, including SUVs and ATVs. 
Specs: 760 CCA, 120 RC, and 70 Ah ratings 
ACDelco Gold B24R 
ACDelco Gold B24R
The B24R is ideal for cars with smaller engines, as it only has 325 cold-cranking amps and a 45 amp hour rating.
The ACDelco Gold B24R is a group 24R battery designed to fit many smaller vehicles, including hybrids. It shares the same AGM technology as the other batteries here but only weighs 31.5 pounds. 
With just 325 cold-cranking amps and a 45 amp hour rating, the B24R suits vehicles with smaller engines. As with other AGM designs, it is maintenance-free with a durable solid outer shell to resist vibration damage. 
Size: 9.2 x 4.8 x 8.8 inches 
Supported vehicles: Ideal for smaller engine vehicles 
Specs: 325 CCA, 70 RC, and 45 Ah ratings 
Weight: Only 31.5 pounds 
ACDelco AA & AAA batteries 
ACDelco AA Battery Review 
Many of us use a lot of batteries, particularly if we have children. So many children's toys need batteries; it is essential to know we are getting value for money. 
Manufacturers have realized this, and you can buy batteries in bulk, sometimes up to 100 batteries in a box. The ACDelco AA batteries have a respectable capacity of 2600 mAh.
This is less than other branded competitors, but the ACDelco batteries are much cheaper. This means you will change the batteries more often but actually spend less.
Pros
Cheaper when bought in bulk
Supplied in a handy storage box
10-year shelf life
Cons
Lower mAh than competitors
Batteries die more quickly than competitors
Is ACDelco AA battery good?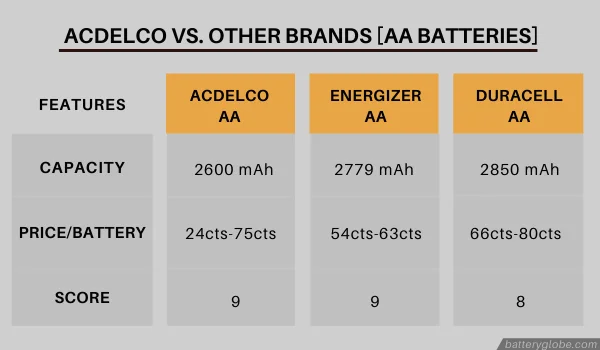 Compared with their rivals' AA batteries, the ACDelco offers fantastic value. They cost less than half of the next cheapest battery. For this reason, the ACDelco's are a good buy. 
ACDelco AAA battery review 
AC Delco AAA battery
ACDelco has taken the same approach as its AA battery. They have focused on keeping the price as cheap as possible while creating a high-capacity AAA battery.
We use the AAA size of an alkaline battery in many applications, where space is the overriding factor. With smaller batteries, the capacity is reduced. AAA batteries offer just under half the power of the equivalent AA-size battery.  
ACDelco have gone for the same strategy as their AA battery. They have concentrated on keeping the price low while producing a good capacity AAA battery.
Pros
Value for money – less than half the price of competitors
Good mAh capacity despite the low price
Supplied in a closable box for storage
Cons
You will need to change the batteries more often
Is ACDelco AAA battery good?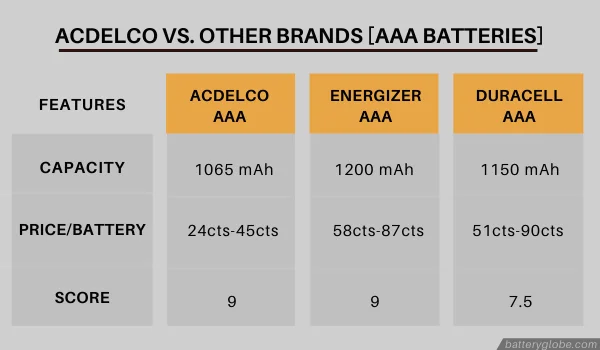 With a similar capacity to their rivals, the ACDelco AAA battery will last almost as long. The advantage is, they cost less than half of their competitors.
So long as we use them in a situation that doesn't use much power, they are an excellent option when bought in bulk.
Conclusion 
ACDelco is a world-renown company making automotive parts for car manufacturers. The spares they produce are of high quality, but offered at a very competitive cost. ACDelco components are great value for money and this is particularly true of their batteries. 
Next time you need to replace an automotive or toy battery, make sure you consider an ACDelco part. 
Buy AC Delco AA battery, ACDelco Gold 94RAGM here:
AC Delco AA battery
ACDelco Gold 94RAGM