Optima is a well-known manufacturer of batteries for all kinds of vehicles. They are also a company that has focused on creating a superior battery charger in recent years.
Today, you can buy two types of battery chargers from Optima, the Digital 1200 and the Digital 400.
Optima 1200 is the larger of the two and can recharge a battery three times quicker than the 400 can.

But the 400 does come with a mounting bracket so that you can keep it within easy reach of your vehicle.
But which of these two battery chargers is the right one for your needs? We are going to take a closer look at each below. 
AT GLANCE: OPTIMA CHARGER 400 Vs. 1200 COMPARISON CHART

Optima charger 1200


Optima charger 400

Customer Rating

Price
Supported battery
All 12V batteries
All 12V batteries
Special features
- Ability to charge 1.25V batteries
- Recondition function + Temperature sensor
- Ability to charge 1.25V batteries
- Recondition function + Temperature sensor
Physical size
7.5 x 6.5 x 10 in
8.2 x 3.7 x 7.4 in
Charging current
12A
4A
Other features
Clamp LED, USB port
Additional maintainer port

Wall organizer bracket
Supported vehicles
Large engines
Small engines
Digital 1200 or Digital 400 – What to consider when making buying decision?
You need to consider a few things to help determine which battery charger is best for your needs.
Is it compatible with your battery chemistry?
The first one is to make sure that the charger you select is compatible with the battery's chemistry you want to charge. Failure to buy the correct charger means not only will it fail to charge the battery but can also result in it becoming damaged. 
Can it supply enough power in the time you want?
Secondly, look to see if the battery charger can supply enough power to charge the battery in the time you want. For example, if you need to recharge a 12-volt battery with a rating of 62 Ah, it will take around 12 to 24 hours using the Digital 400.
However, if you were to charge the same battery using the Digital 1200, it would take approximately 3 to 6 hours.
Buy Otima Charger 1200 here:
Optima charger 1200
Is it compatible with the power supply voltage?
Finally, look at the voltage compatibility, as you need to make sure that it matches the power supply voltage. Not only could it lead to causing damage to the battery, but also to the charger and even electronic devices in your vehicle.
It is also best to avoid buying any battery charger that doesn't tell when charging of the battery isn't complete. Any additional current into the battery could quickly ruin it.
Both these come with an LCD gauge showing you when the battery is charging and when done.
There are plenty of places online where you can learn more about the pros and cons of each of these types of Optima battery chargers. There are numerous vehicle forums where people openly discuss these items.
It is also worth looking at any reviews left by customers who have purchased these chargers through Amazon. So why not take a look so you can determine which of these best suits your needs.
Key Things in Common Between Optima 1200 and Optima 400
They differ in many ways, but there are several key features that both of these Optima battery chargers have in common and which we look at below.
Same 6 charging modes
Digital 400 and Digital 1200 use the same six fully automatic charging modes. Each helps to ensure that your battery gets the right amount of charge and helps to keep it working for longer.
Can be used to charge all types of 12V batteries
Both these battery chargers by Optima can charge 12-volt batteries. Not only can they be used to charge Optima batteries but also other types of traditional and AGM 12-volt lead-acid batteries.
Ability to charge a battery with only 1.25 volts
There are quite a few chargers that can't charge a battery that contains less than 10.5 volts. But these two can recognize and charge a battery with only 1.25 VDC.
Recondition feature
This feature allows bringing back the healthy life of a battery even when not in use for 30 days or more. These chargers can recondition a battery every 30 days so preventing sulfation from occurring.
Temperature sensor
It provides for ambient air temperature compensation when a battery is charging. It controls the output from the charger, dependent on what the external temperature is.
Optima 400 vs 1200: Key Differences
Here we look at the main differences to consider when deciding which Optima battery chargers to buy.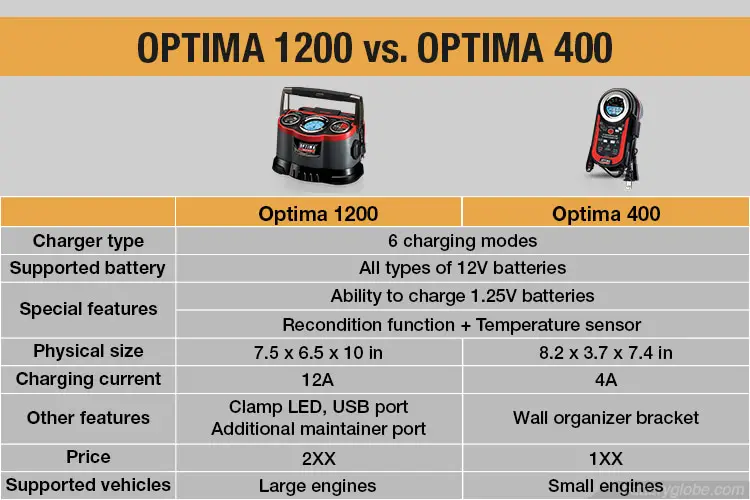 Physical size
As already mentioned, the Digital 400 is smaller than the Digital 1200. The Digital 400 measures 7.1 x 3.9 x 2.7 inches, whereas the Digital 1200 is a whopping 10 x 7.5 x 6.5 inches.
Charging current
The amperage will determine how fast a charge can supply power to a battery. Chargers with a higher voltage and more significant current will charge a battery quicker.
The maximum charging current of the Digital 400 is four amps compared to the Digital 1200, which comes with a maximum charging current of 12 amps, which means that 1200 can recharge a battery three times quicker than the 400.
Buy Optima charger 1200 for 3 times charing faster:
Optima charger 1200
Unique features of Digital 1200 and Digital 400
In terms of the Digital 1200
LED lights integrated into the clamps to hook up the charger to battery in the dark.
Comes with a USB charging port compatible with cell phones, cameras, iPhones, and iPads.
Additional auxiliary maintainer port with cables so you can charge the battery in your vehicle without needing to have the hood open.
In terms of the Digital 400
As smaller in size, it is easy to take with you wherever you go and is suitable for use in tight spaces.
Also comes with a bracket that allows you to mount it on the wall so easy to find when needed.
See Otima charger 1200 and Otima charger 400 here:
Optima charger 1200
Optima charger 400
Price: Which is cheaper?
The Digital 400 is the cheapest costing around $100, whereas the Digital 1200 can set you back around $250.
However, suppose you buy an Optima battery while purchasing the Digital 1200 charger from them. In that case, they add an additional year's warranty cover on the battery.
Buy Otima charger 400 at the cheapest price online:
Optima charger 400
Supported vehicles
As discussed above, we can use both of these Optima battery chargers to charge all batteries made by this company. We can also use them to charge other manufacturers of AGM lead-acid batteries.
The kinds of vehicles on which the Digital 400 should get used are small to medium-sized cars with small engines, ATVs, and motorcycles.
The Digital 1200 should get used on batteries in large vehicles, marine vehicles, tractors, trucks, RVs, and power sports vehicles.
Who Should Buy The Optima 400?
Optima charger 400
Otima 400 is suitable for use as a marine battery charger, a motorbike battery charger, or any other AGM battery charger.
For those of you who are on a limited budget and will be using the charger for recharging a battery in a small or medium-engine size vehicle, then this is your best option.
Also, if you are looking for a compact battery charger with some outstanding features, you should get the Optima Digital 400.
Who Should Buy The Optima 1200?
Optima charger 1200
Otima 1200 charges faster than competitors with up to twice the output.
If you are looking for a battery charger that will recharge the battery in your vehicle quickly, the Optima 1200 is a great choice. Not only does it charge faster, but it will also maintain your battery once it has completed the charging process.
Also, it comes with the additional feature that it will periodically exercise the battery. Meaning that it will alter the battery's charge profile, helping to enhance the useful life of the battery it is charging.
Also, should at any point, should power to the charger be cut off, once power gets restored, it will automatically start recharging the battery.
Hopefully, the information provided above will help you determine which of these two Optima battery chargers is your best option.