The LR44, AG13, and A76 refer to button cell type batteries used in multiple applications, such as watches, cameras, and other small devices. They are perfect for small devices requiring low voltage and current output, but what are the differences between the three types? This short article will explain what to look for when buying LR44, AG13, or A76 batteries.
Are LR44 The Same As AG13 And A76?
There is not a simple yes-no answer to this question! The LR44 designation is an international standard, IEC 60086-3, defining the size and battery chemistry used. Batteries designated L will use alkaline chemistry to provide the power; in the case of the LR44, it is zinc-manganese dioxide.
The R44 code defines the standard physical size of this battery type.
Both AG13 and A76 are manufacturer's part numbers for batteries that can be used in place of LR44 batteries. Although they are the same size as the LR44, the internal chemistry used can vary, which will affect the battery life.
LR44 vs. AG13 vs. A76: What Are The Similarities?
There are several similarities between the LR44, AG13, and A76 that make them interchangeable.
Size: 11.6mm x 5.4mm (Diameter x Height)
The most obvious similarity is the physical size. To conform with international standards, any battery designed to be used in place of an LR44 should have a diameter of 11.6mm and a thickness of 5.4mm. The size is critical, as even a tiny difference and the battery will not fit many of the small devices it is designed to operate.
Chemistry: Alkaline
The standard chemistry for these three battery designations is alkaline. However, because the AG13 and A76 designations are manufacturers' part numbers, they can diverge from the standard.
For example, an AG13 type battery made by Energizer uses the silver oxide chemistry. A silver oxide battery can last as much as three times longer than a similar alkaline version.
The downside of silver oxide batteries is cost. They are more expensive than alkaline equivalents, so a balance can be found, depending on how the batteries are used.
Voltage: 1.5 – 1.55 Volts
All types of this battery provide 1.5 or 1.55 volts output when new. The significant factor here is how the voltage will drop during use. A standard alkaline battery's voltage will reduce to around 1 volt through its working life. The more expensive silver oxide versions have more consistent voltages over time and will typically maintain at least 1.2 volts.
Non-Rechargeable
None of these batteries are rechargeable, and it is dangerous to attempt to recharge them.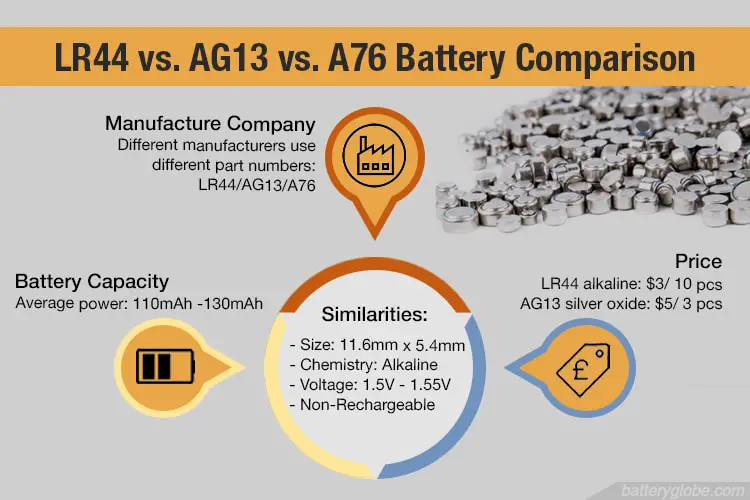 What Is The Difference Between LR44, AG13, And A76?
As we have seen, the three battery types LR44, AG13, and A76, are interchangeable. But are there any differences that would make you choose one over another?
Manufacture Company
You may have a favorite brand. Maybe you've tried all the brands and found one that lasts longer or performs better. Different manufacturers use different part numbers for their items.
This may be because the battery is not a standard LR44 and has a different chemical makeup. Another reason is for the company to set their battery apart from all the other LR44 type batteries.
If the battery is a branded replacement for an LR44, this will be mentioned on the packaging, and the differences explained.
Battery Capacity
The voltage will always be 1.55 volts, but the battery capacity can vary. The average power for LR44 batteries is between 110 mAh and 130 mAh.
This depends on the particular chemistry used and the quality of the components. Batteries using the silver oxide chemistry can produce between 150 mAh and 200 mAh, therefore lasting longer. In most cases, buying a branded product over a generic item will give you a more powerful battery, but they will be more expensive.
Price
Batteries based on the standard LR44 alkaline chemistry are the least expensive, but this is because they are cheaper to produce and don't last as long. A pack of ten LR44 type batteries can be bought for just over $3, whereas the silver oxide variants will cost considerably more.
Best Equivalent LR44 Battery Recommendations
| | LiCB LR44 | Energizer AG13 | SKOANBE AG13 |
| --- | --- | --- | --- |
| Customer Rating | | | |
| Price | | | |
| Dimensions (D x H) | 11.6mm x 5.4mm | 11.6mm x 5.4mm | 11.6mm x 5.4mm |
| Chemistry | Alkaline | Silver oxide | Alkaline |
| Battery Capacity | 105 mAh | 195 mAh | -- |
| Shelf Life | 3 years | 5 years | 5 years |
| Price Range | ~$6/ 20 counts | ~$5/ 3 counts | ~$3/ 10 counts |
| | | | |
Best Value LR44 Battery 20 Pack
LiCB 20 Pack LR44 AG13 357 303 Battery
Many small electronics, watches, calculators, toys, laser pointers, children's books, medical devices, and so on use LiCB 20 Pack LR44. It has a 3 year shelf life and a full 1.5 volt charge. Furthermore, this battery is not only subjected to stringent quality control, but it also ensures longer battery life and power.
The LiCB branded LR44 battery is supplied in a pack of 20 for a great price, under $6. The LiCB batteries are perfect for light power uses, such as watches, small flashlights, and LED decorations, as they use the standard alkaline chemistry.
LiCB has been manufacturing batteries since 2006 and has a thorough testing process to ensure quality. The batteries are also environmentally friendly, with no added mercury, and have a three-year shelf life.
The LiCB batteries are less suitable for demanding uses, where a silver oxide chemistry would be better.
If you use a lot of LR44 batteries, this is a good value pack of twenty.
Check Price at Amazon
Best for Long Battery Life LR44/357
Energizer AG13 Silver Oxide Battery (3 PCS)
Silver Oxide Battery provides long lasting, safe energy to your battery-operated devices such as medical instruments, calculators, toys and rear-watch systems and stores power for up to five years.
For more demanding applications, a silver oxide chemistry LR44 replacement will give a longer life. The Energizer 357 is a direct replacement for LR44 batteries and is designed for use where dependable, long battery life is the primary concern.
The downside to this is the extra cost. For around $5, you will get just three Energizer 375 batteries, compared to packs of ten or twenty standard LR44 batteries for the same price.
The Energizer battery offers a long, 5-year shelf life, so there is no problem in keeping some as spares. The company also manufactures its 375 batteries without mercury, helping the environment.
Check Price at Amazon
Best Value Bulk LR44 Pack
SKOANBE Fresh AG13 LR44 Button Coin Cell
SKOANBE 10PCS AG13 LR44 has full 1.5 Volts Charge, gives an excellent combination of high energy and constant voltage supply. Many small electronics, watches, calculators, toys, watches, laser pointers, children's books, medical devices, and other items use it.
Low cost will probably be your primary aim if you just need a few LR44 type batteries. The Skoanbe pack of ten LR44 button batteries is available for a little over $3, making them great value.
The Skoanbe use the standard alkaline chemistry, which means they won't be the longest-lasting batteries. This is okay if you are only using them for light applications, such as a watch.
As with the others on review here, the Skoanbe batteries don't use mercury, so they are kinder to the environment.
With a five-year shelf life, buying a bulk pack of ten makes sense if you often replace your batteries.
Check Price at Amazon
The LR44, AG13, and A76 battery types are similar in many ways and can be used interchangeably. The LR44 variant will suffice for most applications, but where more power and consistent voltage output is required, look for silver oxide variants of the AG13 and A76 batteries.