When buying a new battery for your Honda Civic, there are some features to look out for to help you make the right choice.
The first priority is to choose the correct size battery. Manufacturers use a Group system to classify batteries by size. And the Honda Civic battery is in Group 51.
Another vital feature to look out for is the battery's starting power, known as the Cold Cranking Amps (CCA). This is a measure of the power the battery has to start an engine from cold.
Keep reading for the buyer's guide to help you choose the right one for your needs!
IN A HURRY: Find a list of the best Honda Civic batteries below.
Image
Product
Features
Price
Optima Group 51R

Size: 9.21x4.98x 8.94 in
CCA: 450
RC: 66 mins

Check Price
XS Power Group 51R

Size: 9.04x5.43x8.19 in
CCA: 745
RC: 131 mins

 

Check Price
Optima Group 51

Size:9.21x4.98x8.94 in
CCA: 450
RC: 66 mins

Check Price
Megavolt Group 51R

Size: 9.29x5x8.78 in
CCA: 550
Capacity: 55 Ah

Check Price
Which To Consider When Buying A Battery For Honda Civic?
Feature #1: Battery group size- Group 51R or Group 51
The best way to check the size of the battery you need is to look in the owner's manual. Batteries are not made for specific cars. Instead, car manufacturers design the battery space to accept a standard battery size.
So what size battery does a honda civic take?
In the case of the Honda Civic, you should use a Group 51 battery type.
There are two types of batteries in this group: Group 51 and Group 51R. The only difference between the two types is the location of the battery terminals.
Make sure you choose the correct type because if you fit the wrong type, the battery cables may not reach, or you may find the cables are stretched too much.
If you are searching online for a new battery, many websites, such as Amazon, allow you to search by vehicle make and model. This way, you will only be shown the correct batteries for your car.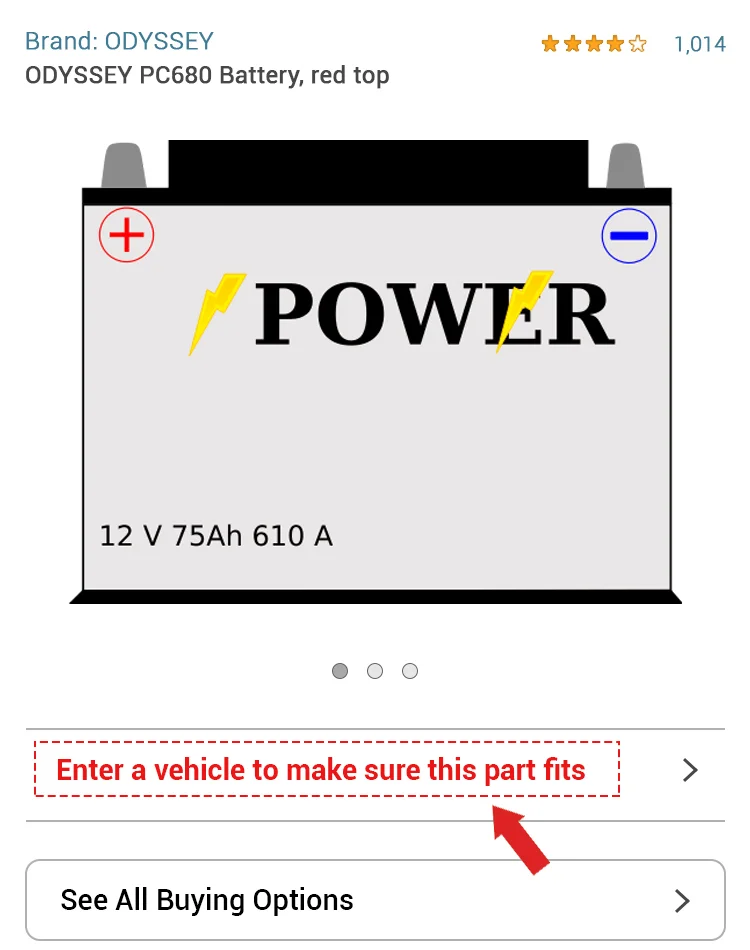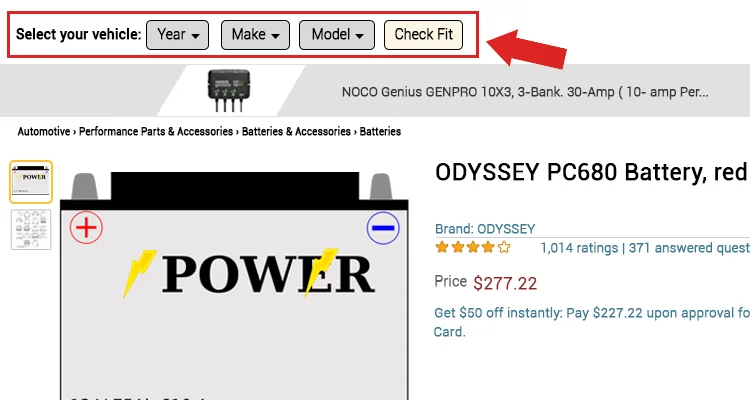 Feature #2: CCA should be more than 500 Amps
Every battery type is different, and the Cold Cranking Amps (CCA) will usually be stamped on the side or top of your battery. The standard battery fitted to the Honda Civic was a 410 CCA. However, group 51R batteries generally have more than 500 CCA, making them more powerful than the OEM battery.
If you live in colder climates, this makes the engine more difficult to turn over and start. Oil gets more viscous as the temperature drops, so choosing a battery with a higher CCA in these climates is a good option.
What Battery Does Honda Recommend?
Below are the Honda Civic Battery recommendations based on Group Size and CCA rating. All the batteries I recommend have the right size, and will perfectly fit in your Honda Civic battery box. They also come with a high CCA rating, which helps to turn your engine over in even cold conditions.
Optima Yellow Top Group 51R: Big brand, Is investing really worth it?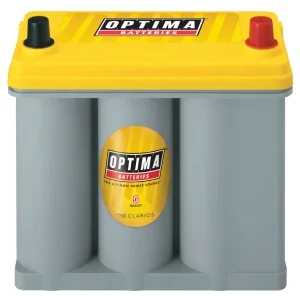 Optima D51R 450 CCA Battery
The same specs of Optima D51 but the positive terminal is on the right, which is perfect for standard Honda Civics.
Price range: $259-$269.
Battery specifications:
| | |
| --- | --- |
| Group Size | 51R |
| Dimensions | 9.21 x 4.98 x 8.94 inches  |
| Terminal Position | Right Positive |
| CCA | 450 amps |
| RC @25 Amps | 66 mins |
| Battery Type | AGM |
The OPT8073-167 is the Group 51R equivalent of the Optima 8071-167 D51 battery mentioned earlier. The specification of size and weight of both batteries is identical. The only difference is in the position of the battery terminals.
If you look at the battery labels on the Group 51 version, the positive terminal is on the left. On the Group 51R battery, the positive terminal is on the right. On a standard Honda Civic, the Group 51R is the standard fitment.
Things I Don't Like
The battery top on the Optima 51R is something I don't like.
Because the battery top is not shaped correctly, the top mounting bracket does not fit. A shim must be installed to ensure that the clamp remains in position and does not shift.
Pros
Fit the Civic battery base perfectly.
Can be charged faster and have a slower discharge rate.
3-4 years average lifespan.
Excellent packaging. Come with a handle to make it easy to install into the car.
The RC of 70 mins is ideal for listening to audio when the car isn't running.
Resistant to vibrations and rough use.
Cons
Low-average cranking amp, not for use in cold weather.
Battery top is not shaped correctly.
What customers are saying
Customers who have installed this battery for their Honda Civic have left reviews on different forums. Let's have a look at what they had to say.
i got the optima yellow top model # D51R (R for Reversed Terminals) check the pic. Its a direct fit for honda civic and holds down with the factory bracket. I paid $150 for it. After I put my system in my Oem battery would last for about 20 minutes at low volume with the car off. I put the optima in and have ran it with the car off for over 2 hours and the car started like it was nothing.

Ironlung78 – honda-tech.com
i have the yellow top (51r) in my car they are a great battery an the yellow tops are made for audio,lighting and electrical accesories they can handle a bucnh of **** thrown at it!

Bigwill1384- hondacivicforum.com
A dissatisfied customer has provided a negative review below:
I won't ever use Optima again. They made a great name for themselves in the early 00's, but have not really made a quality product since '12. I went through 4 of them in my S2k before going back to Honda's OEM battery. Certainly was not worth spending ~$175 for the Optima name when it leaves you stranded, when the ~$110 Honda battery is better.

lucke- civicx.com
XS Power D5100R Group 51R: Perfect Choice For The Most Challenging Weather Conditions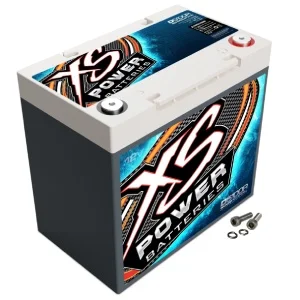 XS Power Group 51R Battery
This XS Power battery is pricey but worry-free. With 745 CCA, it can start your Honda Civic like a champ even after a long time of no use.
Price range: $285- $295.
Battery specifications:
| | |
| --- | --- |
| Group Size | 51R |
| Dimensions | 9.04 x 8.19 x 5.43 inches |
| Terminal Position | Right positive |
| CCA | 650 amps |
| RC @25 Amps | 100 mins |
| Battery Type | AGM |
The XS Power D5100R XS provides a whopping 745 CCA in a Group 51R battery size, making it perfect for the Honda Civic with the dimensions of 9.04 x 5.43 x 8.19 inches. With an extra 295 CCA compared to the standard model, it will have no problem starting the Civic.
The XS Power is an AGM-style battery that benefits from its advantages in low maintenance and no chance of acid spillage. It should be mentioned that this battery is slightly larger than the Group 51R standard, so measure carefully before ordering one for your Honda Civic.
Things I Don't Like
The only significant drawback to this battery is that it is somewhat more expensive than I would want to pay.
It's one of the most costly options on our list, but it does have some impressive features. I'm not sure if I should spend more money on XS Power D5100R because of the nice features it has.
Pros
High CCA for quick starting the car. Your Civic will come alive like a charm with just one turn of a crank.
The RC of 66 minutes allows you to enjoy the audio in the parking lot without fear of running out of battery.
Ideal for improving the sound system and headlights in your Civic. The amps will run more efficiently, and the headlights will never go dim again.
What customers are saying
Reviewers are impressed by the high CCA rating of the XS Power battery:
I think I'm going to go for the XSPower 5100R which is the same size as the original 51R. Somehow, they managed to pack more power in there as it's got 650CCA!

Michael613 – hrvforum.com
this batt is perfect for those who want to use the stock batt location/size but have a pretty big electrical drain on their system (systems up to 2000 watts rms)… resting voltage is 12.97 volts.

Dmc971989 – series.org
Customers also appreciate the dual-purpose feature of this battery.
i would NEVER run a kenetic power cell as a battery. it is not their intended use, plus they do not make a group 51R battery. their design is fast charge fast drain for high power audio setups. the optima is GREAT, i'll be running a XSPower D5100R and a 2farad cap for my audio setup. the XSPower is a BCI grouped battery designed for starting and maintaining, and then the cap will be for short high current discharge.

cobb2819- clubcivic.com
I've got an XSPower D5100R in my civic and it certainly keeps up with what I need it to do.

cobb2819-diymobileaudio.com
Optima D51 Group 51 Battery: Spend more – Save more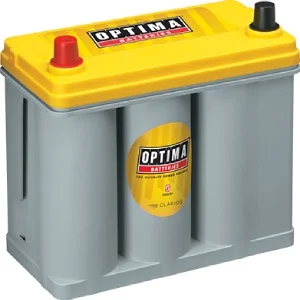 Optima Group 51 450 CCA Battery
This dual-purpose battery fits perfectly in most Civic models. It meets the CCA requirement to start Civic cars, and has RC of 55 mins for constant performance.
Price range: $260-$270.
Battery specifications:
| | |
| --- | --- |
| Group Size | 51 |
| Dimensions | 9.21 x 4.98 x 8.94 inches  |
| Terminal Position | Left Positive |
| CCA | 450 amps |
| RC @25 Amps | 66 mins |
| Battery Type | AGM |
The Optima D51 is a Group 51 battery, measuring 9.21 x 4.98 x 8.94 inches (L*W*H). This makes it ideal for Honda Civic models that use the Group 51 size batteries.
The Optima is one of the company's Yellow Top range, built to withstand vibration and increase battery life. Fitting the correct size battery also helps to reduce vibration, as the battery holder strap will secure the battery tightly in place.
Other features of this battery include a deep-cycle capability and 450 cold-cranking amps, making this a powerful unit. The deep-cycle feature allows the battery to drain to a very low voltage regularly without being damaged.
Things I Don't Like
The first thing I don't like about this product is its warranty service. Because Amazon is not an authorized seller, it will be tough to get a replacement battery when you have a warranty issue. You have to:
If you are having battery problems, firstly contact Optima at [email protected].
This will be the most challenging step if you only have one vehicle. Optima will need you to bring the defective battery to an authorized repair shop in order to determine what is wrong with it. You may get that receipt from Advance Auto Parts, which shows the battery's condition.
Send the copy of the Amazon order confirmation and the receipt to Optima.
Pros
Hold a charge for a long time. Even after two months without use, it will easily start the car up again.
Can last for up to 6 or 10 years.
Give your headlights more power, making them brighter.
Cons
More expensive than Duracell and Bosch batteries, but come with a shorter warranty.
Take time to get a replacement battery.
Megavolt Group 51R: Lower-priced than ever
Megavolt Group 51R 550 CCA Battery
This is the cheapest battery that you could find for your Honda Civic. It is known to withstand even the challenging weather conditions with 550 CCA.
Price range: $115- $125.
Battery specifications:
| | |
| --- | --- |
| Group Size | 51R |
| Dimensions | 9.29 x 5 x 8.78 inches |
| Terminal Position | Right positive |
| CCA | 500 amps |
| Capacity | 55 Ah |
| Battery Type | Flooded Lead Acid  |
The Megavolt is a Group 51R battery measuring 9.29 x 5 x 8.78 inches (L*W*H), making it slightly larger than the Optima 8071-167. But as it's a Group 51R battery, it's still the correct size for some Honda Civic vehicles.
Compared to the equivalent Optima batteries mentioned in this review, the Megavolt is heavier. The increased weight is due to the Megavolt being an acid-flooded battery, whereas the Optima's use the newer absorbed glass mat (AGM) technology.
The more recent AGM specification saves around three pounds in dead weight, something that's important to performance enthusiasts.
Things I Don't Like
I wasn't too thrilled with the product shipping service. You may get your package and discover that black acid has been poured down the side of the box.
I didn't have this problem during my experience because it worked perfectly. However, the buyer comments mentioned it several times on Amazon.
Pros
This is the most affordable battery for a Honda Civic, especially if you have Amazon Prime. The battery is 2 times cheaper than those from Optima or XS Power.
Warranty service is top-notch. They respond and assist customers within 24 hours.
Cons
You could have a poor delivery experience.
Megavolt does not start well in cold weather. Not recommended for use in a cold climate.
Tips When Buying A Honda Civic Battery
Getting the correct battery for your Honda Civic is essential for long working life and preventing the battery from letting you down.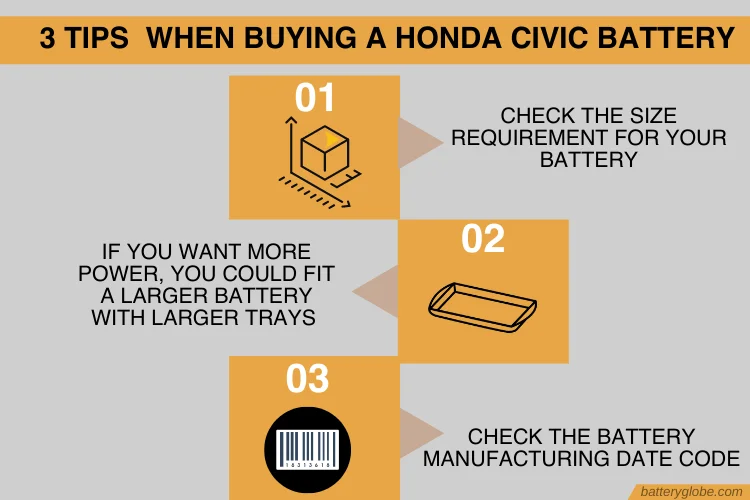 Check the size requirement for your battery. Most Honda Civic models use the Group 51R battery, but there are differences between model years. Check the owner's manual or ask your dealer.
If you want more power, you could fit a larger battery, but this may mean that the battery won't fit the standard tray. Larger trays are available if you have space.
Check the battery manufacturing date code. It would be best if you looked for a battery less than two months old. The code is in a four-digit form. For example, the code 12/08 means December 2008.
Final Thought
So with the Group 51/ 51R battery, you have a few options to choose from for your Honda Civic. Below are three that you should consider purchasing: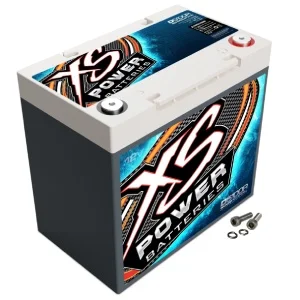 XS Power Group 51R
#1 choice: Offer a massive increase in CCA, is an AGM-type battery.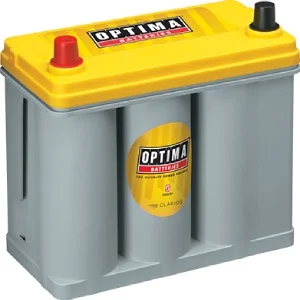 Optima Group 51
#2 choice: Offer the standard CCA, give the benefits of an AGM-type battery.
 Megavolt Group 51R
#3 choice: Offer decent standard performance, cheaper than an SLA-type battery.
FAQs
1. Should I choose an AGM battery or SLA battery?
AGM and SLA batteries both have their advantages and drawbacks, so choosing AGM or SLA battery depends on your expectations and your budget.
Below are the pros and cons of each type:
Pros and cons of SLA Batteries:
Pros
Lower price
SLong working life
Available for almost every vehicle type
Cons
Must be securely mounted in a vertical position to prevent leakage
Regular maintenance is required to prolong their life
The release explosive and toxic hydrogen gas during charging
Susceptible to damage by movement and vibration
Pros and cons of AGM Batteries:
Pros
No danger of acid leakage, can be mounted in any position
Low maintenance
Very little gas is released during charging
Resistant to damage through vibration and movement
Cons
More expensive compared to SLA/FLA batteries
Incorrect charging may damage the battery
2. How long does a Honda Civic battery last?
The working life of a lead-acid battery is dependant on many factors, but you should typically expect between three and six years. Some factors affecting life include;
Regular maintenance. FLA batteries require acid topping up, which SLA and AGM batteries do not. However, all types of batteries will benefit from being connected to a reconditioning trickle charger at regular intervals
Working conditions. Vibration is a killer for some batteries, particularly the FLA and SLA types. Mounting your battery correctly and adding some vibration absorbing material can help to extend the battery's life.
3. What is the Ah rating and is it important?
The Ah rating of a battery is a measure of the power a battery can provide and for how long. For example, a 100Ah battery can provide 20 amps for five hours. Alternatively, it can provide 5 amps for 20 hours.
It is important to make sure that when you buy a replacement battery that it has an Ah equal to or greater than the manufacturer's standard battery.
RELATED: 3 Best Batteries For Honda CR-V 2021 Review