When it comes to replacing the battery in your car or motorcycle, you must do this before being told to. Unfortunately, there isn't any answer as to how long batteries are going to last in vehicles. But there are certain signs that provide a good indication of when you should replace yours. 
If you consider replacing the battery in your vehicle now, you may want to replace it with a Duralast Gold Battery. Below we explain why you may wish to consider getting such a battery rather than replacing it like for like. We also review several models that carry this name. 
Who Makes Duralast Batteries?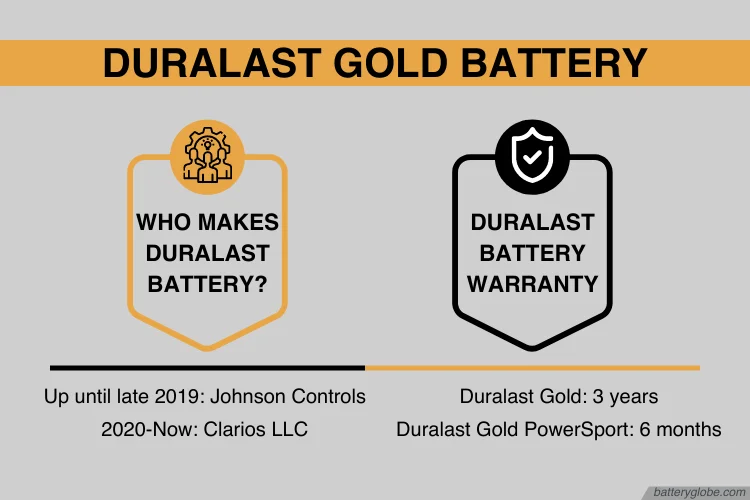 This is a very popular brand of batteries you can buy today and is owned by AutoZone. Duralast is a private label brand of AutoZone that has been selling aftermarket automotive accessories and parts for over 40 years.
Up until late 2019, Johnson Controls was making Duralast batteries. However, this company got bought out by Brookfield Business Partners. They then chose to set up a new automotive battery business called Clarios LLC. 
Clarios makes the Duralast range of batteries that AutoZone sells along with several other well-known battery brands. 
What Type Of Duralast Gold Batteries Warranty Can You Get? 
Duralast Gold Automotive battery will be delivered with a three-year warranty. But the Duralast Gold PowerSport battery is only provided with a 6-month warranty. 
The warranty remains in place from the day the battery was bought by you, as shown on the receipt. The warranty then expires three years or six months after this date.
If at any point during this time the battery is found to be defective, it gets replaced free of charge. You simply need to take the battery together with the receipt to any AutoZone store. 
If it becomes defective after the warranty period, you will be provided with a credit note. You can use this towards the purchase of a new Duralast Gold battery.
3 Important Features To Consider When Buying A New Battery
When buying a new battery for your vehicle, there are three essential features you need to consider. Below we look at what these are.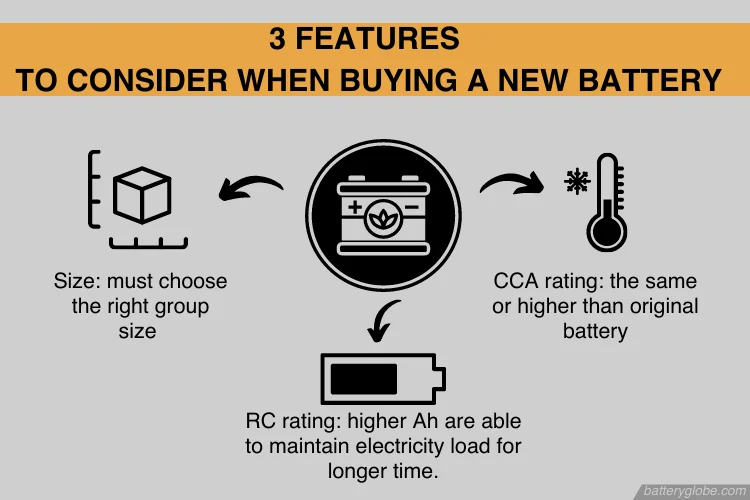 Battery Size 
Batteries come in a variety of different group sizes. You need to make sure you purchase a battery from the same group as in your vehicle now. This will ensure that it fits perfectly into the car's battery box.
CCA Rating 
This tells you how much power the battery generates when it is cold. Make sure you select one with the same or a higher CCA rating than the original battery. 
Ah Rating 
The Ah (amps hours) rating shows the amount of electricity a battery is able to store. Batteries with a higher Ah rating can maintain an electricity load for a longer time.
Best Duralast Gold Automotive Batteries 
Duralast Gold 24F-DLG Battery 
Duralast Gold 24F-DLG is a group 24F battery suitable for use in cars and particular trucks. When bought, you'll find this battery comes with a good CCA and Reserve Capacity (RC) rating compared to similar ones made by other companies. This particular battery comes with a CCA rating of 750A and an RC rating of 130 minutes.
Like other Duralast batteries, this one is made from impact-resistant polypropylene. It makes it more resistant to damage caused by vibrations. 
This battery measures 10.75 x 6.8125 x 9 inches and weighs 43.73 lbs. It may be small in size, but you'll find Duralast Gold 24F-DLG is made up of more lead plates and grids, both of which help generate more power when you first start your car's engine. 
Pros
Come with a 3-year warranty
Are fitted with a heavy-duty strap making them easier to carry
Been designed to make it low maintenance
Batteries are fitted with a system that helps to vent gas safely
Duralast Gold 35 DLG Battery
The Duralast Gold 35 DLG is suitable for many vehicles, but primarily cars and trucks. It's been designed to ensure that it meets or exceeds the OEM specifications of the battery currently in your vehicle.
As with all batteries in this Duralast range, these are constructed from impact-resistant polypropylene. It also uses a high-density paste specially designed by the company that improves the batteries cycling performance.
The CCA rating for this battery is 640A, while the RC rating is again 130 minutes. You will notice it is slightly smaller in size than the 24F model above. This one measures 9.0625 x 6.875 x 8.875 inches and weighs only 37.74 lbs. 
Pros
It comes with a vent system that helps remove gas safely
Is low maintenance
Patented technology helps to optimize electrical flow
Fitted with robust separators that reduce the risk of separator shorts
Cons
It isn't constructed like AGM batteries are
It can prove more expensive to buy in comparison to similar ones
Duralast Gold H7 DLG Battery
As this battery is much heavier and equipped with more lead plates, it is ideal for vehicles that have high power demands. So ideal for cars bought with extra electrical components such as an extensive audio system or heated seats. 
The Duralast Gold H7 DLG battery provides vehicles with as much RC and CCA as they need. This battery comes with a CCA rating of 800 and an RC rating of 140 minutes. 
Like other batteries in this range, this one comes with a vent cap design that prevents acid from leaking out. It is also very durable making it an excellent choice if you like to spend time driving your vehicle off-road. 
The inclusion of additional lead plates in these batteries also helps in the production of more power when you first start your vehicle's engine compared to batteries of a similar size battery. 
Pros
It has an excellent starting current
Has a very low extent of self-discharge 
It requires no maintenance
Cons
Is expensive
Is prone to overcharging
May find it isn't strong enough to be able to sustain several deep discharges
Best Duralast Gold PowerSport Batteries 
Duralast Gold PowerSport ETX20L Battery 
Duralast Gold PowerSport ETX20L is suitable for use in a wide range of different motorcycles, especially Harley Davidson's.
This battery is activated before leaving the factory. So when bought, it comes to you fully charged. You have to drop it into your motorcycle's battery box. Then after connecting it to the cables, it's ready to go.
This battery is leak and spill proof. So no longer do you have to worry about carrying out maintenance. Plus, you will find that it doesn't need replacing as often as some other batteries. 
But, there is a difference between this battery and other AGM models. Inside of this one, it is made up of highly porous microfibre separators. These help to absorb and trap any electrolytes within the battery; as a result, it comes with a CCA rating of 310.
Pros
Is environmentally friendly 
Has a dependable high cycling service
The positive terminal cap protects it against short circuits
It is sealed, charged, so making it ready to use
Cons
It can cost more than similar-sized batteries
Duralast Gold PowerSport ETX18L Battery 
The Gold PowerSport ETX18L battery from Duralast can use in various makes of motorcycles. It is a 12-volt battery that comes with a CCA rating of 340.
Just as with others in this range, the inclusion of premium AGM technology in this battery means it is able to deliver more power and performance. It is also constructed from materials that make it very durable, and any risk of damage being caused through vibrations is significantly reduced. 
It is a sealed unit delivered from the factory to the store filled and fully charged. So after being bought, it can immediately be put in a motorcycle and used. 
This battery also comes with a cap that sits over the positive terminal. It helps protect the battery against short circuits and any sparks that may occur when being transported or stored. 
Pros
Is environmental friend as it is 100% recyclable
Has an amp hour rating of 20
Sealed, so there is no risk of acid leaking out 
Cons
Expensive to buy
You can only purchase these directly from AutoZone
Duralast Gold PowerSport ETX12 Battery 
Again, Duralast Gold PowerSport ETX12 is a sealed absorbed glass mat (AGM) battery suitable for various motorcycles. When delivered to the store from the factory, it comes sealed and fully charged, so you will be able to use it immediately. 
Being sealed, the risk of any acid spilling out should you be involved in an accident will not take place. So the risk of any severe damage to your motorcycle from the battery is significantly reduced. 
This particular 12-volt battery from Duralast comes with a CCA rating of 180 along with an Ah (amp-hour) rating of 10. It is important to note that the positive terminal is on the left side of this battery, not the right.
Pros
Has a good CCA rating
It requires no servicing
Comes fully charged
Cons
Can be prone to overcharging
Unable to sustain several deep discharges
Final Thought
A battery is the engine that will drive your vehicle. You need to take care of it properly, and it should be replaced when necessary. 
It is vital that you find the right kind of battery in your vehicle to ensure that it provides sufficient power to the engine when required.
Besides, you should carry out plenty of research to make sure you choose the correct battery for use in your vehicle.
Hopefully, the information we've provided above relating to Duralast Gold Batteries will help you find the right one for your needs. 
RELATED: Best Interstate Battery Review 2022 [Are these worth the money?]