Many of us now own multiple vehicles, each with a battery, and this is why it's essential to find the best trickle charger for your situation. From your daily use car to maybe a motorcycle, a jet ski, or an ATV. Some of these vehicles may only get used occasionally and sit in the garage the rest of the time.
Being left unattended for long periods can be extremely bad for a battery, shortening its working life and often failing when you need it most! To keep your batteries in top condition, always use the best trickle charger you can find. In this review, there are three trickle chargers from well-known manufacturers.
AT A GLANCE: KEY DIFFERENCES BETWEEN 3 BEST TRICKLE CHARGERS
| | Schumacher SC1343 | Battery Tender Plus | NOCO GENIUS2 |
| --- | --- | --- | --- |
| Customer Rating | | | |
| Price | | | |
| Charging Current | 1.5 A | 1.25 A | 2 A |
| Charging Volts | 6V/12V | 12V | 6V/12V |
| Size (inches) | 8.8 x 5.8 x 3.2 | 9 x 4.75 x 11 | 3.43 x 4.25 x 6.97 |
| Type of Connector | Rings & Clips | Rings & Clips | Rings & Clips |
| Charger Type | Multi-stage, fully automatic | 4 step, fully automatic | 4 step, fully automatic |
| Reverse Polarity Protection | ✔ | ✔ | ✔ |
| Overcharging Prevention | ✔ | ✔ | ✔ |
| Quick Disconnect Plug | ✔ | ✔ | ✔ |
| Thermal Compensation | -- | ✔ | ✔ |
| Ability To Charge Cars | -- | -- | ✔ |
| Charge 12V Lithium Battery | -- | -- | ✔ |
| Desulfation Mode | ✔ | -- | -- |
| Charge Low Volt Battery | Can detect 0.2V battery | -- | Can detect 1V battery |
| Warranty | 5 years | 5 years | 3 years |
| Score | 8.5 | 9 | 8.5 |
| | | | |
Schumacher SC1343 vs. Battery Tender Plus vs. NOCO Genius2: What Are Similarities?
As the three trickle chargers on test all keep your battery at its optimum charge level, they all have some features in common.
Battery Type: Lead-acid-type
The most common battery type in use on vehicles is the lead-acid battery and variants of it. All of these trickle chargers will work with lead-acid-type batteries.
Automatic Charging
We all prefer convenience these days, and that's just what you get with these trickle chargers. All three have built-in automatic charging functions, you connect the battery, and the charger does the rest.
Safety Features
Good safety features are standard across most battery chargers, and the three on review are no exception. All include reverse polarity and overcharging protection as standard.
Quick-connect Cable
Some batteries are difficult to reach, which means you may forget about them. A quick-connect cable comes with all the trickle chargers on test and means you are far more likely to keep the battery in good condition.
Schumacher SC1343 vs. Battery Tender Plus vs. Noco Genius2: Key Differences Explained
Having discussed the similarities between the three trickle chargers on the test, it's essential to look at the differences so you can choose between them.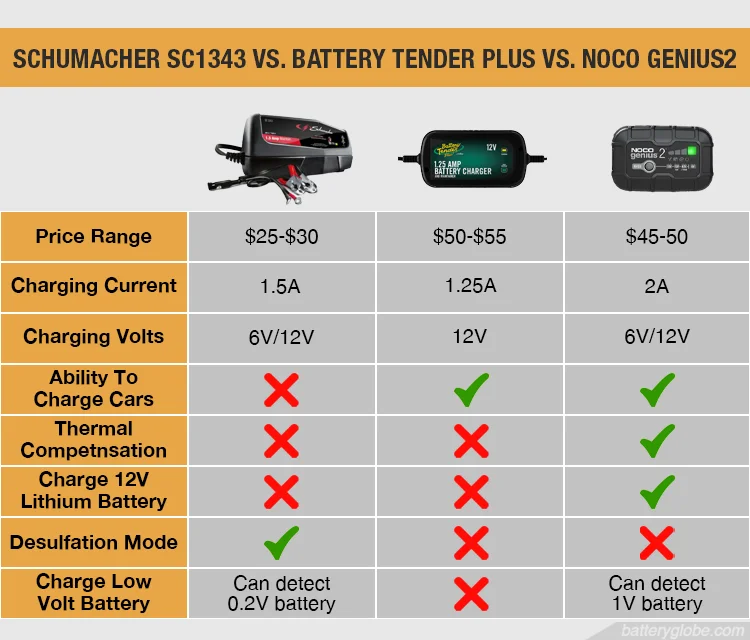 Features and Functions
Battery Type
All the chargers work with lead-acid batteries, but a significant advantage of the NOCO Genius2 is that it also works with modern lithium batteries. As more vehicle manufacturers fit lithium batteries as standard, this feature will become necessary.
Charge Large Vehicle Batteries
With its 2A charging output, the NOCO Genius2 can maintain larger batteries and also charge car batteries. In comparison, the other two trickle chargers here are only suitable for charging smaller batteries.
Battery Voltage
Although used less often, some small engine vehicles still use 6 volt electrical systems. The Schumacher and the NOCO models will charge 6-volt batteries, while the more expensive Battery Tender cannot.
Design
The Schumacher and Battery Tender have very basic designs, with very little apart from a charging light shown on the front panel. In comparison, the NOCO Genius2 shows the charge level through four LEDs, indicates the type of battery being charged, and has a mode button on the front panel.
Supported Vehicles Models/Makes
Only the NOCO Genius2, with its higher 2 amperes output, can charge and maintain car, motorhome, and other larger vehicle batteries. The Schumacher and Battery Tender models can charge smaller batteries but only maintain larger batteries.
Additional Features
Thermal Compensation
The outside temperature where you are charging your battery can affect the charge rate and the final charge state of your battery. The Schumacher is the only model here that does not offer thermal compensation, so consider this factor if your area has extreme temperatures.
Battery Detection
All the trickle chargers on the test are fully automatic and detect the battery connected. For example, the Schumacher will detect a battery with as little as 0.2 volts charge, while the NOCO will detect a battery with just 1 volt.
Unfortunately, the Battery Tender Plus doesn't have this feature, so it cannot charge very flat batteries. An additional feature of the NOCO is the override button, which will force the charger to charge a battery with zero volts charge.
Desulfation Mode
Only the Schumacher includes a dedicated desulfation mode, which it switches to automatically if a sulfated battery is detected.
Price, Warranty
The Schumacher is the cheapest trickle charger here, at around $35, but it offers many features included with the others despite this. NOCO's Genius2 is the mid-priced option at about $50 and provides the most features.
Unfortunately, the Battery Tender Plus looks very expensive in this company, at just below the $100 mark, and it is hard to justify the price against the others.
Both the Schumacher and the Battery Tender have 5-year warranties, while buyers of the NOCO will have to make do with only a 3-year warranty.
Which One Should You Buy?
Schumacher SC1343
Schumacher SC1343 1.5A 6/12V
Schumacher SC1343 maintains 1.5 Amps in motorbike, vehicle, or marine batteries. Automatic amperage rate adjustment and multi-stage charging controlled by a microprocessor for increased precision, safety, and battery life.
Pros
Price
5-year warranty
Detects batteries that only have 0.2 volts charge
Includes a desulfation mode
Recommendation
The Schumacher is hard to ignore at such a good price, and it's perfect for owners of motorcycles, ATVs, and other small engine vehicles.
Battery Tender Plus 1.25A
Battery Tender Plus 1.25 AMP Battery Charger and Maintainer
Battery Tender Plus is small and light enough to be used anywhere, even in tight situations. This charger gives your machine's battery a full charge before transitioning to float mode, which maintains correct voltage levels for safe, long-term storage without overcharging or harming the battery.
Pros
5-year warranty
Thermal compensation during battery charging
Cons
Charges 12-volt batteries only
Only 1.25A output
Recommendation
Considering the massive price premium for the Battery Tender, we can only recommend this product to someone that likes the brand over other considerations.
Read more if you're interested in higher amperage: Battery Tender 1.25 Amp Vs. 4 Amp Vs. 5 Amp: How big of a Tender do I need?
NOCO Genius2
NOCO GENIUS2, 6V and 12V Battery Charger
Designed for flooded, gel, AGM, and maintenance-free lead-acid automotive, marine, and deep-cycle batteries, as well as lithium-ion batteries. It's like G1100, but better. It's 30% smaller and offers 140 percent more power, making it an ideal travel companion.
Pros
2A output can charge larger-engined vehicle batteries
Can charge lithium batteries
Can detect batteries at just 1-volt charge
Override feature to charge batteries with 0 volts charge
Recommendation
The NOCO has a lot to offer at a great price and is the ideal choice for anyone looking for a trickle charger that can also charge larger vehicle batteries.
Bonus: Noco Genius2 vs Genius5 vs Genius10: Which Is An Overpriced Charger?
FAQs
What is s trickle charger?
A trickle charger is designed to maintain your vehicle's battery while the vehicle is not being used. They use sophisticated electronics to detect, monitor, and charge your battery to the optimum charge level.
Can trickle chargers recover a heavily sulfated battery?
No, trickle chargers are designed primarily to maintain your battery at the optimum charge. However, in this test, the Schumacher SC1343 does have sulfation detection and an automatic desulfation mode.
You can find methods to recondition a heavily sulfated battery here: How To Recondition A Car Battery That Won't Hold Charge
Are trickle chargers good for recovering very flat batteries?
The answer to this depends on the model of the trickle charger. In this test, both the Schumacher and the NOCO are designed to recover very flat batteries.
How l does it take to charge a battery fully?
The charging time for a battery will depend on many factors, such as the current voltage level of the battery, the amperage of the battery, if it is sulfated, the outside temperature, and how old the battery is.
A flat battery can take many hours or even days to fully charge with a trickle charger, but most chargers have indicators on the front panel to show when charging is complete.
For more details: How Long Does It Take To Charge A Car Battery?
If I Unplug The Charger, Do I Need To Disconnect It From The Battery?
Yes, you should always disconnect the charger from the battery when you unplug the charger. If you leave it connected, there may be a small drain on