When it comes to providing power to your digital camera, and the need to buy loads of AA batteries is no longer required. Instead, there is a good selection of rechargeable lithium-ion batteries you can use instead.
Lithium-ion batteries can provide enough power to allow you to take more than 50 photos before they need recharging. One company worth considering buying such batteries from is Powerextra.
Powerextra was founded in 2010 and has become renowned for producing high-quality batteries and accessories related to batteries.  Since the beginning, this company has devoted itself to making a wide range of batteries.
The technology used in the making of Powerextra batteries helps to increase the life of these batteries. So you are sure to find a battery that will be suitable for use in your digital camera.
3 Features You Must Consider When Buying a Powerextra Battery for Your Camera
You need to consider three main features when looking to buy a battery for your digital camera that comes with the Powerextra name.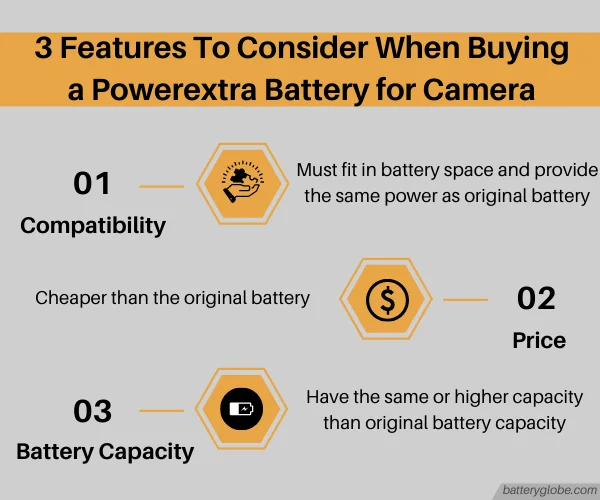 Compatibility
Each digital camera today has unique size dimensions. Also, the space where the battery sits is different. The battery you select shouldn't only fit in the battery space properly but also provide the same amount of power as the battery already in use. It is also essential to choose a battery that is for the model of camera you own.
Price
The price for a third-party battery is often considerably lower than the maker of your camera charges. It is perfectly safe for you to use these less expensive batteries as long as you choose ones with the exact specification as the original.
They often work just as well as the original ones. But due to the lower cost, you can easily afford to replace them when the time comes.
Battery Capacity
You need to make sure that you choose a battery with the same or higher capacity than the current one. How much battery capacity you choose depends on how many photos you intend to be taking. Cameras with a higher capacity rating will last longer, so allowing you to take more photos.
What is essential is that the battery you choose, even if it comes with a higher mAh rating, is the same voltage as the one in your camera now. Choosing a battery with a higher voltage could cause damage to the electronics inside your camera.

Powerextra Canon
LP-E6 Battery
Powerextra Sony NP-FW50 Battery & Charger
Powerextra Nikon EN-EL14 Battery & Charger
Are Powerextra Batteries any Good?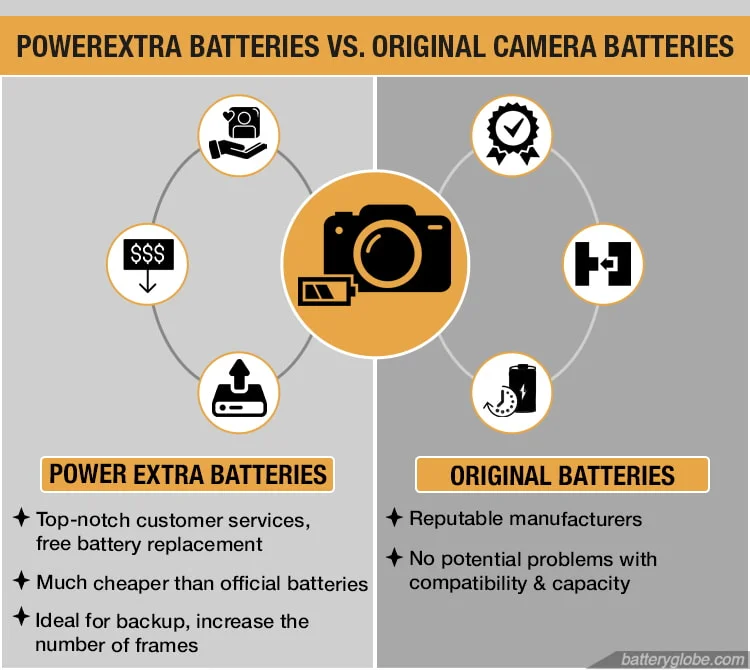 Okay, Powerextra batteries are much cheaper compared to the official batteries for your digital camera. But you'll be surprised to discover that they work just as well. It is because the batteries use advanced technology to ensure that they work effectively and efficiently.
In many cases, the great thing is that along with the batteries, and you also get a charger. So you can always have batteries charging, and always have a fully charged one available when you need it.
Powerextra's customer service is top-notch, they offer a free replacement of the batteries and also the charger if their customers have issues when purchasing their products. They really stand behind the product!
Powerextra Batteries for Canon Camera
Best Capacity Powerextra Battery
Powerextra Replacement Canon LP-E6, LP-E6N Replacement Battery
This is a good value for the price, and works fine as Canon LP-E6, LP-E6N battery. Powextra is for those who looking for good customer service from an online retailer. They always listens to the customer and discusses options for fixing the problem if a customer is unhappy.
If you are looking for a new battery for your Canon digital camera that comes with a higher mAh (capacity) rating, then the Powerextra LP-E6 is worth considering.
These lithium-ion batteries have been specifically designed for use in a wide range of different Canon cameras. They are convenient to use and will fit easily into the battery slot in yours. They provide the same functions as the original battery in your camera does.
These batteries come with a 2600 mAh rating and are both 7.4 volts. Suitable for use in Canon cameras such as the EOS 5D, EOS 6D, EOS 7D, and EOS 80D cameras.
Best Priced Powerextra Battery
Powerextra Canon LP-E8 Replacement Battery
Two batteries for $15 is an amazing deal for Canon Rebel T3i, T2i, T4i, T5i, EOS 600D, 550D, 650D, 700D, Kiss X5, X4, Kiss X6, LC-E8E. An 1800 mAh battery can provide you 6 hours of shooting photos without worrying about dead batteries.
Are you looking for an affordable new rechargeable battery to use in your Canon digital camera? Well, think about getting the LP-E8 from Powerextra.
Like the battery you already use in your camera, this one is 7.4 volts but comes with an 1800 mAh rating. The higher capacity means it will last longer, allowing you the opportunity to take more photos. Once fully charged, these batteries will last long enough to let you take up to 900 images before they run out of power.
As you will see, this battery is 100% compatible with various Canon digital cameras such as the EOS 600D, 550D, 650D, and 700D.
Best for Use with Multiple Input Sources
Powerextra Replacement Canon LP-E10 Battery & USB Charger
These Powerextra batteries perform absolutely as well as original Canon batteries, but at a fraction of the cost. This item is for those who need a quicker charger than the original one with an LCD display, and more batteries as backups for the Canon camera.
Suppose you are looking for an alternative battery for your Canon camera that allows you to recharge them using alternative input sources. Then you may want to get Powerextra's LP-E10 battery and charger pack.
With this one, you cannot only charge the batteries in the charge using a mains supply but connecting it up to a laptop, power bank, or even in your car. All that is required is the charging source has a USB port.
You are also able to charge two batteries at the same time. To charge one battery takes around 135 minutes. But when it comes to charging two, it takes about 3 hours.
Powerextra Batteries for Sony Camera
Best Backup Battery Solution
Powerextra Replacement Sony NP-FW50 Battery & LCD Display Charger
These batteries hold a much longer charge and are comparable to the Sony OEM battery. This product includes 2 Sony NP-FW50 replacement batteries for $25 with a USB dual charger, much cheaper when compared to $50 for an OEM.
Want an affordable set of backup batteries to use with your Sony digital camera? Then think about getting Powerextra's NP-FW50 pack of 2 replacement batteries with a charger.
These 7.4-volt lithium-ion batteries come with a mAh rating of 1500 and 11.1 Wh. Perfect if you want batteries that will last for longer but cost less than the official Sony batteries do.
The great thing is that you can charge both batteries simultaneously and, on average, expect both to become fully charged within 3 hours.
Plus, you don't need to use a main electrical supply to provide power to the charger. If you want, you can plug them into any device such as a power bank or laptop with a USB port.
Battery with Best Charging Options
Powerextra Replacement Sony NP-FZ100 Battery & USB Charger
We recommend this item if you are looking to save a little but still want a good product that performs well as an OEM one. These batteries can be recharged with the attached charger by using the built-in USB cable or a micro-USB cable.
If you are looking for replacement batteries for your Sony digital camera at a fraction of the cost of buying replacement originals, then look at what Powerextra has to offer.
Powerextra's NP-FZ100 battery and charger pack will prove invaluable to you, especially if you love to take a lot of photos. As well as coming with a 2500 mAh rating, these 7.4-volt batteries can also be charged in several different ways.
You can either plug the charger into a mains supply or plug it into a power bank, car cigarette lighter, or laptop because it comes with a USB cable.
The charger will have both batteries recharged within 3 hours, and the LCD display allows you to see the charge status of your batteries. So you can see just when they will be ready to use once again.
Powerextra Batteries for Nikon Camera
Best Battery for Taking with You
Powerextra Replacement Nikon EN-EL14 Battery & LCD Display Charger
10/10 highly recommend it to those who prefer a replacement with longer battery life for half the price of an OEM Nikon battery. This affordable kit also impresses you with good after-sales service from PowerExtra.
Looking for a new rechargeable battery for use in your Nikon digital camera, but don't want to spend a fortune on them. Well, look no further than the Powerextra EN-EL14 battery and charger pack, which will work well in:
Nikon D3100, D3200, D3300, D3400, D3500.
Nikon D5100, D5200, D5300, D5500, D5600.
Nikon Coolpix P7000, P7100, P7700, P7800, P8000.
As well as being compatible with a wide range of Nikon digital cameras, these batteries from Powerextra can also be charged on the go. The charger comes with a USB cable that allows you to plug it into any device that has a USB port. So you can connect it up to your laptop, computer, or a power bank. Also, you could even connect it to the power supply in your car.
Once sat in the charger, the 7.4-volt, 1500 mAh batteries will take around 3 hours to charge. However, you can charge the batteries separately if you wish and one battery to fully recharge takes approximately 135 minutes.
Best Capacity Nikon Replacement Battery
Powerextra EN-EL15 Batteries & Charger
This item is for those who looking for a nice alternative to expensive Nikon batteries. Batteries work as well as the original ones for a fraction of the price. You will also love the USB charger that allows you to recharge batteries with a power bank if you are in remote locations.
Are you looking for a replacement battery for your Nikon camera that will allow you to take even more photographs for longer? Then you need to think about getting the Powerextra EN-EL 15a EN-EL 15b battery and charger set.
These are compatible with Nikon D780, D850, D800, D7500, D600, and Z6 cameras. They also come with a mAh rating of 2200, so you will be able to take up to 900 photographs before the battery runs out of power. This battery life is considerably longer than you would get if you replaced them with original Nikon batteries.
Conclusion
As you will see above, you have many different rechargeable batteries for digital cameras you can choose from at a much lower cost. Not only are these batteries from Powerextra a lot less expensive, but they also come with the added ability to provide power to your camera for longer.
So if you are a keen photographer who loves to take pictures, then investing in some of these batteries is something worth considering.
Read more if you also have filming devices that use non-rechargeable batteries: CR2 vs. CR123 Battery – Which Is Your Best Option?