We've all been there; in the garage, with a dead battery. Thankfully, a trickle charger can save you and get you back on the road in such a situation.
Trickle chargers work like jumper cables, only they plug into the wall, charge your car over a period of time, and are intelligent enough to stop charging when it detects your battery is full. They even distinguish between lithium-ion or lead-acid batteries.
Trickle chargers, overall, display the same basic functions, but there will be different safety features and such. In this review, we'll look at three chargers from three reputable manufacturers and recommend the best one for you.
AT A GLANCE: QUICK COMPARISON BETWEEN OPTIMATE 6, CTEK 5.0 AND GENIUS5
| | NOCO GENIUS5 | CTEK MXS 5.0 | OptiMATE 6 |
| --- | --- | --- | --- |
| Customer Rating | | | |
| Price | | | |
| Size (inches) | 4.61 x 3.43 x 7.95 | 11.02 x 5.91 x 2.36 | 12.28 x 7.05 x 3.35 |
| Charging current (A) | 5A | 4.3A | 5A |
| Charging volts | 6V/ 12V | 12V | 12V |
| Type of charger | 9 step, fully automatic | 8 step, fully automatic | 9 step, fully automatic |
| Reverse polarity protection | ✔ | ✔ | ✔ |
| Overcharging prevention | ✔ | ✔ | ✔ |
| Temperature sensor | ✔ | ✔ | ✔ |
| Reconditioning function | ✔ | ✔ | ✔ |
| Wall mounts | -- | ✔ | ✔ |
| Battery test function | -- | -- | ✔ |
| Compable with lithium, lifepo4 | ✔ | -- | -- |
| Score | 8.5 | 9 | 8.5 |
| | | | |
TECMATE OptimaMATE 6, CTEK MXS 5.0, NOCO GENIUS5: Key Common Features
These three products all aim to get you back on the road, so common features are inevitable. Various safety, durability, and longevity features are common across most trickle chargers.
Supported Vehicles
All three chargers advertise compatibility with every type of vehicle: motorcycle, car, marine. Basically, anything with a 12-volt battery will work with all of these chargers. Depending on the size of the battery and subsequent vehicle, however, charging time will vary.
It is best to consider the size of your vehicle when purchasing one of these as well. While all three will work on any 12-volt battery, you should buy the TecMate if you had a larger vehicle, as it is the only one advertised to work on larger vehicles like RVs.
Safety Features
Overcharging, while not catastrophic, can damage your battery. All three chargers have a feature built in to prevent the battery from being overcharged; they recognize when it is full, and switch to a maintaining mode where a full charge is maintained until you unplug it.
Each charger also has a function built-in where it will flashlight if the battery cannot be charged and is too damaged to work properly, so you know to replace it.
Also, all three chargers are spark-proof. All three chargers have sealed cases, and therefore protection against sparks. This is not a dealbreaker, but you will want to make sure not to store anything with flammable vapors right next to any of these chargers, just for safety.
Finally, all three chargers are resistant to spills and dust, so you don't need to worry about them getting rained on or dusty. They also each feature reverse polarity protection, which prevents problems when charging or disconnecting.
Key Differences
Ultimately, each charger serves the same purpose: to charge a battery that was not working properly. They also look pretty similar. We have gone through the common features, and now here are the main differences between all 3 trickle chargers.
Features & Functions
NOCO GENIUS5 with "Force" function: Ability to charge 0-volt batteries
Each charger has short jumper cables and crocodile clips for attaching to the battery in question. However, only NOCO GENIUS5 is able to charge a completely dead, 0-volt battery, with a "force" function that allows you to override safety settings and charge a battery that is at 0 volts.
This feature is good, as it means you can bring in a car or other vehicle that has been sitting in a field for a long time, plug in the battery and charge it from a completely dead state. That could be the difference between having to buy a new battery, which is not cheap and being able to use the old battery for a little while longer.
The GENIUS is also able to charge 6 volt systems, which is another plus; being able to use the same tool for more jobs.
Temperature sensor in Ctek 5.0 & Genius5: Alter the charge based on the ambient temperature
While all three chargers are able to recharge a battery, both the CTEK MXS 5.0 and NOCO GENIUS are able to alter the current flow depending on the ambient temperature, so as to prevent over or undercharging. Useful, especially if you live in an area with big season temperature swings from very hot to very cold year-round.
Design
All three chargers are fairly small, but there are differences in their appearances and feel.
Optimate 6 vs Noco Genius 5: The Biggest vs The Smallest Charger
The TecMate is by far the largest, at over a foot long, 7 inches wide, and 3 inches thick. It also weighs the most by far, at 3.0 pounds even. Now, this is not a lot, but you will not be carrying it in your pocket.
The CTEK is the middleweight, clocking in at 11.0 inches long, 5.91 inches wide, and 2.3 inches thick. However, it only weighs 1.79 pounds compared to the TecMate. It is still not something you would carry in your pocket, but you could conceivably put it in a purse or backpack if you wanted to.
Finally, we have the NOCO GENIUS, coming in at 7.9 inches long, 4.6 inches wide and 3.43 inches tall, svelte compared to the other two. Regardless, all three chargers are sturdy units and are not flimsy.
Type of Connections: Varied Options on Ctek 5.0 and Genius5
The connection method is the same for all three chargers: crocodile clips. However, the CTEK MXS and TecMate do have the option to detach the crocodile clips and use eyelets instead, so you can leave them attached to the battery and plug the charger in if you need to use it on a regular basis. A simple feature but a useful one.
Additional Features
Need a Charger with Recondition Function For 0-Volt Batteries: Noco Genius5 or Ctek 5.0?
Both the Genius5 and CTEK 5.0 feature a battery repair mode that reconditions and recharges a badly discharged battery so that it can operate near full performance for a while longer. This feature will not save a completely dead battery at the end of its life cycle, but it will keep it working long enough to swap it for a new one.
TecMate Optimate 6 is also equipped with this function but it can only recover sulfated batteries from as low as 0.5v.
Can a Charger Be Used as a Power Supply? – "YES, Ctek 5.0 can"
The CTEK MXS is the only charger of our trio that can be used as a secondary power supply. If you are changing the battery, attach the CTEK to the necessary points in your cars, such as the alternator and fuse panel, and keep power running while you change the old battery.
This is so you do not lose any factory settings or need to reset the radio due to losing power. Useful, if you work on your car frequently or if you need to in a pinch.
Warranty
The NOCO GENIUS5 comes with a 3-year limited warranty, the TecMate has a 3-year warranty from the factory and the CTEK has a 5-year warranty from the factory.
Which I Should Buy?
NOCO GENIUS5: Big Power, Small Expenses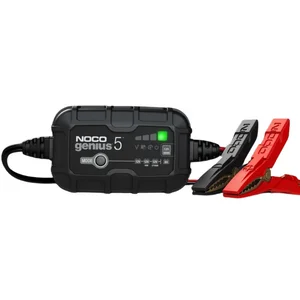 NOCO GENIUS5 5A Smart Charger
It works like a magic. Genius5 can save discharged batteries to 0 volts with "force mode". This charger also automatically restores your battery to full charge and operates it in maintenance mode. With the GENIUS5, your car is ready to go whenever you need it.
Pros
Small overall size & lightweight
Temperature-sensitive for optimal charging
Can charge a completely dead battery
Compatible with any 12 or 6V battery system
Spillproof, splashproof, and dustproof
Cons
The X-connector for the adapters can be a failure point and result in improper charging
Recommendation
The NOCO GENIUS5 is a brilliant charger that intelligently maintains your battery over time and can recharge it from a completely dead state if you need to. We highly recommend this charger.
RELATED: Noco Genius2 vs Genius5 vs Genius10: Which Is An Overpriced Charger?
CTEK MXS 5.0: Five Stars For Quality & Price
CTEK MXS 5.0 4.3A Battery Charger/Maintainer
There is no doubt that Ctek 5.0 is one of the most advanced Pandemic parking solutions. It charges, maintains, and extends the life of your batteries with a unique 8-step charge process. It's worth spending a bit extra on quality and performance.
Pros
Perfect to charge aging battery
Built-in temperature sensor for accurate charging
Can be used as a secondary power supply
Cons
Cannot think of any. This product seems to be almost airtight
Recommendation
This is tied with the CTEK for best in this review. It is affordable, reconditions completely dead batteries, and can be used as a secondary power source to boot. We highly recommend using CTEK 5.0 if you need to buy one.
RELATED: CTEK 7002 Vs. CTEK MUS 4.3 Vs. CTEK 5.0: Never add any of them to the cart before reading this comparison
TecMate OptiMate 6: Double Duty Charger Around $100
OptiMATE 6 9-Step 12V 5 Amp Charger & Maintainer
Optimate 6 is a reliable charger for any size battery from 15 to 240 Ah. It's can test, recharge, maintain, and recover all 12V lead-acid batteries. Worth every penny! You will be pleased with the product's quality.
Pros
Reliable and durable
Can save any size battery, no matter how large or small
Intelligently adjusts charging rate to ensure even charge throughout the whole battery
Battery test function
Cons
Heavy
Cannot restart a fully dead battery at 0 volts
Recommendation
The TecMate OptiMate 6 is a solid charger, but expensive compared to the other two in this review, and it doesn't have as many useful features as the NOCO or CTEK. Nonetheless, it is a perfect charger if you need a charger with "battery test function".
FAQs
Can these chargers be used on all car battery types?
Yes, in fact, they can be used on any 12-volt battery that needs to be charged and has terminals large enough for the alligator clips that each charger features.
However, they are designed to plug into an outlet and charge a battery; these chargers do not have their own power source, and so cannot operate without an outlet.
Can I use these chargers on an electric car?
Not to charge the main drive battery.