The situation is a familiar one: in the garage, late for work, with a dead car battery that was fine last night. Happily, trickle chargers can both get you back on the road and prevent such a situation.
Trickle chargers are much like jumper cables; they slowly recharge your car battery over a while, except trickle chargers plug into the wall and cannot be used to jumpstart a car. Trickle chargers are also intelligent enough to know when to stop charging a full battery and distinguish how much power is needed to safely charge the battery, whether it is lead-acid or lithium-ion.
While trickle chargers overall perform the same basic job, each one has different features that set them apart. In this review, we'll look at three chargers from three reputable makers and recommend which one you should buy.
NOCO GENIUS1, Battery Tender Junior, CTEK 0.8: Key Common Features
All three chargers aim to put you back on the road, so they will inevitably have features in common. Safety, durability, and longevity features are standard across all types of trickle chargers.
Charging Capability
All three chargers can charge almost any type of battery you need: motorcycle, automotive, marine. Better still, the NOCO can charge and maintain deep-cycle batteries, unique among the three chargers in this review.
Now, charging amperage and output voltage is essential, signifying how powerful the charger actually is. The NOCO has a charging amperage of 1 full Amp, and an output voltage of 12 or 6 volts, depending on the system you are attempting to charge.
The Battery Tender Junior has a charging amperage of 750 milliAmps, or 0.75 Amp. It also has an output voltage of 12 volts. Finally, the CTEK 0.8 has a charging amperage of 800 milliAmps (0.8Amp), and an output voltage of 12 volts.  Suffice to say, they are all good products, but the NOCO is the most powerful and can charge the more systems.
Safety Features
Each charger has features that prevent overcharging and charging when the clips are incorrectly attached. Also, all three chargers are resistant to dust and spills, so you need not worry about wet and dusty garage floors. They also feature reverse polarity protection to avoid problems when connecting, charging, or disconnecting.
Each charger also has an overcharging prevention feature built-in, which detects when the battery is fully charged and switches to a maintenance cycle that keeps the battery at or near a full charge.
All three trickle chargers have a detection feature that knows when a battery is too damaged to charge and use safely and will flash a light to let you know that the battery cannot be used anymore.
These chargers also have sealed cases to protect against sparks, but be careful not to use them near anything flammable, just in case.
Connection Methods
The connection method for all three chargers is the same. All three chargers also feature eyelet connectors that you can leave attached to the battery if you need to charge it frequently; that way, it is a simple method of connecting the wires and plugging in the charger.
If you feed the eyelet wires through the grille, you will not even need to open the hood of your car to charge it; plugin and leave it.
Warranty
All three chargers come with factory warranties; in fact, all three chargers come with a 5-year warranty.
Key Differences
Each charger serves the same purpose: to slowly recharge a dead battery and get it ready for use once more. Design and aesthetics are also similar. Now that we have gone through crucial features, we move onto key differences.
Complete Comparison Table of 3 Trickle Chargers

NOCO GENIUS 1


Battery Tender Junior


CTEK 0.8

Customer Rating

Price
Size (inches)
3.43 x 4.02 x 6.73
8 x 4 x 9
9 x 6 x 2
Output voltage
12V/ 6V
12V
12V
Charging current
1 A
750 mA
800 mA
Compatibility
Lead-acid, flooded, AGM, Gel, lithium-ion
Lead-acid, flooded, AGM, Gel
Lead-acid, flooded, AGM, Gel
Capacity Range
Up to 30Ah
1.2-32Ah
N/A
Type of charger
9 step, fully automatic
4 step, fully automatic
6 step, fully automatic
Reverse polarity protection
✔
✔
✔
Overcharging prevention
✔
✔
✔
Quick connection harness
✔
✔
✔
Reconditioning function
✔
--
✔
Ability to charge car batteries
✔
--
--
Temperature Compensated
✔
--
--
Battery & alternator test function
--
--
--
Charging time (15Ah battery)
12 hours
16 hours
15 hours
Warranty
5 years
5 years
5 years
Pros
+ Temperature sensor
+ Can charge 0-volt battery
+ Can charge 6 or 12-volt battery system
+ Small overall size
+ Small size
+ 80-hour safety timer to prevent any issues


+ Built-in temperature sensor
+ Desulfation feature to review dead battery


Cons
- None
- Cannot recharge a nearly dead battery
- No temperature sensor
- Not powerful enough to charge a car battery

- Not powerful enough to charge a car battery
Score
9
8
8
Features & Functions
Noco Genius1: "Force" feature & Ability to charge 6V batteries
Only the NOCO GENIUS1 comes with a feature, "force" that allows you to charge a battery from a completely dead, 0-volt state. This "force" feature is essential, as it means you can take a completely dead battery sitting at 0 volts, charge it and use it for a little longer.
This can be the difference between being stuck in the garage and being able to go and get a new battery. The NOCO can also charge 6 volt systems; useful, as it means you only need one trickle charger for multiple jobs.
Noco & CTEK chargers: Temperature sensor for more accurate charging
All three chargers can recharge a battery and adjust power flow depending on the charge state, the size, and the type of the battery.
However, only the NOCO and CTEK can adjust power flow to prevent overcharging according to ambient temperature, so you may want to consider purchasing these two if you live in an area with large temperature swings and need to recharge batteries.
Design
All three chargers are relatively small, but there are differences in their appearance and feel.
The Battery Tender Junior is the heavyweight of the group, weighing in at 1.8 pounds but only measuring 8 inches x 4 inches x 9 inches. Basically a cube, but you won't be carrying this in your pocket. It will fit in a backpack, however.
The CTEK is the biggest by measure, measuring 9 inches x 4.75 inches x 11 inches. However, it only weighs 1.4 pounds, making it easy to carry in hand or a small bag. Finally, the NOCO is the smallest, at 15 ounces, and 8 inches x 4 inches x 9 inches.
Don't worry about them being flimsy; however, all three chargers are sturdy units and will stand up to a pounding, should they accidentally drop on the floor.
Supported Vehicles
Unfortunately, only the NOCO GENIUS1 is powerful enough to charge a car battery. However, this charger is limited to 30 Ah capacity batteries, and it takes more than three days to charge a car battery fully.
The other two chargers will work with 12 volt systems, but not something as large as a car battery; their charging current is not high enough, at 750 milliAmps for the Battery Tender and 800 milliAmps for the CTEK, compared to the NOCO'S 1 Amp.
Additional Features
Only the NOCO and CTEK chargers can condition a battery to extend its life; the Tender Junior will charge and maintain a nearly dead battery but will not recondition it to last longer. Still, the reconditioning feature will not save a battery, but rather keep it running long enough to get a new one.
However, none of these chargers will function as a secondary power source, so do not use them as such.
Which Trickle Charger Should You Buy?
NOCO GENIUS1: A "GENIUS" Gadget For Those Who Need SIMPLE!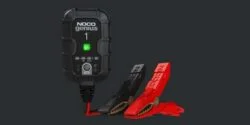 NOCO GENIUS1 1Amp 6V and 12V Charger
A speedy genius tool for charging and maintaining cars, sport applications, motorbikes, classic cars, etc. both 6V and 12V battery systems. "Force" feature allows charging a 0-volt battery and use it for longer.
Pros
Small overall size
Powerful enough to maintain a car battery
Compatible with any 6 or 12V batteries
Can recondition a completely dead battery
The cheapest of 3 chargers (under $30)
Cons
Cannot charge a car battery, only maintain it
Recommendation
The NOCO GENIUS1 is a solid charger that will be an excellent addition to any garage and intelligently maintains your battery over time, even recharging it from a completely dead state. This is definitely one of the better small trickle chargers out there.
Battery Tender Junior: Unbeatable Prices On All The Chargers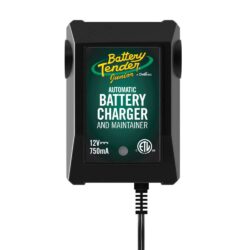 Battery Tender Junior 0.75A 4 Step Charger
Battery Tender Junior is one of the Most-Loved trickle chargers for small-sized vehicles. It works exactly as advertised to keep your batteries in top shape but cost less than most chargers on the market from other famous brands.
Pros
80-hour safety timer to prevent any issues
4 step program for optimal and safe charging
Small overall size
Cons
Cannot recharge a completely dead battery or recondition any battery.
No intelligent temperature sensor
Cannot charge car battery, only maintain it
Recommendation
The Battery Tender Junior is a solid trickle charger, and one I would consider if I needed one. It is a solid purchase, but keep in mind there is no temperature control, and therefore it may be sensitive to extreme heat and cold.
CTEK US 0.8: Bring A Bad Battery Back To Life & Extend Its Life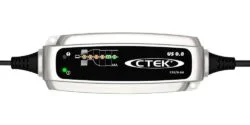 CTEK US 0.8 12V 6 Step Battery Charger
CTEK 0.8 is a nice less expensive choice as a healthy trickle charger for maintaining, maximizing battery life and performance. 6 step charging process will "take care" your battery, protect it from draining during long time storage.
Pros
Fully sealed, rainproof, dustproof, etc.
Desulfation feature to help the battery regain some capacity
Built-in temp sensor for safe and accurate charging
Cons
Not powerful enough to charge a car battery
Recommendation
This charger, while it will not recharge or recondition a completely dead battery, is nonetheless a great purchase, and we highly recommend it if you need a trickle charger for your household.
FAQs
Can these be used to charge a car?
Unfortunately, only the NOCO GENIUS1 can charge a car battery out of the three chargers assembled here. Nonetheless, it is still a great charger and one you should buy if you need one.
How long can I leave the charger plugged in?
Generally speaking, with a smart charger that knows when to shut off power flow, you can leave it attached indefinitely, although it is good to check regularly to make sure there are no issues.
Bonus: Battery Tender® Junior vs. Battery Tender® Plus vs. Battery Tender® 800: Which battery charger do you need?