Motorcycles and ATVs are often only used for short periods, and inevitably, they stand in the garage idle for long periods. In most cases, they are for weekend fun, while during the week you use your car. A lack of use is a big issue for a battery, and it got me wondering the best way to keep a motorcycle battery charged.
In just a few minutes of searching, I found some great solutions, such as the Battery Tender® range of battery maintainers. These sophisticated devices monitor the battery charge and automatically maintain your battery at the optimum voltage.
This brief article compares three Battery Tender products aimed at the smaller end of the market.
Battery Tender Junior vs. Plus vs. WP 800: What Are The Similarities
Not surprisingly, these battery maintainers all have some things in common. They all do the same job and are all from the same manufacturer.
Battery type – the three battery chargers on the test are designed for charging smaller vehicles, such as motorcycles, ATVs, mowers, and similar, that use small lead-acid batteries.
These Tenders have the capability to maintain a car battery only, not charge. This is true for car collectors.
Connection type – alligator clips are supplied for all types, plus a quick-connect cable with ring terminals for permanent connection to the battery.
Safety – all three chargers on test feature spark proof and reverse polarity connection safety features.
Overcharging – all Battery Tender® Chargers and Maintainers have overcharging protection built-in.
Automatic charging program – each Battery Tender® Charger is fully automotive and easy to use. Connect it and forget it.
Battery Tender Junior vs. Plus vs. WP 800: Key Differences Explained
We have covered the similarities between the three models, but there must be some differences to justify the price difference.
Complete Comparison Table of 3 Battery Tender Chargers

Battery Tender Junior


Battery Tender Plus


Battery Tender 800

Customer Rating

Price
Size (inches)
8 x 4 x 9
9 x 4.75 x 11
10 x 4 x 10
Charging current
750 mA
1.25A
800 mA
Compatibility
Lead-acid, flooded, AGM, Gel
Lead-acid, flooded, AGM, Gel
Lead-acid, flooded, AGM, Gel
Supported vehicles
Sports applications, motorbikes
Sports applications, motorbikes
Sports applications, motorbikes
Type of charger
4 step, fully automatic
4 step, fully automatic
4 step, fully automatic
Reverse polarity protection
✔
✔
✔
Overcharging prevention
✔
✔
✔
Quick connection harness
✔
✔
✔
Water-resistant
--
--
✔
Temperature sensor
--
✔
--
Reconditioning function
--
--
--
Charge car batteries
--
--
--
Safety timer
80 hours
72 hours
80 hours
Warranty
5 years
10 years
3 years
Pros
+ Small size
+ Price
+ Maintains your battery at the optimum level of charge
+ Ten-year warranty
+ Greater amperage for quicker charging
+ Temperature sensor
+ Optional battery bolts

+ Waterproof
+ Compact size

Cons
- Slow charge
- Not waterproof
- Slightly larger than the other models
- Only 3-year warranty
Score
9
9
8
Charging time
With a much larger output of 1,25 amps, the Plus model will recharge your battery significantly more quickly. For example, a fifteen amp battery will take ten hours with the plus, but the Junior model will need sixteen hours.
If quicker charging is your priority, then choose the Plus model.
Design
The three battery chargers and maintainers are small and compact, only increasing in size a little as the power output increases. The compact size makes them easy to carry with you, in your pocket or motorcycle luggage, for example. Going away on a trip doesn't mean you can't take a battery charger with these small Battery Tender® models.
The Battery Tender® WP 800 has a significant advantage over the other two, though, as it is completely waterproof, making it ideal for water sports uses.
Supported vehicles models/makes
Although all the chargers are aimed at the small vehicle market, such as motorcycles and ATVs, the power output distinguishes them from one another.
The Battery Tender® Junior and WP 800 have almost identical outputs at 750 and 800 mA, respectively. However, the Battery Tender® Plus gives a significant jump to 1.25 Amps, which means it will charge batteries more quickly.
Although none of the Battery Tender® on the review are designed to charge car batteries, they can be used to maintain them. Connect a fully charged car battery to one of these models, and it will automatically keep your car battery at the optimum level.
Price, warranty
The Battery Tender® Junior model is the cheapest on the review, at around $30, and is good value for owners of smaller machines. It comes with a 5-year warranty, which is quite generous.
At the other end is the Plus model, which offers a much greater power output, but at three times the price, being around $100. However, you also get a ten-year warranty with this model, so it may be worth it for owners of larger motorcycles and ATVs.
The waterproof 800 model is double the price of the Junior, and its warranty is reduced to just three years. However, owners of boats may consider the higher price worth it for the waterproofing, despite the reduced warranty period.
Which One Should You Buy?
Battery Tender® JR: This Tener is lot more than a low price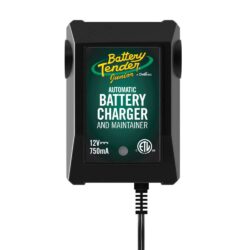 Battery Tender® Junior 12V 0.75A Charger and Maintainer
The Battery Tender® Junior is the ideal charger and maintainer to maintain your automotive batteries when storing them in your garages. This charger also includes the ring terminal harness for permanent attachment to your battery so you needn't buy an extra one.
Pros
Small size, very compact
Low price (under $40)
Supplied with quick connect cables
Maintain batteries at the optimum level of charge
Cons
Only 750 mA output, meaning slow charging
Not waterproof
Recommendation
The Battery Tender Junior is perfect for motorcycles with smaller batteries and cheaper than its counterparts on review. Owners of scooters and smaller-engined vehicles should buy this model.
Battery Tender® Plus: Higher price equals good quality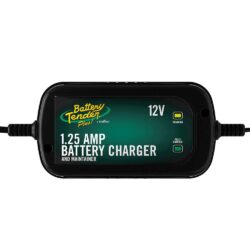 Battery Tender® Plus 12V 1.25A Battery Charger and Maintainer
Battery Tender® Plus is a perfect choice for keeping your rarely used battery in a fully charged state. Just leave the Quick Disconnect Accessory Cable connected to the battery, then unplug it and start your vehicles whenever you need without jumpstarting.
Pros
Much greater amperage for quicker charging
Crocodile clips and quick connector included
Best for maintaining car battery charge level
Ten-year warranty
Cons
Slightly larger than the other models
Recommendation
With a greater power output, the Battery Tender Plus is designed for owners of larger-engined motorcycles and ATVs, etc. You should buy this model if you prefer quicker charging of larger motorcycle batteries.
RELATED: Schumacher SC1343 vs Battery Tender Plus vs Noco Genius2: Which Is The Best Trickle Charger?
Battery Tender® WP 800: Best charger for water vehicles with water-proof feature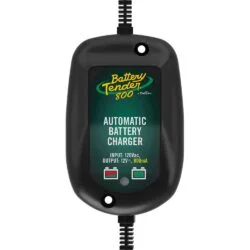 Battery Tender® WP 800 12V SuperSmart Charger
WP 800 is the best charger for Sports applications, especially boat or jet ski. Equipped with a waterproof feature, it'll make you forget the risk of the charger getting wet when charging outside.
Pros
Waterproof – great for use on jet skis & boats
Compact size
Charges all lead-acid battery types
Four-stage automatic charging
Cons
Double the price of the Junior model
Only a three-year warranty
Recommendation
Being a waterproof model, the Battery Tender® WP800 is aimed at the boating market, where there is the risk of the charger getting wet. Therefore, anyone with a boat or jet ski should consider this model over the others.
RELATED: Battery Tender 1.25 Amp Vs. 4 Amp Vs. 5 Amp: How big of a Tender do I need?
FAQs
Can I use the Battery Tender® to Jump Start my Vehicle?
No, the Battery Tender charger models on the review are all designed as chargers. They do not have an internal battery that you can use to jump-start your vehicle.
While these chargers don't jump-start a car battery. Battery Tender® do have a Battery Tender® Jump Starter product line, you can see more of their jump starter products on Amazon.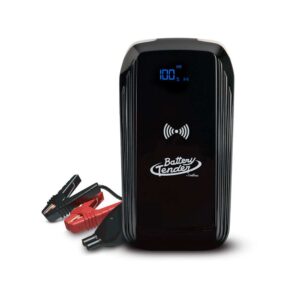 Battery Tender® 1000A Jump Starter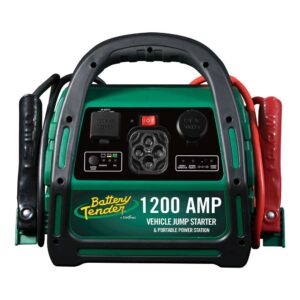 Battery Tender® 1200A Jump Starter
The Battery Tender is designed for boats and jet skis, so is it waterproof?
Only the Battery Tender® WP 800 is fully waterproof.  While the other models may be drip-proof, they are not designed to be used near large amounts of water.
Are smaller Battery Tender® models suitable for charging car batteries?
No, the three models in this review are not suitable for charging car batteries. This is because the power output they provide is too low for larger batteries, and the charging time would be unacceptable. However, all three models on review can be used to maintain car batteries in optimum condition once fully charged.
What is the quick connector designed for?
The quick connector cable remains attached to the battery at all times and allows you to connect your Battery Tender® easily. It is handy when the battery is in a difficult-to-access location.
Do these charge my battery automatically?
Yes, once connected, the Battery Tender® charger all switch into automatic mode. This is a 4-step process that checks the battery charge, bulk charges and then uses absorption mode to complete the charging. Once fully charged, the Battery Tender® will maintain the correct voltage as long as it is connected.