Lead-acid batteries used on vehicles have a finite life, and the Jeep Wrangler battery is no exception. So when you need to replace the battery on your Jeep Wrangler, which should you buy? 
In this brief article, we look at the choice of battery available by the Wrangler model and give you the lowdown on the specifications you need to know about.
AT A GLANCE: 3 TYPICAL BATTERIES FOR 4 GENERATION OF JEEP WRANGLER
What Is The Best Battery For A Jeep Wrangler 
Jeep specify the battery standard for each model of the Wrangler, and the best battery meets or exceeds this standard. There are three main points to consider:
Group. Battery sizes are defined by their group. The group size specifies the height, width, and depth of a battery. 
CCA Rating. CCA stands for Cold Cranking Amps and is a measure of the power the battery can give to start your engine from cold. Your new battery must match or exceed the recommended CCA rating for your generation of Jeep, which is between 550 and 650 amps. 
Jeep Wrangler battery terminal. The battery cables on your Jeep Wrangler may only reach a battery with the terminals in the correct position. Make sure your new battery matches the current specification if you are unsure.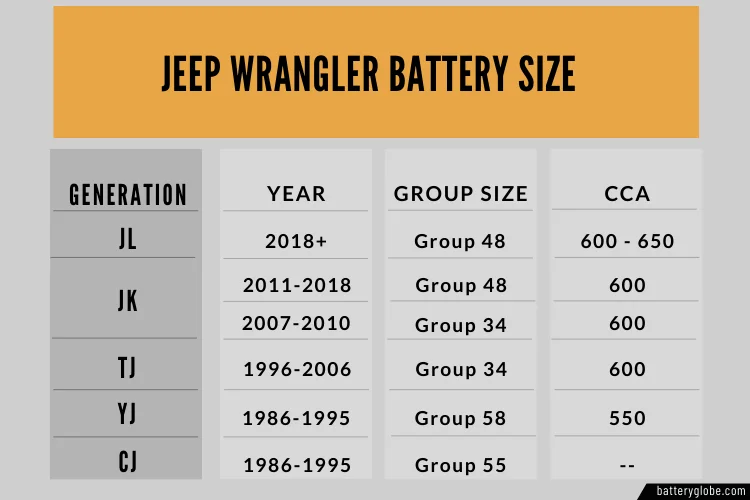 One last point to consider is the warranty. A good branded battery will offer a longer warranty for peace of mind. 
When choosing your battery, you will need to know which generation and model year you own. The batteries are different, so it is important. 
Best Jeep Wrangler Batteries By 4 Latest Generations 
Each generation and year of the Jeep Wrangler has a specific battery type, which we discuss below. 
Best batteries for Jeep Wrangler JL (2018 – Present), and JK 2011-2018
What features to consider when buying a battery for Wrangler JL, and JK 2011-2018? 
The JL model, from 2018 – present, and the JK model from 2011 – 2018 both use a group 48/H6 battery, which has dimensions (L x W x H) 306 x 175 x 192 mm.
Until the model year 2019, both generations of the Jeep had a CCA rating of 600 amps, but 2020 and 2021 JL models are supplied as standard with a 650 CCA battery.  
ACDelco Gold Group 48 AGM 
ACDelco Gold 48AGM
Using AGM technology, the AC Delco will be extremely vibration resistant.
AC Delco's Gold 48AGM battery is advertised as a group 48 size battery, but it is 15 mm wider than the specified group size of 175 mm. This will most likely not make a difference, but it's worth measuring your battery box just in case. 
The AC Delco doesn't quite match the Optima for CCA power but comes close with an impressive 760 CCA. The reserve capacity of 120 minutes is again a little less than the Optima, as is the C20 rating of 70 Ah.  
However, where the AC Delco does score above the Optima is in price. At around $185, the 48 AGM is about $125 less than the Optima DH6 but offers a very similar specification. 
The AC Delco will be very vibration resistant using AGM technology, but the company does not indicate how much better.  
Pros
Low price compared to others reviewed here
Lighter weight than the competition
760 CCA for easy cold starting
36 months warranty limited warranty
Cons
Slightly wider than the group 48 specification
Lower power than Optima DH6
Optima YellowTop Group 48/H6
Optima Batteries DH6
Optima claims that the DH6 has fifteen times greater vibration resistance than prior versions thanks to Absorbed Glass Mat (AGM) technology and enhanced internal architecture.
The DH6 dimensions are slightly smaller than the standard Group 48, at 278 x 175 x 190, so it easily fits the Jeep Wrangler battery box.
Optima is known for making powerful batteries, and the DH6 Yellow Top doesn't disappoint, giving 800 CCA, easily surpassing the minimum required for the Wrangler. A C20 rating of 72 Ah and a reserve capacity of 140 minutes complete the power ratings for this rugged battery.  
Using the Absorbed Glass Mat (AGM) technology and improved internal design, Optima claims the DH6 has fifteen times more vibration resistance than previous models.  
The extra power also comes with excess weight, and the Optima weighs in at a heavy 54 pounds. If you value capacity over less weight, then it's a price worth paying. The biggest downside is the price, but with the DH6 setting you back around $310, you get a lot of battery for the money. 
Pros
800 Cold Cranking Amps
Absorbed Glass Mat construction
Excellent vibration resistance
Long reserve capacity of 140 minutes
36-month warranty
Cons
Heavy at 54 pounds
Around $125 more expensive than the AC Delco
Best batteries for Jeep Wrangler JK 2007-2010, and TJ (1996-2006)
What features to consider when buying a battery for Wrangler 2007-2010, and TJ 1996-82006? 
For generation JK model years 2007 – 2010, and generation TJ all model years, the correct battery is a group 34, with dimensions of 260 x 173 x 200 mm.
It is also crucial to note that the group 34 batteries also come in 34R standard. The R means that the positive terminal will be on the right.
If you choose an R version, it may be difficult to connect the battery leads. Batteries for these generations of Jeep Wrangler must have a CCA rating of at least 600 amps. 
Optima YellowTop Group 34/78
Optima Batteries D34/78
Its internal technology and AGM are fifteen times more vibration resistant than ordinary batteries.
Optima's OPT8014-045 battery matches the group 34 dimensions almost perfectly, being just a little shorter in length than the standard, at 254 x 175 x 198 mm.  
Power-wise, the Optima easily exceeds the minimum CCA required for these generation Jeep Wranglers, providing a powerful 750 amps. The C20 rating of 55 amp hours is acceptable, and a reserve capacity of 120 minutes is okay but not class-leading.
That said, the Optima is the cheapest of the three group 34 batteries here, so if your budget is tight, this would be a good choice. 
On the positive side, the Optima is one of the lightest batteries here, coming in at just 43.5 pounds. For some, this is more important than power.
As with all Optima's, they claim its AGM and internal technology are fifteen times more vibration resistant than standard batteries. 
Pros
Around $70 cheaper than the XS Power
750 CCA for perfect starting in all conditions
Only weighs 43.5 pounds
Vibration resistance is fifteen times better than standard batteries
Cons
Low C20 rating
Low RC rating
XS Power Group 34
XS Power D3400
This battery provides 900 CCA amps, and the D3400 has an RC of 160 minutes and a C20 rating of 80 Ah.
The length and width of the D3400 match the group 34 specification exactly, but at 182 mm high, it is almost 2 cm lower than standard. The reduced height shouldn't cause an issue, but you may need to pack out the securing strap for a good fit in the battery box.  
At around $360, the XS Power D3400 is the most expensive group 34 battery here by some margin. For the extra money, you do get increased power.
XS Power does not quote CCA values, only Cranking Amp (CA), which in the case of the D3400 is 1150 amps. This should give a healthy 900 CCA amps. On top of this, the D3400 offers an RC of 160 minutes plus a C20 rating of 80 Ah. 
According to XS Power, the D3400 is aimed at powering your in-vehicle accessories, such as powerful ICE systems, rather than as the engine starting battery. That said, it has plenty of power to be your main battery if required. 
Pros
900 CCA gives effortless starting in any conditions
RC rating of 160 minutes
80 Ah C20 rating
Cons
At $360, the XS Power is the most expensive battery here
Designed for running accessories, not engine starting
Odyssey PC1500DT Group 34/78 
Odyssey 34/78-PC1500DT
Odessey claims 850 CCA, 68 amp C20 rating, and 135 minute RC rating.
Priced at around $310, the Odyssey neatly slips between Optima and XS Power in terms of price. Despite being over $50 cheaper than the XS Power, the Odessey still gives 850 CCA, a C20 rating of 68 amps, and an RC rating of 135 minutes, putting it firmly in the middle ground of performance. 
One thing to check is the exact size of your battery box, as the Odessey is actually 17 mm longer than the standard group 34 specification. While 17 mm isn't much, it could make the difference between a snug fit or not fitting at all. 
Unless you need the extra power offered by the XS Power battery, the Odessey might be the perfect compromise between performance and cost. Even better, the Odessey comes with a four-year warranty and a class-leading 400 deep cycles life, keeping you on the road for longer. 
Pros
850 CCA gives reliable starting at any time
The price is midway between the XS Power and the Optima
Four-year warranty limited warranty
Cons
Slightly longer than the group 34 standard
Best battery for Jeep Wrangler YJ 
What features to consider when buying a battery for Wrangler YJ?
For YJ generation Jeep Wranglers, replacement batteries should be from group 58, with a standard size of 255 x 183 x 177 mm.
The OEM battery specification was for 550 CCA, so this is the minimum you should be looking for. However, group 58 batteries are now difficult to find, and the best replacement we could see was the AC Delco 47AGM. 
ACDelco Group 47 AGM 
ACDelco 47AGM
One advantage is the AC Delco's light weight, which comes in at little under 40 pounds. The 47AGM is an AGM type wet acid battery that provides exceptional deep cycle performance and requires no maintenance other than charging.
With group 48 batteries becoming increasingly hard to find, the AC Delco 47AGM is a good alternative, with dimensions very close to the group 48 standard.  
At around $280, the 47AGM is not the cheapest 630 CCA battery around, but unless you want to alter your battery box to fit a larger battery, your choice is limited. The C20 rating of 60 Ah and RC of 115 are equally less than earth-shattering figures but adequate for this generation of Jeep Wrangler. 
One positive is the AC Delco's low weight, coming in at just under 40 pounds. As an AGM type wet acid battery, the 47AGM gives good deep cycle performance and is completely maintenance-free except for keeping it charged. 
If you struggle to find a group 48 battery for your Jeep Wrangler, the 47AGM will fit the bill. 
Pros
630 CCA is an 80 amp increase on the OEM battery
Priced at $280, the 47AGM is one of the cheaper batteries here
A good alternative for difficult to source group 48 batteries
At under 40 pounds, this is a light battery
Cons
Only a little more powerful than the OEM battery
RELATED: Best Jump Starter For Diesel Engines Review 2022 [with Buying Guide]