Schumacher Electric has been a premium manufacturer of auto parts and electronics for over fifty years. With that in mind, Schumacher battery chargers are recognized around the world as high-quality pieces of equipment. In fact, the company is an official supplier for NASCAR.
Of course, not every manufactured product is going to operate perfectly for its entire lifespan. Even the best battery chargers can malfunction. In this article, we are going to outline some basic checks, guidelines, and troubleshooting methods for Schumacher battery chargers.
How To Check The Condition Of Your Battery
First and foremost, it is important to understand that your battery charger may not be the problem. Very often, your battery may be experiencing issues, rather than your battery charger.
Before you begin to diagnose any symptoms of your Schumacher battery charger, you will want to properly check the condition of your battery. Here are some steps to help you do that:
Use a voltmeter to ensure the voltage is between 12.4 and 12.7 volts.
Alternatively, you can test your battery with a multimeter or a power probe.
You should always look for any leaking or corrosion on the battery.
RELATED: Fluke 117 vs. Klein MM700 – Which Multimeter Should You Buy?
Schumacher Battery Charger Light Meaning
We can determine a lot of helpful information from looking at the indicator lights on your Schumacher battery charger.
Schumacher Battery LED Indicator Meanings:
Solid Red: The battery is connected correctly.
Flashing Red: Reverse polarity connection detected.
Solid Yellow/Orange: The battery is charging.
Flashing Yellow/Orange: The charger is in abort mode, and charging has stopped. To reset the charger, unplug it for a few minutes, then try again.
Flashing Green: Charging is complete. The battery charger is switching to maintenance mode.
Solid Green: The battery charger is in maintenance mode.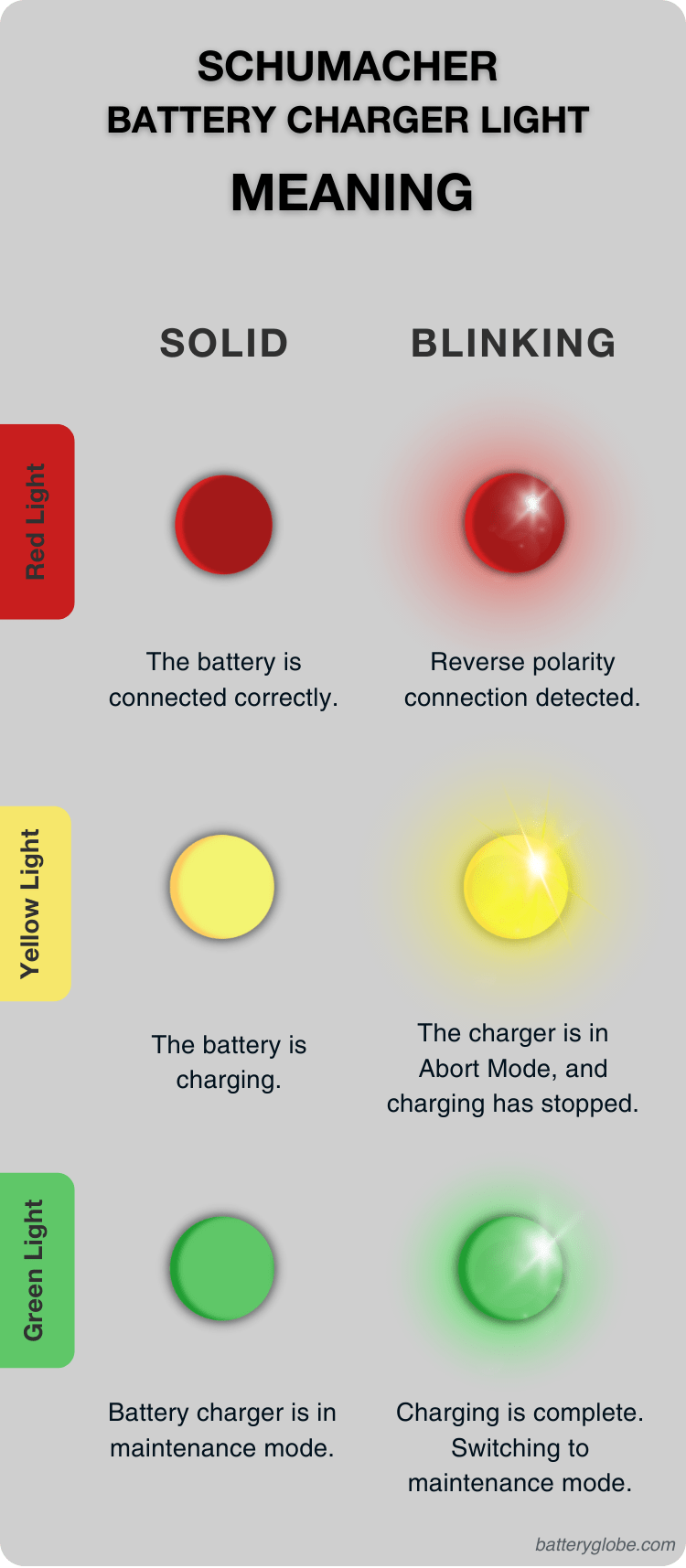 How Do I Know If My Schumacher Battery Charger Is Not Working?
Schumacher battery charger red and green light blinking
Problem: This combination of charger LEDs indicates a possible problem with your battery pack, and the charger cannot continue.
Solution:
Battery packs have a limited life, and over time they degrade and cannot be charged. If that is the case, you either need to buy a new battery pack or replace the batteries inside the pack.
Another cause is that sometimes the battery pack falls below the minimum charge level. The Schumacher battery charger can detect this and prevent charging from taking place. 
It is possible to raise the faulty battery pack's voltage by connecting it to a fully charged battery pack for a few seconds. When you reconnect the charger, the voltage should be high enough to allow charging to start.
Schumacher battery charger flashing yellow light
Problem: If you see a blinking yellow light, this means that your battery is in "Abort mode". 
Solution:
Unfortunately, abort mode prevents a battery from finishing its charge. Simply unplugging, waiting, and replugging in your charger is the best way to overcome a blinking yellow light.
Schumacher battery charger flashing green light
Problem: A flashing green LED on your Schumacher battery charger means your battery is 80% charged.
Solution:
You don't need to do anything, as the charger will automatically enter maintenance mode, and once the battery is fully charged, the LED will go solid green.
Schumacher charger flashes red: What does it mean?
Problem:
There are two possibilities for a flashing red LED on your Schumacher battery charger, but the warning tells you the battery is not charging. This might be because of bad connections or the battery pack is failing.
Solution:  
Bad Connection: Try adjusting the connector position on the battery terminals to remedy this fault. 
Bad Battery: If the connection between the charger and the battery is good, our battery pack may be failing. You can either buy a new battery pack or replace the individual cells in the pack, but this is a more technical job. The battery may also be deeply-discharged.
Schumacher battery charger no lights
Problem: The AC outlet is dead.
Solution:
If no lights come on when you plug in your Schumacher battery charger, you need to check that it is getting power.
The easiest method is to plug another device into the same outlet and make sure it works. If it doesn't, then the outlet is the problem. If the second device works, then you have a problem with your charger.
Schumacher Battery Charger Not Charging: Other Problems And Solutions
Schumacher battery chargers are relatively simple machines. Here, we will explore some of the most common problems and fixes for typical, routine issues.
Your Schumacher battery charger is clicking on and off
There are a few reasons why your battery charger may switch from on to off. Schumacher battery chargers have built-in protection systems.
If your battery may overheat, the charger will automatically switch it off in order to prevent damage. If the temperature seems normal, then unplug the charger and reverse the connections.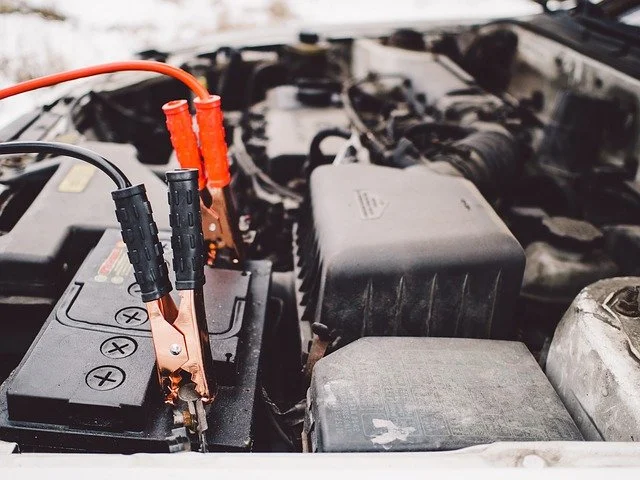 Schumacher battery charger keeps turning off
Problem: Possible issue with the mains power outlet.
Solution: 
Two quick and easy ways to test this. 
First, plug the battery charger into a different mains outlet, and if it works correctly, the original outlet has a problem. 
Second, plug a different item into the suspect mains outlet, and if it works correctly, then the battery charger has a problem.
Schumacher battery charger keeps turning off when properly connected
If your Schumacher battery charger will not turn on while it is properly connected, you may need to replace your main power regulator board. Double-check to make sure your connection is secure and that your battery is working properly before replacing a part.
Schumacher battery charger won't charge
Problem: Blown Fuse
Solution:
The Schumacher battery charger has an internal fuse that you can change, but it requires you to dismantle the charger.
Each model of Schumacher battery charger is slightly different, but the outer case is held together with several screws, some of them concealed.
Step 1: Open the battery charger case
To dismantle the case, remove any obvious screws first, then try pulling the case apart, using a plastic spatula to lift the case's edge gently.
It should be apparent if there are still more screws holding the case together. Concealed screws could be under a sticky label, so have a good look around the case.
Step 2: Check the fuse with a multimeter
Once the case is apart, you should be able to find the fuse and check it with a multimeter. 
Step 3: Install an external fuse holder?
To make your life easier in the future, it may be worth attaching an external fuse holder on the outside of the case to bypass the internal fuse.
Schumacher battery charger won't charge batteries when it is connected and turned on
If the display on your Schumacher charger indicates that it is on, but not charging, follow these steps.
First, jiggle and rock your clips back and forth. This will ensure the problem is not with the connection.
Next, try a different appliance:
If you discover that you are able to charge a different battery with the charger, then the original battery is defective.

In order for the battery charger to turn on and work properly, the battery must reach at least 4 volts. Oftentimes, the battery has been deeply discharged. You can jump-start the battery and try again.

If you are not able to charge another device, then you may have to replace your battery charger.
There is a clicking sound while the battery is charging
Clicking sounds are very common when using a Schumacher battery charger.
Solution:
If you begin to hear a clicking noise, simply allow the device to continue to charge for up to 20 minutes. Ensure that the leads are on the correct poles.
If they are and the clicking continues, it is likely a problem with the battery. If the problem persists with a new battery, there may be an issue with the connection.
Schumacher Battery Charger Repair Manual
Guidelines In Using A Schumacher Battery Charger
Find the right place to charge your battery
Overheating is the number one problem that causes batteries to defect. Choose a sensible place to charge your battery when using a Schumacher battery charger.
For example, a good place to charge any battery is a well-ventilated room with plenty of space for the battery to "breathe."
Use the right charging mode for different battery types
The technology your battery uses is the most important thing to know about your power system. The most common types of batteries seen on the market today are flooded, AGM, and lithium-ion.
In order to fully understand which kinds of charging mode you can use, you must fully understand the chemistry of your battery. An AGM battery should be charged with an AGM charging mode to extend the lifespan of the battery as well as the charger.
Always use the correct voltage charger
The voltage of a battery will always determine the best charge controller to use. In most cases, automobiles and smaller appliances will run using a 12V battery.
Smaller appliances like lawnmowers may use a 6V battery. Thankfully, some of Schumacher's battery chargers are designed to handle both 6V and 12V loads.
Unfortunately, if you were to use too high of a voltage battery charger, you can potentially damage your battery. Incorrect voltage regulation can lead to loss of performance or overall battery life.
Final Thought 
In conclusion, even the best instruments may experience problems. In this case, it is very important to understand the basic malfunctions of your battery before setting blame on the battery charger.
We hope that this guide was helpful to you when troubleshooting your Schumacher battery charger.
RELATED: Schumacher SC1343 vs Battery Tender Plus vs Noco Genius2: Which Is The Best Trickle Charger?