Power Wheels toy vehicles use a 12-volt battery to turn the electric motor. At some point in time, you will need to replace the battery.
At this point, you might be considering using an alternative Power Wheels battery. Still, you must be careful to choose the correct type. 
Don't be tempted to use a standard 12-volt car battery, as this will not last. You must choose a 12-volt deep-cycle lead-acid battery.
AT A GLANCE: 3 BEST POWER WHEELS 12V REPLACEMENT BATTERIES
| | ExpertPower 12V 12 Ah | Mighty Max 12V 18AH | Miady 12V 20Ah LiFePO4 |
| --- | --- | --- | --- |
| Battery Type | AGM | AGM | LiFePO4 |
| Running time at 5Ah draw/ Ah rating | 2.4 hours/12 Ah | 3.6 hours/18 Ah | 4 hours/20 Ah |
| Lifespan | 3 - 4 years | 4 - 5 years | 7 - 10 years |
| Outstanding Features | Great value at under $30 | High impact resistant case | Long working life |
| Score | 8 | 8 | 10 |
| | | | |
What To Consider When Installing An Alternative 12-volt Power Wheel Battery?
Battery Type
When choosing an alternative, you need to decide between a standard lead-acid or the newer lithium-ion phosphate version.
Lead-acid Battery
New Power Wheels toys are supplied with lead-acid batteries. There are two good reasons for this. First, lead-acid batteries can withstand being overcharged, and second, they are far cheaper than similar capacity lithium-ion batteries.
Lithium-ion Phosphate Battery
A lithium-ion battery has one major valuable characteristic on Power Wheels toys. They can be deep-cycled to below 80% of their power rating and recharged without damage.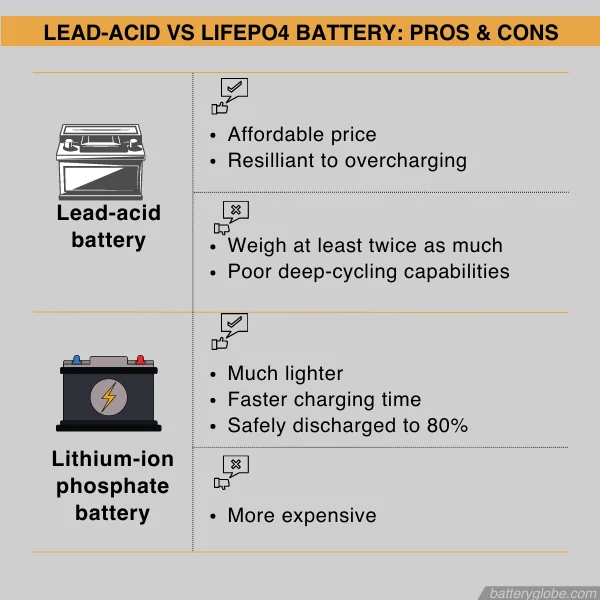 Battery Size
Lead-acid car batteries are classified into groups, which specify the battery's physical dimensions. Check the size of your Power Wheels battery and find the right battery group using this size to battery group chart.
Connector
The safest way to connect your new battery would be to reuse the original Power Wheels connector if possible.
However, this would need some adaptation as a standard 12-volt battery will only come with two common connection terminals. Protecting the terminals is very important as a short circuit could cause the battery to catch fire.
Fuse
Original Power Wheels batteries have an internal fuse that protects against a short circuit. Putting a fuse on one battery cable is essential to protect against short circuits.
The Power from a 12-volt battery will not electrocute you, but a battery fire may cause severe burns. Make sure you cover any exposed terminals and connections.
Original Power Wheels batteries have short running times before they need recharging again. By fitting one of the alternative batteries listed below, you could increase the toy's running time and save some money. 
What Alternative Power Wheels 12-Volt Batteries Are Available?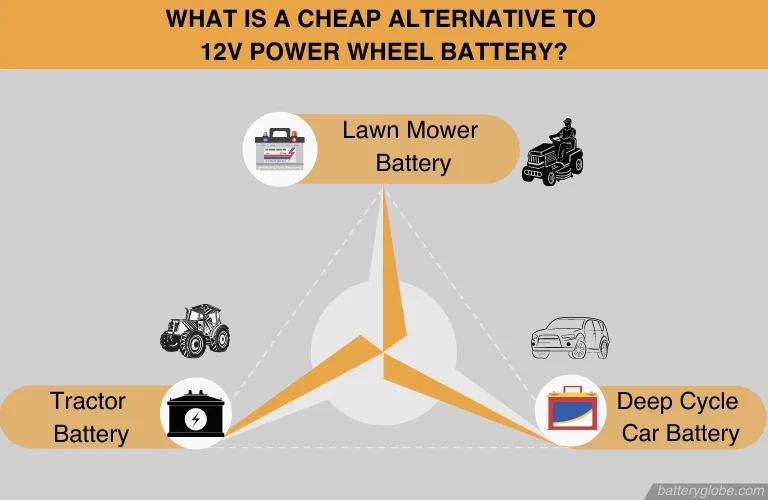 Lawn Mower Battery For Power Wheels
Batteries designed for electric power lawnmowers are ideal as replacements for your Power Wheels battery. Just make sure the battery is the same voltage, has a similar or greater Ah rating, and fits the Power Wheels battery box.
The problem with using a lawnmower battery is that you will have to adapt the connector between the battery and the Power Wheels electrical system.
Buy an alternative battery for your power wheel online:
Miady 12V 20Ah
RELATED: 5 Best Lawn Mower Battery Chargers For Garden Tools Review
Tractor Battery For Power Wheels
If you are thinking of an electric tractor battery, they will work. Make sure you are using a deep-cycle battery, not a tractor battery designed to start the engine of a standard tractor. 
The electric tractor batteries are not designed to propel the vehicle quickly, so if you use them in a Power Wheels toy, you may see a decrease in performance.
Buy an alternative battery for your power wheel online:
Mighty Max 12V 18AH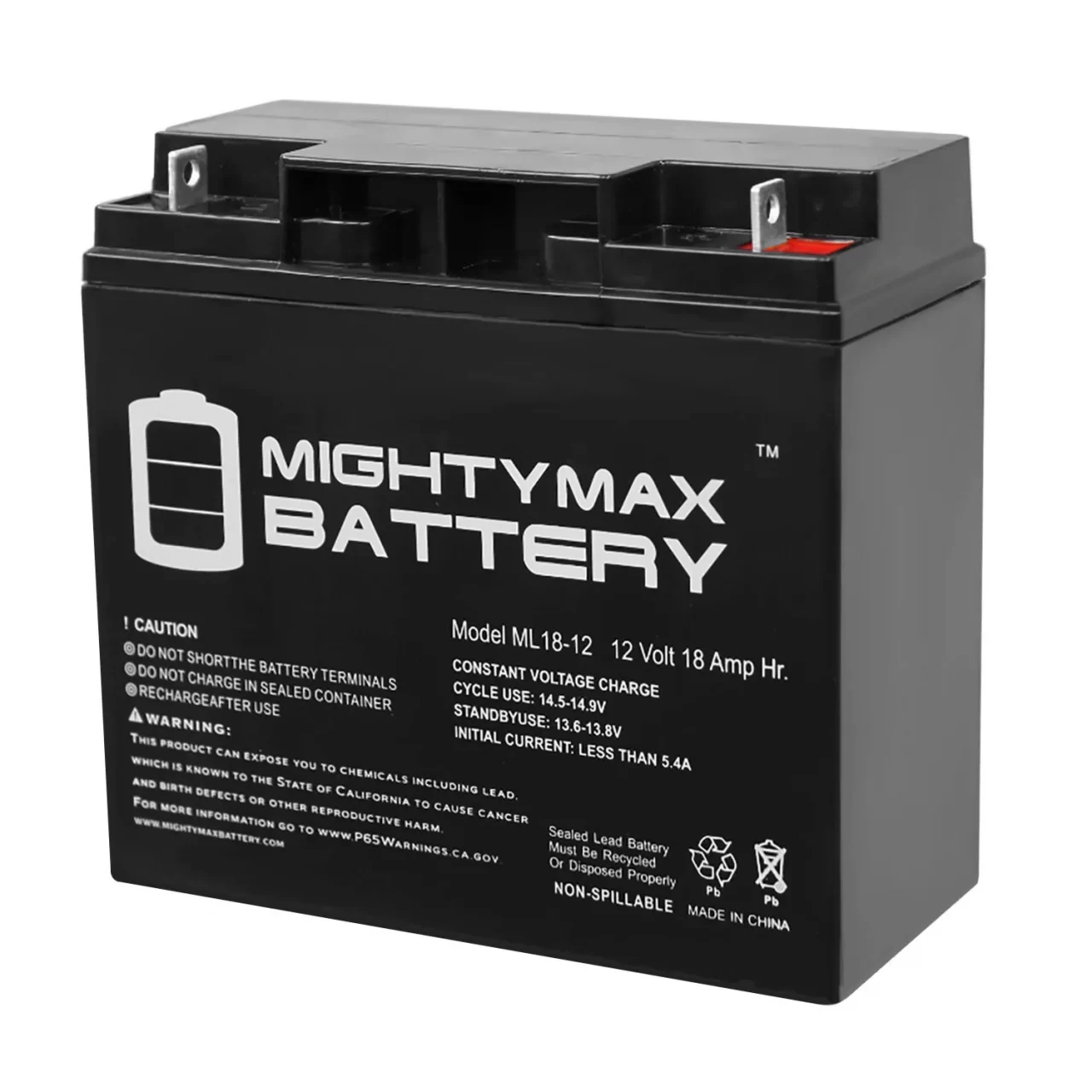 Deep Cycle Car Battery For Power Wheels
A deep-cycle car battery is ideal as an alternative Power Wheels battery. Just make sure it fits the battery box and offers the same or more excellent power rating.
The biggest issue with standard deep-cycle car batteries is their weight. It is very tempting to upgrade the capacity when you get a new battery. Still, the added weight may cause steering problems, mainly if the battery is near the front.
Buy an alternative battery for your power wheel online:

ExpertPower 12 V 12 Ah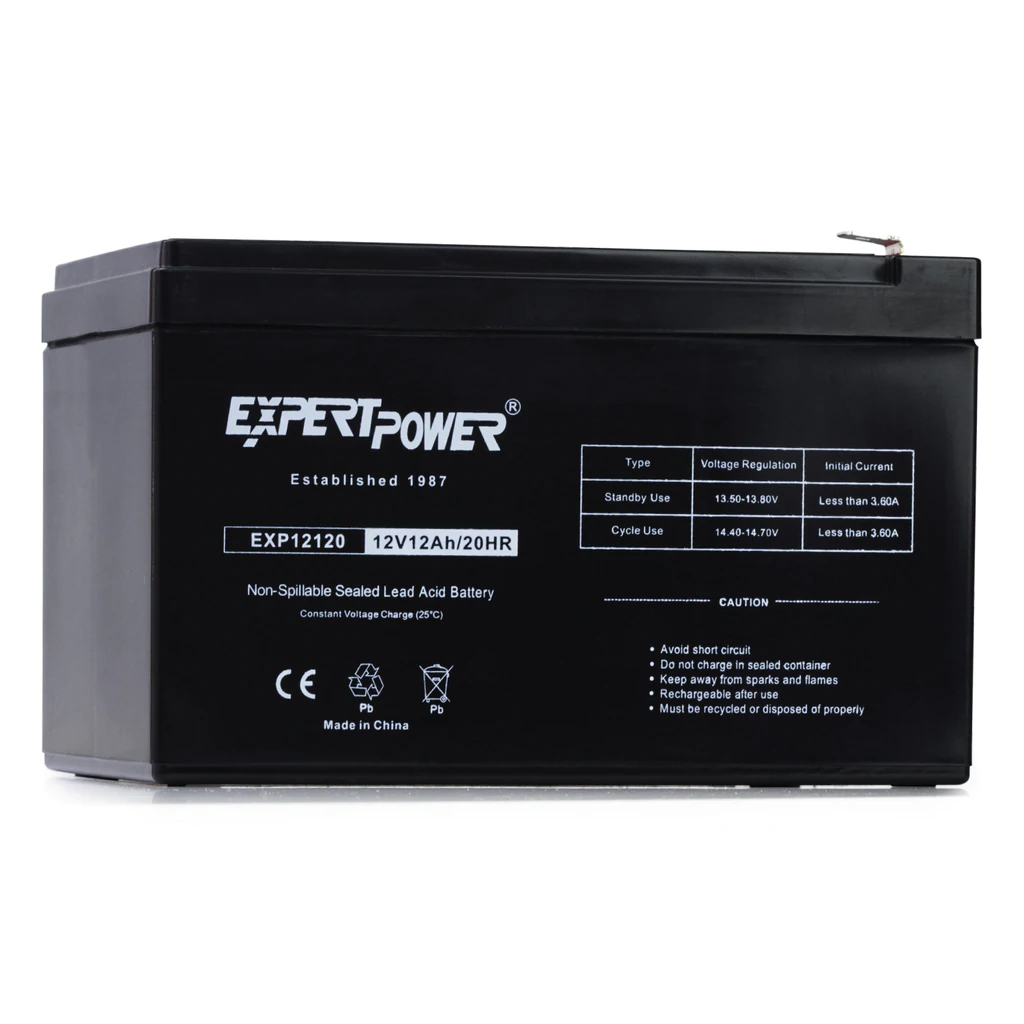 Cheap Alternatives To A 12-Volt Power Wheel Battery
Expert Power 12Ah SLA Battery
ExpertPower 12V 12 Ah
The Expert Power 12 Ah SLA battery is an excellent alternative to the original Power Wheels battery, giving a comparable performance at a much lower price.
Why Should You Buy The Expert Power?
Price
At under $28, the Expert Power is lower priced than the OEM battery and gives similar performance.
Power Output
The Expert Power gives plenty of power, rated at 12Ah considering its price. This is more than enough for some Power Wheels toys.
Weight
This battery is a couple of pounds lighter than the standard Power Wheels batteries at just seven pounds. The lighter weight will improve the battery life between charges.
Low Maintenance
The Sealed Lead Acid (SLA) Absorbed Glass Mat (AGM) design means the only maintenance required is to keep the battery charged. 
Strong Outer Case
The battery's outer case is shock, vibration, and heat resistant, so perfectly safe in your Power Wheels toy.
Pros
Half the price of a Power Wheels battery
Lighter than the original battery
Maintenance-free except charging
Who Should buy The Expert Power?
The Expert Power is perfect for anyone looking for a cheap replacement for their Power Wheels battery.
Mighty Max ML18-12 18Ah SLA Battery
Mighty Max Battery 12V 18AH
Fitting the Mighty Max 18Ah battery to your Power Wheels toy will extend your child's playtime between charges significantly, at a lower price than buying a Power Wheels original.
Why Should You Buy The Mighty Max Battery?
Increased Power
The Mighty Max offers improved performance, providing 18 ampere-hours in a similar-sized tough case.
Deep-Cycle Capability
Power Wheels toys need deep-cycle batteries, and the Mighty Max doesn't disappoint. This battery should give you several hundred charge cycles before you need to replace it.
Sealed Battery
Built using the AGM technology, the battery acid is held within the glass mat and is sealed for life.
Strong Case
The plastic outer case is designed to withstand knocks and vibration, so fitting it to your Power Wheels toy is not a problem. 
Pros
18 Ah output
Similar weight to lower power Power Wheels battery
Maintenance-free AGM technology
Who Should Buy The Mighty Max?
Anyone that needs to replace their Power Wheels battery and is considering an upgrade in performance at a low price should consider the Mighty Max.
Miady LFP 20 Ah Lithium Battery
Miady 12V 20Ah
For a lighter and much more powerful alternative battery for your Power Wheels toy, the Miady lithium battery is hard to ignore.
Why Should You Buy The Miady LiFePO4 ? 
Lithium-ion Technology
Lithium-ion Phosphate (LiFePO4) batteries have significant advantages over standard lead-acid batteries. One of the most important is the discharge curve. Even when a LiFePO battery is at 15% charge, it still provides almost maximum voltage and Power.
Weight
At only 3.97 pounds, the Miady is a third of the weight of an equivalent lead-acid battery. This benefits the speed and runtime of your Power Wheels toy.
Increased Battery Life
Whereas a lead-acid will typically allow a few hundred charging cycles before replacing, the Miady will last around 2000 cycles. 
Warranty
At 18 months, the Miady beats all the lead-acid battery warranties on offer here.
Pros
20 Ah rating
Constant voltage even at low levels of charge
Very light compared to lead-acid type batteries
Increased battery life
Who Should Buy The Miady LiFePO4?
With a considerable weight saving, increased capacity, and working life more than double that of AGM batteries, the Miady is for those that want to use their Power Wheels toy as much as possible.
Weize 20 Ah SLA Battery

Weize 12V 20AH
Look no further than the Weize 20 Ah AGM battery for extra performance at an affordable price, featuring AGM internal technology in a rugged ABS case.
Why Should You Buy The Weize Battery?
20 Ah Rating
Giving a total of 20 ampere-hours of Power, the Weize offers increased performance and a significant increase in run time for your Power Wheels toy.
Lightweight
It packs a powerful punch for its weight at just over nine pounds, improving performance and runtime between charges.
Long Storage Time
Absorbed Glass Mat (AGM) technology batteries have a slower static discharge rate of 40% per year. If you accidentally forget to charge your battery, it is more likely to be okay.
ABS Case
A strong ABS case protects the battery internals from knocks, vibration, and chemicals.
Pros
Improved performance with 20 Ah rating
Anti-overheat cover giving improved battery life
It weighs just over nine pounds
Who Should Buy The Weize?
Anyone who wants longer running times between charges should consider the 20 Ah Weize, which comes at a great price.
Conclusion
When you need to replace your Power Wheels battery, it is worth looking at alternative products on offer. Standard lead-acid deep-cycle batteries will give the same Power but are cheaper. 
A more expensive option is the LiFePO4 batteries. These will cost double that of a lead-acid alternative but offer significant advantages.
FAQs
How long does a power wheel 12V battery last?
Your original Power Wheels battery should give you around three to four years, but this depends on the terrain you use it on and how you maintain the battery. 
How long does a battery last while in use?
You should typically expect around two to four hours of use between charging, but this depends on how hilly the terrain is and how fast the toy is driven.