Lithium batteries have many advantages over lead-acid variants that make them perfect for RVs. 
You can discharge a deep-cycle lithium battery by 95% without damaging the battery, which would kill a lead-acid version. Lithium batteries have no regular maintenance needs, and there is no electrolyte to top up.  
A lithium battery will weigh less than half of a lead-acid variant for the same power characteristics. Many lithium batteries now come with a ten-year warranty, so they easily outlast any lead-acid battery. 
This article looks at seven of the best lithium batteries for RVs. It discusses why you should consider upgrading from lead-acid batteries.
AT A GLANCE: 3 BEST LITHIUM BATTERIES FOR YOUR RV
| | Ampere Time AP-100 | Battle Born 100Ah 12V | Lynx 12V 200Ah |
| --- | --- | --- | --- |
| Battery Capacity | 100Ah | 100Ah | 200Ah |
| Charging Cycles | 4000+ | 3000 - 5000 | 3000 |
| Weight | 24 pounds | 29 pounds | 36 pounds |
| Our Recommendation | Best for the first time to replace a lead-acid battery with lithium one | Best for ultimate in lithium and BMS technology | Best for longer running time |
| Score | 9 | 9.5 | 9 |
| | | | |
3 Things To Consider When Buying New Lithium Battery For Your RVs
Before buying a new lithium battery, what factors should we consider?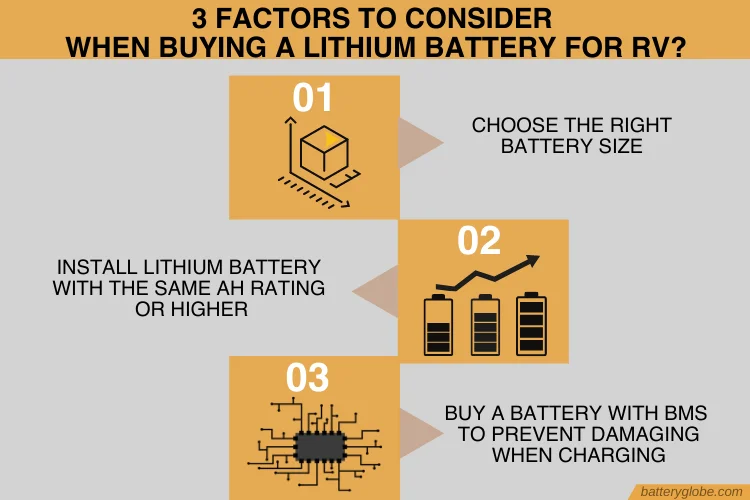 Battery Size 
Space in some RVs can be limited, so staying with batteries of the same group size or smaller may be essential. The other advantage of sticking to the same group is that the battery mountings will still fit without modification. 
Battery Capacity (Ah rating) 
The battery capacity determines how long you can run your RV systems when not connected to the main power outlet. You should at the very least install lithium batteries with the same AH rating as you had before.
However, with the better power to size ratio, this could be an excellent opportunity to increase the Ah rating without adding size or weight. 
Battery Maintenance System Features 
Lithium battery management systems (BMS) constantly monitor individual cells' voltage and internal temperature. They prevent the battery from damaging when charging, particularly in low-temperature conditions.  
It is vital to buy a lithium battery with a good BMS. Many cheap battery manufacturers skimp in this area, which could shorten the working life of your battery. 
7 Best Lithium Batteries For RVs
One of the most important aspects of choosing a lithium battery is the battery management system. Cheaper batteries tend to fail in this area, so spending a little more to get a good BMS will pay dividends in the end. 
We have selected the best lithium RV batteries based on the following:
Size – suitable for fitting to an RV battery tray 
High capacity, powerful battery 
Good BMS features 
Highly recommended by RV owners on RV forums 
Best 100Ah Lithium Batteries For RV Below $400 
Ampere Time AP-100 12V 100Ah Deep Cycle LiFePO4 Battery

Ampere Time LiFePO4 12V 100Ah
This 100 Ah lithium battery is the perfect replacement for your RV's lead-acid battery, providing over 4000 charging cycles.
Why Should I Buy This Product? 
Value for Money
At just under $380, the Ampere Time AP-100 lithium battery offers excellent value. However, there is a problem because the BMS does not include a low-temperature cut-off feature.
If you never intend to use the battery below freezing conditions, this won't be a problem, but it is something to consider. 
Power and Charging Cycles 
So what about the good features? The Ampere Time AP-100 has a genuine 100 Ah of power and over 4000 recharging cycles. The company claims between 4000 and 8000 cycles, which is excellent. 
Warranty
The battery comes with a five-year warranty, which is not the longest we've seen, but it's more than double that of a lead-acid battery.  
Lightweight
Weighing just over 24 pounds, the Ampere Time is around 1/3 the weight of a similar lead-acid battery. That's a substantial weight saving. 
Constant Voltage
Holding a steady voltage level during discharge is essential for RVers. The Ampere Time maintains over 12.8 V for at least 80% of its capacity. 
BMS
The built-in BMS protects the battery from damage in every situation except low-temperature charging. 
Pros
Five-year warranty 
4000+ cycles 
Lightweight 
Cons
No low-temperature charging cut off 
Verdict 
Ampere Time AP-100 is the best 100Aah battery below $400 for RVs used very regularly in warmer climates. 
Miady 12V 100Ah Lithium Phosphate Battery

Miady 12V 100Ah LiFePO4 Battery
An excellent low-maintenance alternative to lead-acid batteries, saving weight and gaining power, the Miady is a superb choice for RVs.
Why Should I Buy This Product? 
Excellent Battery Management System
The benefit of a comprehensive BMS is that it will prevent damage to your battery and extend its working life.
The Miady scores points in its comprehensive BMS, protecting from overcharging, over-discharge, over-current, and temperature extremes. The BMS also provides a cell balancing feature to protect individual cells and extend the battery life. 
Long Storage Period 
While stored, the discharge rate of the Miady is very low, perfect for RVs kept away from your home.
It is easy to forget about charging your RV batteries, but the Miady should hold a charge for up to a year. Lead-acid batteries would be junk if left that long. 
Performance
Compared to similar lead-acid AGM batteries, the Miady offers significant performance gains. The lithium battery is half the weight of the same size lead-acid battery but gives double the amp-hour rating. 
Pros
Constant voltage when almost fully discharged 
Comprehensive built-in BMS
Extremely slow discharge characteristics
Cons
Only 18 months warranty
2000+ charging cycles is low compared to the competition 
Verdict 
The Miady is an excellent choice for RVs stored away from a power supply due to the low discharge rate. 
Best 100Ah Lithium Batteries For RV Below $800 
Battle Born BB10012 LiFePO4 Deep Cycle Battery
Battle Born BB10012 LiFePO4 100Ah 12V
Although the initial cost is high, you can expect the Battle Born to last well over ten years, and the manufacturer's ten-year warranty backs this up.
Why Should I Buy This Product? 
Excellent Battery Management System (BMS) 
Lithium batteries require a good BMS to maintain and protect them from damage, and Battle Born's BMS is one of the best.
The complete BMS protects your investment from damage from over or undercharging, extreme temperature, and ground faults. Battle Born has the best BMS on the market, accounting for the higher price. 
RV Owners Choice 
Battle Born has become a favorite brand among RV owners switching from lead-acid to lithium batteries. They consistently recommended the manufacturer on RV forums for power and reliability, but you do pay for the quality. 
Charging Cycles and Discharge Voltage
With the Battle Born BB10012, you get a battery that will give you between 3000 and 5000 recharging cycles while also providing a constant 12.8 volts even when almost fully discharged. 
Ten-year Warranty
Battle Born is so confident in their product that they offer a ten-year warranty, giving great peace of mind. 
Pros
3000 – 5000 cycles 
Excellent BMS built-in 
Ten-year warranty 
Favorite brand of many RV owners 
Cons
Most expensive in this group
Verdict 
For the best quality lithium RV battery, the Battle Born BB10012 is difficult to beat, but you do pay for the features. 
ExpertPower 12V 100Ah LiFePO4 Battery
ExpertPower 12V 100Ah LiFePO4
Extensive BMS protection features, such as overcharge, undercharge, short circuit, and deep discharge, ensure your lithium battery gives long working life.
Why Should I buy This Product? 
Extensive BMS
Expert Power claims their BMS has unique features. The ability to restrict the discharge to enable a one-year storage period is a standout feature. The temperature protection prevents charging in temperatures below 23 degrees Fahrenheit (-5 C), which would damage the cells. 
Up to 7000 Charge Cycles  
Lead-acid batteries typically allow 300 or 400 charge cycles before beginning to fail. Add the 2500 – 7000 charge/recharge cycles, and Expert Power 100Ah will extend the battery life enormously. You even get a ten-year warranty to back this up.
Lightweight 
Weighing just 22.6 pounds, the Expert Power 100 Ah lithium battery is the lightest on the test. This battery should be at the top of your list when weight is considered in your choice. 
Powerful even when Discharged 
The Expert Power gives you 12 volts output even when discharged to just 5% capacity.  
Pros
Very lightweight 
Good value
Quality built-in BMS 
Ten-year warranty 
Cons
Weak carrying handle – take care 
Verdict 
The comprehensive BMS features and up to one-year storage with no maintenance make this a good battery for the occasional RV user. 
SOK SK12V100 100Ah 12V LiFePO4 Battery
SOK Battery 100Ah 12V LiFePO4
With quickly replaceable components and a seven-year warranty, the SOK will suit RVers who like doing their maintenance. 
Why Should I Buy This Product? 
Up to 8000 Charge Cycles 
Lithium batteries are more expensive than lead-acid equivalents, but with 8000 charge cycles, the SOK will quickly repay your investment. 
Replaceable Cells and BMS  
Every lithium battery is constructed from several individual cells to provide the required voltage and amp-hours.
In most cases, these are not easily replaceable, but they designed the SOK for easy maintenance. If one cell fails, you can easily replace it. The same applies to the BMS, which protects the battery, saving money and extending the battery working life. 
Warranty
SOK offers a seven-year warranty, which is not the highest on the market but is still very reassuring. 
Pros
Up to 8000 charge cycles 
Replaceable BMS 
Replaceable cells 
Seven-year warranty
Cons
Terminal placement may not suit your RV wiring 
Verdict
SOK SK12V100 is an excellent battery with a good warranty. It offers the home mechanic to replace damaged cells and even a failed BMS.
Best 200Ah Lithium Batteries For RV 
Ampere Time AP-200 12V 200Ah Battery
Ampere Time AP-200 12V 200Ah LiFePO4
If you need the extra power of a 200 Ah battery, the Ampere Time LiFePO4 lithium battery won't disappoint at an excellent price.
Why Should I Buy This Product? 
Great Price 
For a 200 Ah lithium battery, the price of around $650 is excellent and cheaper than some only offering 100 Ah. The extra power could be an ideal upgrade for RVers when you renew your old lead-acid batteries. 
High Power
With 200 Ah of power, the Ampere Time AP-200 will keep your RV accessories running for much longer than a lead-acid battery. Even at 95% discharge, this battery will still give you 12 volts, lasting almost twice as long as the lead-acid version. 
Excellent BMS
The built-in BMS protects the battery from potentially damaging events, including extreme low or high temperatures. 
Pros
Over 4000 charge cycles 
Great price for a 200 Ah battery 
Good BMS
Provides 12.8 volts even at 95% discharge 
Cons
Only a five-year warranty 
Terminal position may not suit your RV wiring 
Verdict 
If you have power-demanding accessories on your RV, the Ampere Time's 200 Ah lithium battery would be a great choice. 
Lynx Battery 12V 200Ah LiFePO4
Lynx Battery 12V 200Ah LiFePO4
For ultimate flexibility, consider the Lynx 12 volt 200 Ah lithium battery cells, wired in parallel or series as required.
Why Should I Buy This Product? 
Flexibility
Unlike the other batteries in this article, the Lynx consists of four battery cells, but they are not housed inside a case. This means connecting the cells in parallel or series as required. In addition, if a single cell fails, it is easy to replace, as is the BMS. 
Available Power 
With all four cells connected, you get a full 200 Ah at 12.8 volts, which means you can run all your accessories for much longer. 
Lightweight
The Lynx is very light for a 200 Ah battery, weighing 36 pounds. Some 100 Ah lithium batteries almost weigh that, and lead-acid versions considerably more. 
Pros
Flexible design without a case Flexible design without a case 
Light for a 200Ah battery
Good power characteristics
Cons
Only a three-year warranty 
3000 charge cycles 
Expensive compared to the Ampere Time 200 Ah
Our Recommendation 
We will pick two batteries from the test to recommend:
First, choose the Battle Born for the ultimate in lithium and BMS technology. Although it is expensive, it has a great warranty and excellent features. 
Battle Born LiFePO4 100Ah 12V 
If you are taking your first dip into Lithium batteries to replace a lead-acid battery, then Ampere Time 12v 100Ah could be the ideal choice. It is a cheaper option for your first lithium battery with outstanding power characteristics and a five-year warranty. 

Ampere Time 12V 200Ah LiFePO4 
How To Care For Lithium Batteries in Your RV?
Do I need to replace the converter/charger that's already in there with a specific one set up for lithium battery systems? 
There is debate over this, but to be safe, then yes, it is best to fit a dedicated lithium charger. Other chargers may be suitable, but you risk damaging your expensive lithium battery or, worse still, setting it on fire unless you know how to check this. 
What to consider when charging a lithium battery? 
The main issue is that charging a lithium battery in temperatures below 32F can cause damage. The BMS should prevent this, but not all BMS check for low temperature. This limitation must be considered if you intend to use your RV in cold climates. 
How should I store a lithium battery?
If you put your RV into winter storage, remove the batteries and charge them thoroughly before storing. Please make sure you put them somewhere that doesn't have extreme temperatures. A heated room with a constant temperature is best.
FAQs
How long does a lithium battery last?
Good quality lithium batteries can easily last more than ten years. Indeed, some manufacturers offer ten-year warranties. 
How much does a lithium battery weigh compared to a lead-acid battery?
A 100 Ah lithium battery can weigh as little as 24 pounds. They usually are around a third of the weight of similar lead-acid batteries.
How long does it take to charge a 100Ah lithium battery? 
Thanks to the low internal resistance, lithium batteries can be charged more quickly than lead-acid batteries. For example, with a 30 amp charger, a 100 Ah lithium battery could be charged in just over three hours. But you can use much more powerful chargers for quicker charging if you have them.
RELATED: Can I charge a lithium battery with a normal charger?
How to charge a lithium-ion battery with a solar panel? 
Charging your lithium battery with a solar panel is just as easy as using a charger. Still, there are a couple of points to note.
First, you will need a charge controller to monitor and regulate the voltage and current from the solar panel. This ensures you do not damage the battery by using varying voltages and currents. 
Second, charging a lithium battery with just a single 100-watt solar panel will take much longer than a charger. The advantage, of course, is that the electricity is free and generated whenever the sun is shining.