Are you looking for the best heavy-duty battery charger? If so, you've come to the right place. In this blog post, we'll be discussing the top 6 heavy-duty battery chargers on the market.
We'll also provide a buyer's guide to help you choose the right charger for your needs. So, whether you're looking for a battery charger for your car or truck, read on!
AT A GLANCE: 3 BEST COMMERCIAL BATTERY CHARGERS
How To Choose The Best Heavy-Duty Battery Charger?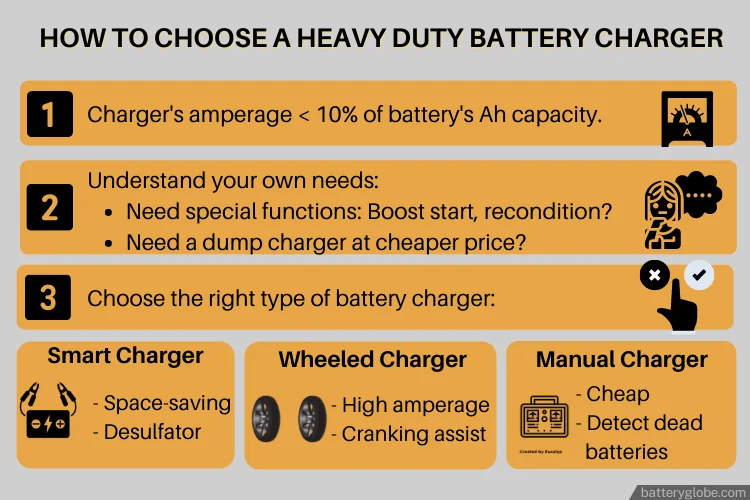 Step 1: Choose the correct charging amperage
You'll want to look for a few features when purchasing a commercial battery charger. The most important is the amperage, which should be around 10% of the ah capacity of your battery.
Step 2: Understand your own needs
It's essential to consider what type of batteries you have: SLA, AGM, or Lithium.
You'll also want to look at special functions that you may need from your battery charger. For example:
Do you need a charger with Boost start function for boost starting if batteries are deeply discharged?
Or do you want a dump charger to charge a dead battery easily?
Then make sure to look for those specific functions when shopping. Otherwise, you may end up with a charger that doesn't meet all your needs.
Step 3: Choose the right type of battery charger
There are 3 types of heavy-duty battery chargers:
Smart portable battery chargers
These chargers are perfect for people who need to charge their batteries on the go.
They're small and space-saving, and they come with special features like overcharging protection, Desulfator, or Temperature Compensation. Popular smart chargers you can buy are the Noco Genius10, Noco Genius25, and Clore PL2320.
Buy Noco Genius10 and Clore PL2320 here:
Noco Genius10
Clore PL2320
Wheeled battery chargers
Wheeled chargers are designed for commercial vehicles, with a high amperage of 30A/40A. Plus, they come with a Cranking Assist feature to boost start even diesel engines. Some popular models you can find are the Schumacher SC1309 and Associated 6002B.
See Schumacher SC1309, Associated 6002B here:
Schumacher SC1309 40 Amp
Associated Equipment US20
Old-school battery chargers (Manual battery chargers)
A dump battery charger is the best option for detecting dead batteries below 2V and then fully charging them. It's also very cheap compared to the other types of battery chargers.
Best Portable Heavy-Duty Battery Chargers
Noco Genius10 10 Amp: Best seller charger for trucks 
NOCO GENIUS10
The temperature sensor prevents overcharging in hot areas and undercharging in cold climates, making it ideal for any application.
The Noco Genius10 is an amazing battery charger that has a ton of features to make your life easier. The thermal sensor eliminates over-charging in hot climates and under-charging in cold climates, making it perfect for any situation.
The Genius10 is capable of charging batteries as low as 1-volt. For this reason, described as the best portable charger for deeply discharged batteries.
It also has a recondition function. The Genius10 automatically detects battery sulfation to restore bad batteries and extend battery life. So you never have to worry about your battery life again.
Pros
10 Amp is strong enough to charge all 6/12V batteries – even those on trucks, RVs, and diesel cars
Charges all battery types, including AGM and Lithium-ion batteries
Solid product, compact and rugged
Repair mode can help bring dead batteries back to life
Come with a plastic mount and velcro straps
Cons
The manual is difficult to read and understand
Slower charging speed on larger deep cycle batteries
Check Price at Amazon
---
Clore PL2320 20-Amp: Best heavy-duty battery charger for a cheap cost
Clore PL2320 20-Amp
This charger can give a reliable power supply if you're undertaking auto repair or if the key is turned on but the engine is not running for an extended period of time..
The Clore PL2320 20-Amp is a must-have for any vehicle owner. It can charge up to 20A, and at different voltage levels depending on the needs of your battery.
Additionally, this charger can bring a partially sulfated battery back to life, which is another great feature.
Some of the notable features include the power supply function. This charger can provide a stable power supply if you're doing auto repair, or the key is on without the engine running for lengthy periods.
It is an excellent choice for anyone in need of a quality heavy duty battery charger under $100.
Pros
Defective charger will be replaced with a new one on a 12-month warranty
It has a competitive price, especially when bought online
Temperature compensation feature protects your battery from undercharging in winter and overcharging in summer
Recondition function really works, but takes patience and periodic status checks
Have compact design and can be placed anywhere under the hood
Cons
It has very short cables, making it difficult to reach the battery
The voltage switch is close to the on/off switch, so it's easy to turn the charger off accidentally
Cannot charge lithium phosphate batteries
Check Price at Amazon
---
Noco GeniusPro50: Best battery charger for quick charging
NOCO GENIUSPRO50
This charger can diagnose and recover sulfated batteries, allowing them to last longer.
If you're a truck owner who frequently finds yourself dealing with dead batteries, then you'll want to check out the NOCO GENIUSPRO50. This heavy-duty battery charger can fast charge a 100Ah truck battery in 1.5 hours, and takes only 7.5 hours to charge a 500Ah deep cycle RV battery.
The GENIUSPRO50 also has many different charging programs designed to work with various types of batteries, including 24V batteries.
It also detects and charges deep discharged batteries, including ones as low as 1-volt. The best thing of all is that it can diagnose and recover sulfated batteries for a longer lifespan.
So if you're someone who likes to be prepared for anything, then the GENIUSPRO50 is the perfect battery charger for you.
Pros
Can fast charge a 100Ah truck battery in 1.5 hours
Have a power supply function to power 12V/24V DC devices or to maintain power during ECU flashing, reprogramming, and diagnostic testing
Can downrate power to 10-Amps to safely charge any battery sizes
Easy to use with no special modes, no technical knowledge required
Can charge AGM and Lithium batteries
Cons
Do not have an LCD display to tell you what it is doing or the battery voltage
Expensive but worth the money
Check Price at Amazon
---
Best Wheeled Commercial Battery Chargers
Schumacher SC1309 40 Amp: Best commercial battery charger below $200
Schumacher SC1309 40 Amp
It offers high-quality features at a reasonable price without being overly flimsy or cumbersome.
Schumacher SC1309 40 Amp is the best heavy-duty battery charger designed for professional use. That is a handy tool to have in your shop or garage. It helps you keep all car, RV, and marine batteries fully charged, so that they are ready when you need them.
Furthermore, it features a powerful engine start function, which gives the necessary boost to start your car in an emergency. That is an important feature if you want to be ready for any situation. With this tool, you will always have a fully charged battery and an engine that starts at the push of a button!
Truck owners can get their money's worth out of this Schumacher SC1309 battery charger. It provides quality features for an affordable price without being too flimsy or bulky. However, it might not be the best option for large trucks where space is limited.
Pros
Can charge 6 or 12-volt large batteries on your trucks, boats, RVs, and more
Commercial grade with 40 amps of power
6-foot heavy duty cables for reach
Protected against short circuits, overloading, and overheating
3-year warranty to ensure peace of mind during purchase
Cons
The screen sometimes does not light up the indicators correctly, making it difficult to tell if the charger is charging or has finished
Alligator clips are small and may not fit all truck and tractor batteries
Check Price at Amazon
---
Associated US20: Best commercial battery charger made in USA
Associated Equipment US20
The Associated US20 is a heavy duty battery charger with a continuous rating of 40 amps. It can fully charge a huge battery in 60 minutes, even if it is only charged to 25%.
The Associated US20 is a heavy duty battery charger that features 40 amps continuous rating. It can fully charge a large battery in 60 minutes even if it is charged at 0-25%.
It also has an "engine start" feature that can deliver a boost rating of 200 amps for boiling out the sulfates and reconditioning on the batteries.
Furthermore, this brand was recommended by many people online after doing lots of research about commercial battery chargers on different forums!
Pros
Made in the USA with good quality parts, it should last 20+ years of regular use
Multiple amperage and voltage settings with a simple dial
Quickly charge a heavily discharged battery when needed
100's of positive reviews from users on different forums
Cons
The meter sometimes pops off during shipping. You'll have to open it up and snap the meter back in place if this happens
3 times more expensive than the Schumacher SC1309
Check Price at Amazon
---
Best Manual Battery Charger For Heavy-Duty Cars
Schumacher SE-1052
This "dump" battery charger enables you to charge any deeply drained battery at the exact voltage and amperage you require.
If you're looking for the best old-fashioned manual battery charger on the market, look no further than the Schumacher SE-1052.
This "dump" battery charger allows you to charge any deeply discharged battery exactly at the voltage and amperage you desire. This means it can revive your battery no matter how dead it is.
However, It will continue to supply current to the battery at the chosen level until the charger is disconnected,  so make sure to unplug it after 8 to 10 hours to avoid overcharging. We recommend using a voltmeter to monitor charging.
Pros
Cheap in price compared to smart portable chargers
Can charge any drained battery, even those below 1V
Have a long-lasting lifespan of more than 10 years
Cons
It does not automatically switch to maintaining mode
The front panel is made of plastic riveted to steel, and is not very durable
It's hard to find manual chargers on the market, as smart chargers become more popular
Check Price at Amazon
---
Conclusion
If you are an owner of a large engine vehicle, then the 6 best commercial battery chargers for your needs may be difficult to find. These products give you peace of mind when you know your batteries will always have enough power to start vehicles up again in any weather condition.
Hopefully, this will help you make an informed decision about which heavy-duty vehicle battery charger is right for you. Keep in mind that what matters most is finding a charger that meets your specific needs.
RELATED: Top 6 Power Inverters For Truck Review 2022 [with Buying Guide]