Marine batteries have a tough life, so keeping them in top condition is a priority, and this is where multi-bank battery chargers are useful. There are at least two batteries in most marine situations – one to start the engine and another to power the onboard devices when the engine isn't running.  
Larger boats may use multiple batteries, and this review looks at three bank chargers that will maintain and condition three batteries simultaneously. 
How To Select A 3-bank Onboard Marine Battery Charger?  
Before buying a marine battery charger, what factors should you consider?  
Battery Type. Batteries use various internal technologies to produce electricity, including the original flooded wet cell type, but other types include Absorbed Glass Matt (AGM) and lithium.
You need to know which type you have, bearing in mind that you may have more than one type. 
Charger Amperage. Your charger should have an output of at least 10% of your battery's rating to work efficiently.
For example, a battery rated at 100 Ah will need a charger with a 10 amp output. Increasing the charger output amps will allow you to charge your battery in a shorter time. 
Charger Voltage. Using a 12-volt charger to charge a 24-volt battery will not fully charge your battery and shorten its life. Using a 24-volt charger on a 12-volt battery will damage the battery and might even cause a fire. 
Waterproofing. We are discussing marine chargers here, so waterproofing is an essential feature. Make sure any charger you buy is designed for marine use and preferably meets a recognized waterproof standard such as IP68 (Noco Genius Gen5X3) or IP67 (Promariner Prosport HD 20 Plus). 
Noco GEN5X3 vs. Minn Kota MK 315D vs. Promariner Prosport HD 20 Plus: Detailed Comparison
| | Noco Genius GEN5X3 | Minn Kota MK 315D | Promariner Prosport HD |
| --- | --- | --- | --- |
| Customer Rating | | | |
| Price | | | |
| Size (in) | 7.1x5.7x2.2 | 12.5x7.4x4 | 16,4 x 8,7 x 6,3 |
| Charging Amps Per Bank | 15 amps/ 3 banks | 15 amps/ 3 banks | 20 amps/ 3 banks |
| Distributed On-demand Charging | -- | -- | ✔ |
| Waterproofing | ✔ | ✔ | ✔ |
| Temperature Compensation | ✔ | ✔ | -- |
| Charge Lithium Battery | ✔ | ✔ | -- |
| Dead Battery Charging | ✔ | -- | -- |
| Heat-sink Design | -- | -- | ✔ |
| Multi-stage Charging | -- | 3-stage | 5-stage |
| | | | |
This article will consider three of the best chargers from three well-known and recommended brands, Noco, Minn Kota, and Promariner. We will compare the various pros and cons so you can choose the right charger. 
The similarities
As you would expect, the three brands of the charger have some similarities:
Warranty. All three manufacturers offer a 3-year warranty, giving you peace of mind. 
Waterproofing. Although the Minn Kota does not mention which waterproofing standard it meets, all the chargers are waterproof. 
Shock and vibration resistance. Both the Noco and the Minn Kota offer shock and vibration resistance. Although the Promariner doesn't mention it specifically, it is supplied with a heatsink mount that protects it. 
12-volt charger as standard. 12-volt charging is standard on all three chargers. 
Automatic charging. Connect any battery, and all three chargers will test the battery and select the correct charging method. 
Safety features. Charging lead-acid batteries can go wrong by connecting the charger incorrectly. Each charger has built-in protection for short-circuit, open-circuit, overheating, reverse polarity, overcharging, and spark-proof connection. 
The differences
Charging amps per bank
The Noco Gen5x3 and the Minn Kota MK315D give five amps charging current per bank, while the Promariner Prosport HD 20 splits its 20 amp output between the three banks, delivering between 6 and 7 amps per bank. 
Temperature Compensation
The ambient temperature can significantly affect the charging of your batteries, and both the Noco and Minn Kota adjust the charging cycle to compensate. The Promariner does not offer this feature. 
Manual Modes in Noco GEN5x3
Only the Noco allows you to select battery repair mode or force charging mode manually, while these features are controlled by the inbuilt microprocessor on the Minn Kota and Promariner.  
Dead Battery Charging
An advantage of the Noco Gen5x3 is the ability to override the microprocessor and force the charger to charge a completely dead battery. Neither the Minn Kota nor the Promariner will allow you to try and recover completely flat batteries. 
Heatsink Design. Charging three batteries from a single charger produces a significant amount of heat. The Promariner Prosport HD 20 Plus efficiently removes this heat through its heatsink mounting. 
Distributed On-demand Charging
In a multi-battery installation, you will always have batteries at different levels of charge. The Noco and the Minn Kota chargers stop charging those batteries once they are fully charged.
Promariner took a different approach, and the built-in microprocessor will divert unused amps from the fully charged batteries to the others that still require more power. This feature will reduce the charging time for your bank of batteries.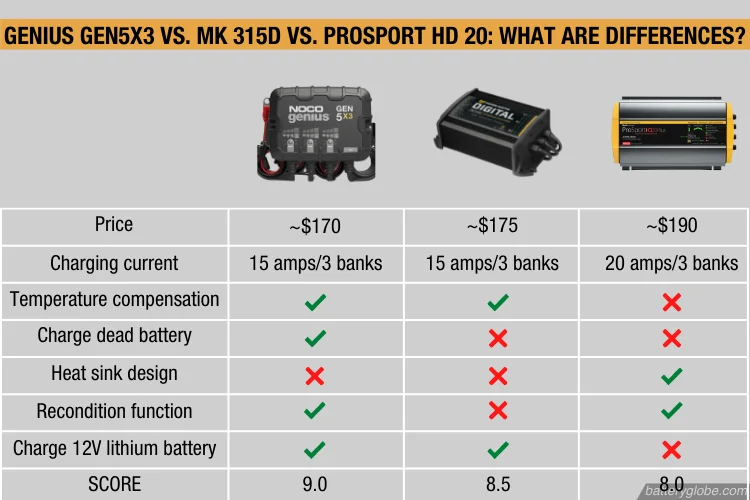 Noco Genius GEN5X3: Cheapest 3-Bank Battery Changer
Noco Genius GEN5X3
The ability to override the microcontroller and force the charger to charge a completely dead battery is one of the Noco Gen5x3's advantages.
Why should you buy Noco Genius GEN5X3?
The Noco Genius GEN5x3 is the cheapest of the three chargers on review here, selling at around $170, but the other two are only marginally more expensive, so cost shouldn't be a deciding factor.  
The Noco is also the smallest by some margin, measuring just 7.1 x 5.7 x 2.2 inches and the lightest at just 6.1 pounds. Size could be a deciding factor where you are limited by space, and many prefer a more lightweight unit.  
The Noco provides three independent charging banks of five amps each, allowing you to select the correct mode for each battery. If the battery is 12 volt AGM, flooded lead-acid, or lithium, the Noco can cope and offers a manual repair mode. 
Several useful features are found in the Noco, including the ability to charge completely dead batteries as low as 1 volt and automatic thermal charging adjustment to eliminate under and overcharging in different climates. 
A manual reconditioning feature completes the Noco's functions and LED lights to show the charge level for each connected battery. 
Who is Noco Genius GEN5X3 for? 
The Noco is perfect if you need a compact, lightweight three-bank charger with plenty of features. The ability to set independent charging modes for each battery is functional, as is the manually selectable dead battery charging.  
With automatic detection and repair of sulfated batteries, plus the ability to vary the charging depending on ambient temperatures, the Noco is great value. 
Minn Kota Digital MK 315D: Automatic Charger 3-bank Marine Battery Changer
Minn Kota Digital MK 315D
With the capacity to charge lithium batteries and a three-stage charging feature, the MK315D will keep your batteries in great condition.
Why should you buy Minn Kota Digital MK 315D?
At around $175, the Minn Kota is only $5 more expensive than the Noco, so what are the features offered by the MK315D? 
Measuring 12.5 x 7.4 x 4 inches, the Minn Kota is larger in all directions than the Noco, the length alone being 5.5 inches greater. Size may well be a factor in your choice, and as the heaviest at 14 pounds, these aspects may rule out the Minn Kota for you.  
With three 5-amp charging banks, the Minn Kota offers the same power output as the Noco, along with automatic three-stage charging to control the voltage and current supplied to your battery.  
Supported batteries include 12 volt flooded lead-acid, AGM, and lithium types, but you cannot select the type of battery for each bank. The MK315D will automatically switch off when the battery is fully charged to prevent overcharging. 
Minn Kota has included ambient temperature charging compensation, as did the Noco, avoiding undercharging and overcharging in different climatic conditions. LED indicators to show you which stage the charging process has reached and error warnings. 
Who is Minn Kota Digital MK 315D for? 
The Minn Kota makes an excellent choice if you are looking for a fully automatic charger that you plug in and then ignore.  
The MK315D will keep your batteries in top condition with the ability to charge lithium batteries and offer a three-stage charging function. Add the ambient temperature compensation to these features, and the Minn Kota is perfect for marine needs. 
ProMariner ProSport HD 20 Plus: Fastest charging 3-bank Marine Battery Chager
Promariner Prosport HD 20 Plus
The greater 20 amp output and flexibility to disperse current as needed could considerably shorten charging times.
Why should you buy Promariner Prosport HD 20 Plus?
The Promariner HD 20 Plus is the most expensive here, but at around $188, it's under $20 more than the Noco, so this shouldn't be a factor.  
What you get for your money is a large unit, measuring 16.4 x 8.7 x 6.3 inches, so you'll need plenty of space compared to the much smaller Noco. The HD20 unit weighs 7.8 pounds, making it only marginally heavier than the Noco and substantially lighter than the Minn Kota. 
Increased output of 20 amps is a bonus for this unit, decreasing battery charging times, particularly with the distributed current technology that shares the current output across all three banks based on need. This means that if one battery only needs two amps, it can send the spare four amps to other batteries if required. 
One downside of the Promariner is that it cannot charge lithium batteries, which could prove a limiting factor as more battery manufacturers switch to this technology. The charger can charge 12 volts of flooded, AGM, and gel-type batteries. 
A five-stage automatic charging sequence determines the best way to charge and recover your battery, and once fully charged, switches to monitor and maintain mode. The Promariner is the only charger supplied with a heatsink to release some of the heat buildups during charging, which can be considerable when 20 amps of current flow.
Finally, LED indicators for various charger functions, including charge mode, charge complete, battery type selected, and system check. 
Who is ProMariner ProSport HD 20 Plus for? 
If fast charging is your priority, the Promariner is the ideal three-bank marine charger. The larger 20 amp output and the ability to distribute the current as required could significantly reduce charging times.  
Add to this the digital controls and the built-in heat sink, and the Promariner makes a very good buy. 
Conclusion 
Any marine battery chargers we compared above will keep your boat's batteries in top condition with a minimum of fuss. These are the three best three bank marine chargers available now. 
For its reasonable price, small size, and excellent range of features, our choice is the Noco Genius GEN5x3. 
Noco Genius GEN5X3