Battery cables endure a great deal of stress. The materials must be tough, often located in exposed areas and carrying high currents when starting a vehicle engine.
High-quality, multi-strand copper cables are the best option for high current usage, while flexible, damage-resistant outer insulation protects them from the elements.
Our brief review of 2 gauge and 4 gauge battery cables will help to decide which is the best choice for you.
2 Gauge vs. 4 Gauge: 4 Differences to Consider before Buying
When you buy battery cables, it's essential to consider how you will use them. The diameter (gauge), resistance, and maximum current rating should all be taken into account to ensure the cable you choose is the correct one.
Diameter
A 2 gauge wire is thicker than a 4 gauge wire. In simple terms, the thicker the cable, the higher the current it can transfer.
The American Wire Gauge (AWG) is used to describe the thickness of wires. Gauge 1 is the thickest, with the wire diameter decreasing as the gauge number increases.
The diameter of a cable affects the resistance within the wire to the current flowing through it.
Resistance
A 2 gauge wire offers lower resistance to the flow of current than a 4 gauge wire.
The resistance of a cable describes the power required to send a current along with a piece of wire. This is important for two reasons:
A high resistance will reduce the available current along the wire, reducing the performance of the cable.
An electrical current passing through a resistive material will generate heat. At extreme levels, the heat could melt the cable insulation, with potentially devastating effects.
The formula to calculate the resistance (R) of a cable isn't difficult.
R=pl/A  

p=specific resistance of material; l=length; A=area = (2π * R with R=Diameter/2)
But luckily, the manufacturers do this for us and specify the maximum number of amps their cable can carry. From the formula, you can see that by increasing the area (size of the cable), the resistance is reduced, and therefore the maximum current capability is increased.
The Current Amps
Cable manufacturers specify the maximum current their cable can handle. The thicker the cable, the more current it can carry. 
Remember that the value quoted is the maximum continuous current. The cables can carry much higher currents for short periods, such as when starting a vehicle's engine.
Cable Length
The longer the piece of cable you use, the more resistance the current needs to overcome. As discussed earlier, resistance in a wire produces heat, and choosing the wrong battery cable could be disastrous.
How many amps can 2 gauge/ 4 gauge wire handle?
The maximum amps rating of a cable depends on its area, length, and resistance, as we saw earlier in the formula for resistance. A short 4 gauge cable could have a higher rating than a long 2 gauge cable, so it is essential to consider all these factors when choosing what cable gauge you buy.
As the cable length increases, the current rating of the cable reduces. Check the current rating you need before purchasing, increasing the cable diameter if required.
Table of the relationship between gauge, resistance, and current amps: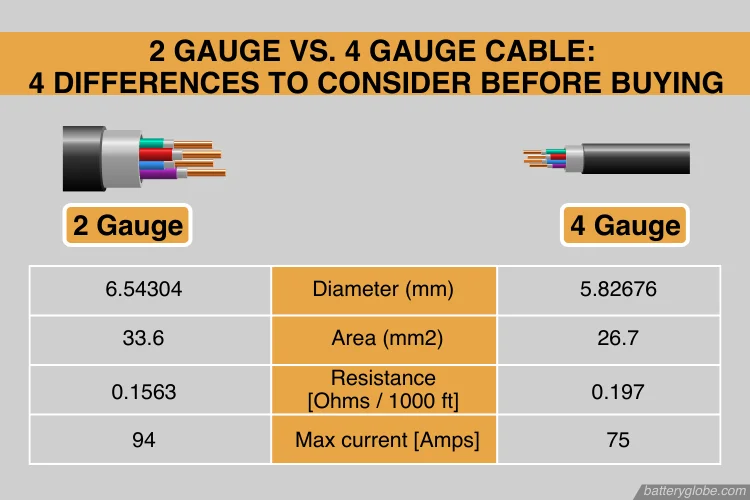 Is a Bigger Gauge Wire Better?
Not necessarily. It would be best if you bought the correct wire gauge for your needs. As the diameter of the cable is increased, the wires become heavier and less flexible. The plus side of bigger gauge cables is their ability to handle higher currents.
Pros
Higher current rating
Less chance of overheating and melting the insulation
Cons
Heavier
Less flexible
More expensive
Recommendations on 2 AWG Battery Cables
| | TEMCo WC0180 | WindyNation 2 Gauge | EWCS 2 Gauge |
| --- | --- | --- | --- |
| Customer Rating | | | |
| Price | | | |
| Nominal Diameter | 0.418'' | 0.460" | 0.420" |
| Max Current | 200 amps | 205 amps | 250 amps |
| Length | 25 ft | 10 ft | 10 ft |
| Cable Material | Pure copper | Pure copper | Pure copper |
| Country | USA | USA | USA |
| Score | 9.5 | 9 | 8.5 |
| | | | |
Top 2-gauge Cables for Business use
TEMCo WC0180-50' 2 Gauge Welding Battery Cable
It's definitely worth coughing up the cash to get this stuff. The quality of this THICK SOLID COPPER wire vs the Chinese CCA is night and day, for only a few bucks more.
Buying cheaper tools when running a business is often a false economy. These 25 feet cables from TEMCo are made from pure copper wire, offering a max power handling of 205 amps.
A heavy-duty EPDM jacket covers the cables, making them highly resistant to any damage. The cover also remains flexible down to extreme temperatures.
The TEMCo cables will give you years of reliable service, even under extreme conditions.
Best Value 2-gauge Cables
WindyNation 2 Gauge 10 Feet Pure Copper Welding Cable
Great price and durability. Just a warning that the cable is only 26 inches – that's 10 inches short of the description. However, it's not a big issues, product works as advertised.
The 2 gauge cables from WindyNation are of great value. They supply you with ten feet of red and black wires, plus ten terminal connectors and three feet of heat shrink.
The supplied heavy-duty cable lugs are solid copper with a tin coating to prevent corrosion. Both the EPDM insulation and the provided heat shrink remain flexible down to -55 degrees Celcius.
These offer excellent value if you just need a short set of replacement 2 gauge battery cables.
Low-priced 2 Gauge Battery Cables
EWCS 2 Gauge Flexible Welding Cable
Best choice for battery installation, alternator upgrade, making jumper cables. This product will never let you down with its super flexibility, and light weight.
While the WindyNation cables offer lots of extras, when you just need the cable, the EWCS is hard to beat. It is a good value at under $60 for ten feet of flexible 2 gauge copper wire.
Featuring EPDM insulation that remains flexible down to fifty degrees Celcius, the EWCS cables are ideal for all situations. The maximum current rating is 250 Amps at 25 feet, so perfectly acceptable for battery connections and high instantaneous amp.
Recommendations on 4 AWG Battery Cables
Best for Short Length Applications
Cartman 4AWG 18'' Battery Cables
Great quality at 2 times cheaper price compared with going uptown to buy these cables. Users beware that 18 inches is the total length of the black and red cables, not each cable.
The Cartman 4 gauge 18-inch battery cables are the cheapest on review, but they are an excellent choice for applications where the distance is short.
Supplied complete with crimped-on lugs, the Cartman are easy, fit, and forget cables. However, one downside is the poor low-temperature range, only remaining flexible down to -15 degrees Celcius, where others manage down to -50.
If you just need to renew some short battery connections on your car, golf cart, or RV, the Cartman might just fit the bill.
Best Cost Per Foot 4 AWG Battery Cables
WindyNation 4 AWG 10 Ft Welding Pure Copper Cables
Excellent cables at a decent price. High-quality cables, nice copper inside and sheathing. Contrary to some reviews, the diameter of the cable is NOT too small, somewhere between .21″ and .23″ in diameter is more than enough for 4AWG.
At just under $37 for ten feet of 4 gauge pure copper cable, the WindyNation product is the cheapest on the review. But don't let the low price put you off. They still offer great flexibility at extremely low temperatures, and while the maximum amps are not quoted, the 25 feet versions can handle 150 amps.
The EPDM insulation is resistant to cuts, abrasions, and oil or water ingress, while the high strand count cable adds flexibility.
For light use, such as replacement battery cables on a small car, the WindyNation 4 gauge is of excellent value.
Best Quality 4 Gauge Battery Cables
EWCS 4 Gauge 20 Ft Extra Flexible Welding Cable
This is definitely 4 gauge wire cable, whose diameter is between 0.23 and 0.24″, not undersized like what a few buyers comment. Awesome wire for the price as advertised.
At over €70, the EWCS 4 gauge premium cables are more expensive than the 4 gauge cables on this review. However, if you are looking for cables that will stand the test of time and remain reliable, look no further.
These 20 feet cables are made from 30 gauge strands, giving excellent flexibility while still being able to handle high currents.
For quality 4 gauge cables, the EWCS's should be high on your list.
RELATED: 1 Gauge vs. 2 Gauge vs. 4 Gauge – What is the best gauge for jumper cables?