Multimeters are an essential tool for electricians, and the Fluke brand is top of the range. But which Fluke multimeter should you buy? This article looks at three of the most popular Fluke multimeters, 117, 116 and 115, to discover the differences.  
All three models offer the same basic measurement features. However, the Fluke 117 adds non-contact voltage readings and the Fluke 116 offers temperature and microamps measurement.
We give you the information to choose the suitable model for your needs. 
Look At The Key Differences Between Fluke 115 Vs. 116 Vs. 117
The Fluke 115 is the more basic of the three multimeters here. It offers the essential features you need for DIY or professional electrician use. In comparison, the Fluke 116 and 117 provide additional features for specific tradespeople.  
The Fluke 117 adds the VoltAlert safety function. This feature detects voltages in live circuits without connecting the multimeter, aiding quicker fault detection.
They designed the Fluke 116 for HVAC engineers with features they need, such as temperature and micro-amp measurement.  
The Fluke 115 is ideal for electricians that don't require the additional features of the 117 and 116 models. 
Keep scrolling down the page and see the detailed comparison.
Fluke 117 Vs. 115 Vs. 116. Which Is Suitable For Your Purpose? 
| | | | |
| --- | --- | --- | --- |
| | Fluke 117 | Fluke 115 | Fluke 116 |
| Customer Rating | | | |
| Price | | | |
| Users | Industrial use | Electricians with basic requirements/ DIYer | HVAC engineers |
| AC/DC Current Measurement | 10A | 10A | 600μA |
| Auto-V function  | ✔ | -- | ✔ |
| Lo-Z Capacitance | ✔ | -- | ✔ |
| Temperature Measurement  | -- | -- | ✔ |
| MicroAmp Measurement | -- | -- | ✔ |
| VoltAlert | ✔ | -- | -- |
| Score | 10 | 9 | 9.5 |
| | | | |
Fluke 117 Vs. Fluke 115 Vs. Fluke 116 – What Are Similarities?
All three Fluke meters have the same essential functions and features required by electricians. 
Measurement Abilities 
The three multimeters on the test offer similar voltage, resistance, continuity, capacitance, frequency measurements, plus a diode test facility. 
AC/DC voltage measurement is available in the same ranges on all three, in the 600 volts or 600mV range.  
They all offer resistance measurement between 0.1 Ω to 40 MΩ. 
LED Screen
The LED screen is standard across all three models. The screens feature a backlight function to improve readability in dark environments. 
Safety Rating 
Safety is vital when dealing with electricity, and the three Fluke models meet the CAT III 600V rating. 
True-RMS Reading 
Fluctuating AC voltages offer a specific challenge for accurate measurement, particularly non-sinusoidal AC waveforms. Fluke 117, 116, and 115 all offer True RMS voltage measurement. 
Autoranging 
All the multimeters reviewed here offer auto-ranging to select the most accurate measurement range for convenience. 
Min/Max/Average Recording Mode 
Spotting fast-changing levels can be challenging, so all three multimeters offer recording min/max/average values. 
Fluke 117 Vs. Fluke 115 Vs. Fluke 116 – What Are Differences?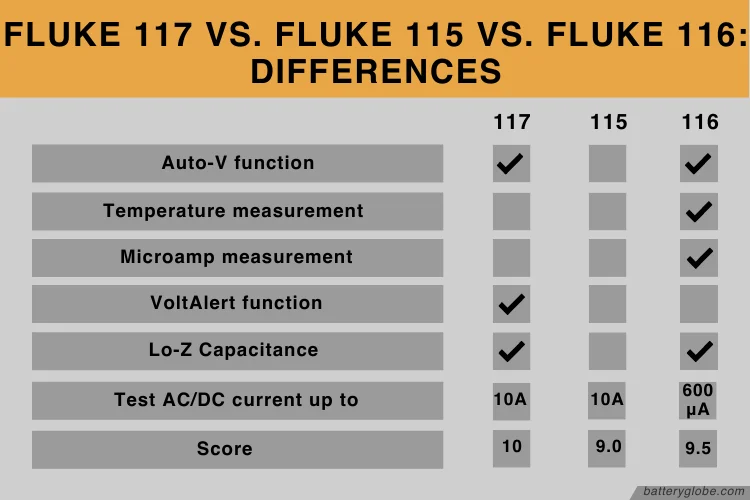 Different electrical tradespeople need additional functions, and the 117, 116 and 115 Fluke's offer distinct features for this reason. 
#1 Difference: Features 
Auto-V function on 117 & 116 
Both the Fluke 117 and 116 offer the useful Auto-V function, which automatically detects DC or AC voltages. This can save time during fault detection and is also a helpful safety feature.
Lo-Z Capacitance on 117 & 116 
Low-impedance (Lo-Z) measurement is a Fluke 117 and 116 feature. Lo-Z reduces the chance of a false reading caused by ghost voltages and provides more accuracy throughout the range.
Buy Fluke 117 and 116 with special Auto-V and Lo-Z functions.
Fluke 117 Electricians Multimeter
Fluke 116 HVAC Multimeter
AC/DC Current Measurement 
The Fluke 116 stands out as they designed it for HVAC engineers. HVAC engineers use the MicroAmp (μA) feature to test flame sensors.
For this reason, it only offers current measurement up to 600 μA, and it's only available on the Fluke 116.
Fluke 116 HVAC Multimeter
The Fluke 117 and 115 measure AC/DC current up to 10 amps. The 116 can measure larger current by using the optional extra amp clamp.
Temperature Measurement on 116 
Another HVAC feature only available on the Fluke 116 is temperature measurement. You can measure temperatures between -40°C and 400°C using the 80BK Integrated Temperature Probe. 
VoltAlert on 117 
VoltAlert is the name given to Fluke's non-contact voltage detection system, which is only available on the 117 models. This safety feature allows the user to detect live systems without touching them. 
#2 Difference: Price 
The Fluke 117 retails at approximately $207, while the Fluke 116 HVAC-specific model is around $224. The cheaper Fluke 115 is about $195 to reflect the fewer features offered by this model.
For most uses, the more affordable 115 model is sufficient. If your trade requires the specific features of the other models, the higher price can be justified.
Buy the best multimeter for money here:
Fluke 115 True-RMS Digital Multimeter
Which Fluke Multimeter Should You Buy?
Fluke 117 For Industrial Use

Fluke 117 For Electricians
Professional electricians need a reliable feature-rich multimeter. The Fluke 117 easily fits their requirements and is perfect for commercial situations such as hospitals and schools.  
Three-phase electrical supplies are usually standard in commercial buildings and they designed the 117 for this. The additional non-contact VoltAlert feature is a bonus for helping electricians to work faster. 
Fluke 115 For DIYers

Fluke 115 For DIYers
The cheaper and more basic Fluke 115 offers all the essential features you need. It measures standard voltages, currents, resistance, and capacitance.
In addition, the 115 offers continuity and frequency measurements often needed by field technicians.  
Fluke 116 For HVAC Professionals 
Fluke 116 For HVAC Engineers
HVAC professionals require particular functions and features, and Fluke designed the 116 specifically for their needs.  
The 116 model offers additional features compared to the 115 and 117. These include temperature measurement and the HVAC-specific micro-amp measurements.