If you own any Ridgid 18V battery power tools, you'll need a battery charger to be able to use it. Your original purchase will include a charger, but everything has a working life, and electrical and electronic devices fail.
When your Ridgid battery charger fails, which should you buy to replace it? We try to answer that question in this review.
Ridgid Battery Charger Buying Guide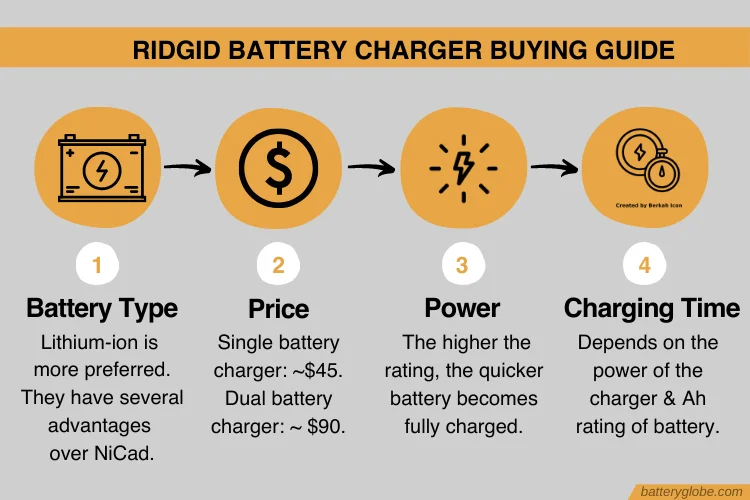 Battery Type
The primary choice is between NiCad and Lithium-ion in these applications. The battery chargers on review will charge both types of battery, but Lithium-ion is more common now, as they have several advantages over NiCad.
Price
There are two types of Ridgid battery charger on review, the single battery charger, and the dual battery charger. The pros and cons of each are discussed in the detailed reviews below.
The single battery types retail in the region of $45 on Amazon, while the dual battery type is in the region of $90.
Power
A battery charger's power rating affects the speed at which it can recharge a battery. The higher the rating, the quicker the battery becomes fully charged.
It is important to note that fast charging a battery regularly may adversely affect its working life. Its, therefore, advised only to use a fast charger when you need the batter quickly.
Charging Time
The time it takes to charge a battery depends on the power of the battery charger and the amp-hour (Ah) rating of the battery. For example, a 2Ah battery on a 2Ah charger will take an hour to charge. If the charger is rated at 4Ah, the same battery will be charged in 30 minutes.
Top 3 Ridgid Battery Chargers Review
Ridgid R840095 Gen5X 18V Battery Charger
Ridgid R840095 Gen5X 18V Battery Charger
Ridgid Gen5X is a must-have if you need a fast charger for your Ridgid batteries. Charging at 5Ah rating, it will take you only 20-25 minutes to get back to your project.
Key Features
This Ridgid 18V charger is the latest version from Ridgid and is designed to charge all their 18v batteries. Whether you have older NiCad or newer Lithium batteries, this dual chemistry charger can cope.
For energy and safety conscientious, the R840095 has energy-saving features. Once the battery charging is completed, the charger switches off. This also prevents the battery from being damaged by overcharging.
If you want a fast charger for your Ridgid batteries, the R840095 Gen5X is the one for you. With a 5 Ah charging rate, it can fully charge a 2Ah battery in under 25 minutes.
The clear LED indicators let you know the battery charging status, and even tell you if it has a fault.
Another safety feature is the airflow design of the charger. This allows cooling air to circulate around the battery, reducing the charging temperatures and maximizing efficiency.
The R840095 can be free-standing on your workbench or mounted to the wall to save space.
One issue with this charger is that Ridgid will not guarantee any charger bought through Amazon. That said, this genuine Ridgid charger has excellent reviews and is very well priced compared to the same item on the Ridgid website.
Pros
Works with both NiCad and Lithium batteries
Temperature sensing and warning
Auto switch-off
Clear battery status information
Easily mounts on a wall or pegboard
Competitive price
Cons
Not supplied in a genuine box and cannot be registered for warranty
Who's it for?
For anyone who wants to regularly fast charge their Ridgid batteries, this 5Ah battery charger will be for you. Professional tradespeople will appreciate the fast charging speed.
Ridgid R86092 Charger For 18V Batteries
Ridgid R86092 Charger For 18V Batteries
If you need a charger for your RIDGID products, this one is the best choice. It can charge all of the batteries including NiCad and Lithium-ion cells. This charger is designed to trickle charge your batteries, not fast charge.
Key Features
The Ridgid R86092 is an older style charger and is designed to trickle charge your batteries. With a 2 Ah output, a 2 Ah battery will take approximately one hour to charge, while a 4 Ah will take around two hours. Trickle charging older, deeply discharged batteries can sometimes help to revive them.
Although not one of the newer dual chemistry chargers, this Ridgid battery charger can cope with both NiCad and Lithium-ion cells. This is particularly useful if you have some older NiCad batteries in your workshop.
Despite this being the cheapest charger on the test, it still has the same features as the more expensive models.
The LED display and menu is clear and easy to read, and it has indications for charging, charged, and defective.
Battery charging stops once the fully charged state is reached. This prevents over-charging and damage to the battery, plus it saves you on electricity. Once fully charged, the charger switches to maintenance mode to keep the battery topped up at the correct level.
It seems that the plastic case material may contain lead, as it leaves a chemical smell on your hands. It's not a huge issue; just wash your hands after using it. The newer versions of the Ridgid chargers don't appear to have this issue.
Pros
Can be mounted on a wall or tool rack
Bright LEDs show charging status
Low price
Space-saving design fits in your bag
Battery maintenance mode
Cons
Bulk packaged. Not in the original packaging
The plastic material has an odd smell
Who's it for?
With a lower charging rate, this Ridgid 18V battery charger is for the homeowner with a few Ridgid tools for doing DIY around the house.
Ridgid AC840094 Gen5X 18V Battery Charger
Ridgid AC840094 Gen5X 18V Battery Charger
Dual-port charger means that it charges one battery at a time, then switches automatically to the next battery. This escapes you from carrying a bunch of chargers and save your outlet as well.
Key Features
The Ridgid AC840094 Gen5X has the unique feature of accepting two batteries at once. This is very useful, but slightly let down by the fact that it only charges one battery at a time. However, it does mean that you should always have at least one battery that is fully charged. Plus, once both batteries are charged, this Ridgid 18v charger switches to trickle charge mode, keeping both batteries at their optimum level.
Another useful feature is the fast charging rate, allowing two lower amp-hour batteries to be fully charged in less than 60 minutes.
Although this is the most expensive charger on the test, it makes up for this with great additional features. On the front panel of the charger are two pass-through AC outlets, which can be used to power small items below 5 Amps.
In the center of the front panel are two USB sockets, perfect for keeping all your gadgets such as smartphones and tablets charged. The advantage of this is that you don't need to carry multiple chargers with you, plus you are only using one outlet to charge several devices.
The Ridgid AC840094 is a newer dual chemistry battery charger that charges both NiCad and Lithium-ion batteries. That makes it perfect when you have a mix of battery types.
Finally, the charge can be conveniently wall or pegboard mounted to save on workbench space.
Pros
New dual chemistry charger for safe charging of NiCad and Lithium batteries
Two pass-through AC outlets on front of the charger
Dual USB sockets for charging other items
Feature trickle charge mode
Can be wall-mounted with rear mounting brackets
Cons
Expensive
Only charge one battery at a time, not two
Who's it for?
With all the great features, and the ability to plug in two batteries simultaneously, this Ridgid charger is excellent for tradespeople regularly on the go and visiting clients' properties.
Ridgid Battery Charger Problems
Battery charger not working
If nothing happens when you put the battery into your charger, the first thing to check is the outlet's power. An easy way of doing this is by plugging a lamp into the outlet.
Assuming the lamp works fine, try plugging the charger in without a battery fitted. If the LEDs come on, there may be a fault with that battery, so try another battery if you have it.
In case the battery charger doesn't light up, it probably needs to be repaired. If you are the original purchaser of the Ridgid tool and registered for the Lifetime Service Agreement (LSA), Ridgid will replace any parts required for free. The LSA is only available on products bought from The Home Depot.
Red light blinking when the green light is off
There are two possible fault causes in this case.
A battery that is too hot or too cold can cause this issue. Try storing the battery in a place that is not too hot or cold for a few hours and then try again.
The battery may be deeply discharged. In this case, you will need to override the safety circuit to force the battery to charge, until there is another charge for the Ridgid charger to start working.
Battery Charging Tips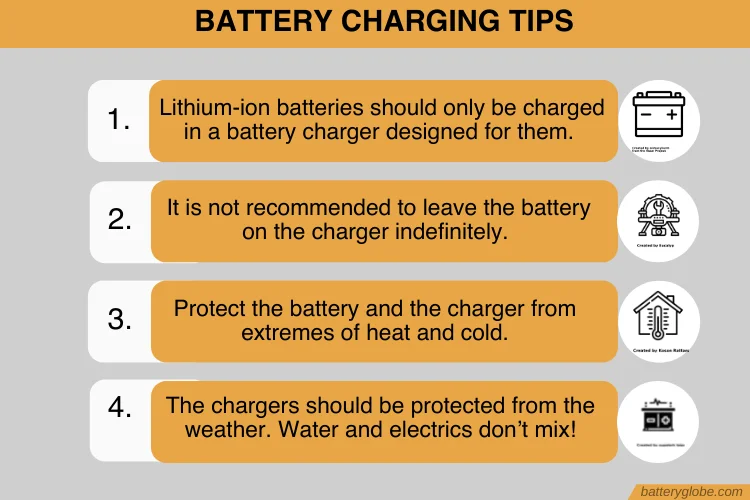 Lithium-ion batteries should only ever be charged in a battery charger designed for them. These batteries contain extra circuits for their protection, and battery chargers designed for NiCad batteries only will not work correctly. All the Ridgid battery chargers on review here can charge either type of battery.
Although many chargers have a maintenance mode, it is not recommended to leave the battery on the charger indefinitely.
Protect the battery and the charger from extremes of heat and cold.
The chargers connect to the mains electricity, so they should be protected from the weather. Water and electrics really don't mix!
Conclusion
The primary choice between these Ridgid battery chargers is either single or dual battery.
The Ridgid R840095 Gen5X and Ridgid R86092 single battery chargers do what it says on the box, keeping your battery in perfect condition. You have a choice of fast charging or average charging speed. Just remember that continually fast charging your battery may shorten its working life. For home use, either of these chargers will be ideal.
The dual battery charger has plenty of extra features to justify the higher price. Features such as two USB ports and two pass-through electrical sockets could make this the perfect battery charger for you. For tradespeople, out on the road, the extra features may justify the additional cost.
FAQs
How much is a Ridgid battery charger?
This depends on where you purchase the battery charger. If you buy them directly from Ridgid or their supplier network, they are much more expensive. Genuine Ridgid battery chargers can be purchased on Amazon at a much lower cost. But they will not be in the original box, and the warranty information will be different.
How long does it take to charge a Ridgid battery?
The charging speed depends on the amp-hour (Ah) output of the charger and the amp-hour rating of the battery. For example, a battery charger with an output of 2Ah will charge a 2Ah battery in an hour. A 4Ah charger will charge the same battery in 30 minutes.
How long do Ridgid batteries last?
Several factors affect the working life of your Ridgid battery.
First, the conditions under which the battery is stored. If the battery is exposed to extremes of temperature, this may adversely affect the battery's performance.
Second, how is the battery maintained? Allowing a battery to discharge fully without recharging it for a long-period can adversely affect the cell's life.
It is recommended to charge your battery fully and, if it is not in use, to recharge the battery regularly.
Is it OK to leave a lithium-ion battery on the charger?
Yes, in theory. However, even though the Ridgid battery chargers have a maintenance mode, it is not ideal for keeping them on the chargers for extended periods.
Does fast charging reduce battery life?
Yes, fast-charging batteries can reduce the life of the cell, although this is still being studied. It is believed that fast charging causes damage to the batteries electrodes, reducing their capacity.