Car audio equipment needs a lot of power to run. Adding a second battery to your car specifically for your audio system can provide a solution. There are a lot of factors to consider when choosing a second car battery, but we're here to help.
Here are our top 5 best car audio battery choices for 2020.
Best Batteries For Car Audio System
DieHard 38217 Group 49 Lead Acid Battery
DieHard 38217 Group 49 Lead Acid Battery
DieHard 38217 is used for small and medium-sized car audio systems. It is deep twice the cycle life of regular batteries and can be applied on most of cars on the market.
The DieHard 38217 is a deep cycle lead-acid battery that has an extremely long battery life. With an amp-hour rating of 92Ah, this battery can run for very long periods of time before needing a charge.
The 38217 uses an enhanced electrolyte suspension system to maintain charge and offer long battery life. With a high CCA rating and wattage capabilities, this battery can power small and medium systems with ease.
DieHard's 38217 is spill-proof and up to 20 times more vibration resistant than its competitors. Your car audio system will keep performing at its peak on any terrain with the 38217.
Make sure that you measure your car's battery dimensions before purchasing, however. The size listed in the description for this battery has been wrong in a few cases.
Pros
20x more vibration protection safeguards
Perfect for cold weather at 850 CCA
Double life cycle
Enhanced electrolyte suspension system
Best warranty
Cons
Size information in the description isn't correct
Cannot provide much power – not ideal for large audio systems
Who is it for?
The DieHard 38217 is a middle-of-the-pack car audio battery. It provides great power for smaller and medium-sized car audio systems without a fuss.
However, the 38217 is not meant for use in large audio systems. It can run for a long time, but the power output may be lacking.
Check Price at Amazon
---
XS Power D3400 Battery For Car Audio
XS Power D3400 Battery For Car Audio
If you need to add a second battery for your large audio system, XS Power battery will satisfy you with loud music and or even hard-hitting bass.
The XS Power D3400 is an AGM (absorbed glass mat) battery that can deliver tremendous power to your car's audio system. This Group 34 battery has more power available from the beginning. This way, your music plays as loud as you want it and your bass hits harder than ever.
The D3400 by XS Power is perfect for a car audio system that pulls about 2500-3000 watts. When the bass hits, you don't have to worry about your lights dimming. You can mount the D3400 anywhere without losing power or leaking due to its ultra-low internal resistance.
In addition, the D3400 is spill-proof, sealed, and extremely resistant to vibrations. Though the XS Power D3400 is a bit pricey, it has a long lifespan. This battery can really take your competitive car audio system to the next level.
Pros
Long Life (10 years on average)
Ultra-low internal resistance
Vibration resistant
3-year warranty
Be a good power source for amps
Cons
Pricey
Heavy and difficult to deliver
Who is it for?
The XS Power D3400 Amp Battery is perfect for large, competitive audio systems. The D3400 has enough power to play your music loud and with hard-hitting bass. There's no need to worry about draining your car's battery when you use the XS Power D3400. It also fits well in larger cars, though the D3400 is very heavy.
Check Price at Amazon
---
NORTHSTAR NSB-AGM34/78 AGM Battery
NORTHSTAR NSB-AGM34/78 AGM Battery
Another battery on our list for larger car audio system from 1,000 and 2,000 watts. It is a reliable battery for variety of vehicles with its long life span.
The Northstar NSB-AGM34/78 is a small, powerful battery that can work with a variety of systems. It has a long running time when compared to the competition. The NSB-AGM34/78 works well for medium and large-sized car audio systems.
The perfect car audio system for this battery is between 1,000 and 2,000 watts. Peak performance in this range can allow this battery to last up to 12 years.
Additionally, the NSB-AGM 34/78 has front and top terminals. This means that the battery can be mounted in a variety of ways. However, the NSB-AGM 34/78 is mounted, it can deliver consistent power at all times.
This car audio battery is also extremely vibration resistant. The plastic housing is perfect for hot weather, as it is heat resistant.
Pros
Cycles over 900 times to 50% depth of discharge
Long lifespan of 5 to 12 years
4-year warranty
Heat-resistant plastic material
Extremely vibration resistant
Who is it for?
The Northstar NSB-AGM34/78 works well for larger systems. The versatile mounting makes this battery perfect for moderately experienced car audio enthusiasts. It can power a lot of devices at once and doesn't drop voltage during use.
Check Price at Amazon
---
Odyssey 35-PC1400T AGM Automotive Battery
Odyssey 35-PC1400T AGM Automotive Battery
Odyssey is a small size battery that is recommended for car audio systems by most of the users on car audio forums. Mounting flexibility protects the battery from spilling in any position.
Odyssey's 35-PC1400T is a powerful AGM battery in a small package. Though it may not be able to power competitive systems, it runs most standard setups without issue.
This is a deep-cycle battery that can run well even with a low charge. This battery won't get damaged if it is run for long periods at high discharge levels, either. Inside, there are pure virgin lead plates – not recycled plates like most batteries. This means that the 35-PC1400T can put out more power over a longer life.
Need to mount a battery on its side? The Odyssey 35-PC1400T has a solid design and flexible mounting. In most positions, this battery will not spill and continue delivering consistent power. In addition, the 35-PC1400T is resistant to vibration even on the roughest roads.
Pros
Vibration resistance
Small and lightweight
Adaptable to extreme weather conditions
Rapid recovery (4-6 hours)
3-4 year warranty
Cons
Smaller than a Group 34R OEM battery
Who is it for?
The Odyssey 35-PC1400T is perfect for all but the largest car audio setups. It's a small, flexible battery that can adapt to extreme conditions and stay powerful. With its smaller design and mounting options, this battery works well for moderately experienced car audio enthusiasts.
Check Price at Amazon
---
Kinetik HC600 Car Audio AGM Battery
Kinetik HC600 Car Audio AGM Battery
Kinetik HC600 is a low price battery that is perfectly used for small audio systems in your cars. It is small enough to fit perfectly in a small space.
The Kinetik HC600 Black Lead Acid Battery is a performance battery that is perfect for audio systems. The HC600 can be used to power small audio systems, or as a replacement for your standard car battery. Despite its name, the HC600 is an AGM battery.
The HC600 is extremely affordable, with its price at only a fraction of its competitors. Its versatility allows it to work well for modest audio systems as well as the car itself. Kinetik's HC600 can be mounted in any position and hosts a variety of safety features to prevent leaks.
In addition to being spill-proof, the HC600 is also resistant to extreme heat and vibrations. This battery hosts great performance at an affordable price and fits in a variety of locations.
Pros
Affordable
Lightweight
Tightly packed cells
Heat and vibration resistant
Provides high power – can reach about 180dB
Cons
Not great in cold temperatures
Small terminals
Who is it for?
The Kinetik HC600 is perfect for high-performance audio systems, but it can also be used to replace your car's standard battery. The HC600 can power car audio systems up to 600 watts.
It is small and lightweight enough to fit perfectly in small cars (without weighing them down). In addition, the HC600 is a perfect budget car audio battery.
Check Price at Amazon
---
Buying Guide
There are several factors that you will need to consider when choosing a battery for your car's audio system. This second battery is important to how your system runs, so check the following specifications.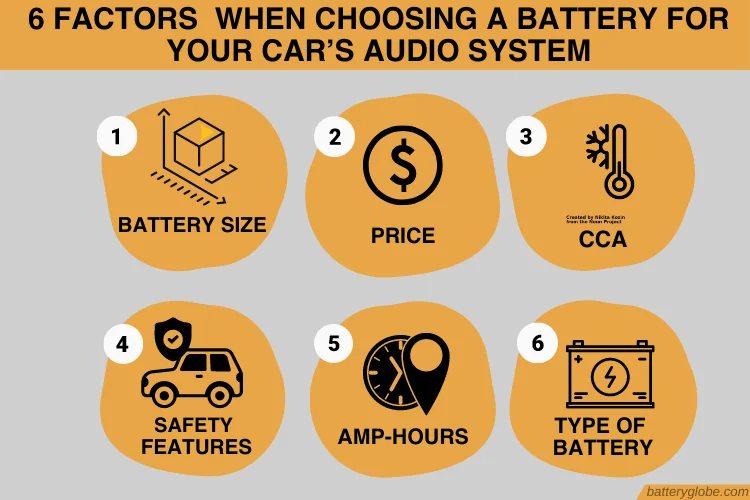 Battery Size
'Battery Size' can mean a lot of different things. It's important to consider all of them when purchasing a battery.
This can mean the battery group. In this instance, almost all the batteries we are reviewing are in Battery Group 35. This just means they are of similar size and weight.
The dimensions of the battery are important as well. Most cars have a battery tray that is sized according to what they need. You will need to choose a battery that is of similar size, even for a second car audio battery.
Additionally, weight may be an issue. Heavier batteries can weigh your car down. Often, heavier batteries do not provide better performance. In some cases, however, the weight of the battery can indicate its available power output.
Type of Battery
There are three main types of batteries for your car. Each of these battery types can be used for your car audio system, but some are a better choice.
Lead-acid batteries contain lead plates in an electrolyte solution. These types of batteries are usually very heavy and have high energy level outputs.
However, they may leak under certain conditions. Additionally, lead-acid batteries have to be charged every few months to prevent damage.
AGM batteries, or 'absorbed glass mat' batteries, are made differently. They are often lighter and suspect electrolyte solutions on a fiberglass mat. These batteries are less prone to leaking and don't discharge fast in storage.
Lithium batteries are extremely light. However, they often can't handle high power outputs. Lithium batteries, while good for cellphones and other mobile devices are not considered a good choice for car audio systems.
Price
Most of the time, the price of a car battery reflects its power output. The best car batteries are fairly expensive, but you get what you pay for. Consider the price when choosing the right battery for your car's audio system.
Amp-hours
Amp-hours (Ah) indicates how long a battery will last under a load. A battery that discharges faster will need to be charged more if it is used more.
For example, a battery like the XS Power D3400 65Ah won't last as long as the Northstar NSB-AGM34/78 80Ah when in use.
The amps that a car audio system needs depend on what is included in the system. Speakers, amplifiers, and other devices all need a specific number of amps to run.
These amounts can usually be found by looking at the fuses, inputs, and manuals on the specific devices you are using. The number of amps needed is different for each device (and for each system).
Safety Features
These batteries have certain safety features. Spill-proof batteries are sealed so they don't leak damaging battery acid no matter how they are mounted.
Some batteries are heat-resistant so they won't discharge in warmer locations. Still, others are vibration-resistant, so the battery is not damaged by normal car vibrations.
CCA
Cold Cranking Amps (CCA) represents the power the battery will have in freezing temperatures. You want to choose a battery that will start strong in colder weather, especially if you live in a colder location.
Do You Need to Install a Car Audio Battery?
There are many benefits to adding a second battery to your car. Car audio devices such as subwoofers and amplifiers require a lot of power to run. These devices can drain your car's main battery and may cause problems with your electrical system.
However, when you add a second battery specifically for audio devices, you can enjoy high-powered devices without worrying. Additionally, a second car battery can provide an additional power source for other devices. Mini-fridges, additional lighting, coolers, and more can run off of this second battery.
Because the second battery doesn't power the car itself, it also allows you to enjoy music with the engine off. All of the appliances and upgrades listed above can run while the car is off. A second car battery can make events like camping trips and tailgate parties more enjoyable.
Which Is Better, a Capacitor or a Battery?
For the purpose of powering car audio devices, a battery is better. While a capacitor can charge and discharge very quickly, a battery can store more power. A capacitor may be able to provide audio equipment with large amounts of power, but it will need to be recharged often.
Tips for Using Car Audio Batteries
It can be tricky to find the right car audio battery for your system. Keep the following tips in mind.
Remember that the more amp hours a particular batter has, the longer it can run. This can be a good thing.
However, batteries with higher amp-hours also weigh more. Make sure that you don't weigh your car down too much with your car's audio battery. Your car's starter battery is also important.
It's recommended that you use the same type and brand of battery for your second battery. Using a high-powered second battery with a standard starter battery can be bad for your car. It is ideal to use the same type of battery for your car and for your audio system.
Some sources also recommend using a deep cycle battery as your starter battery. Deep cycle batteries are designed to take the kind of abuse that high-powered systems can dish out. These batters are designed to run at low power levels without getting damaged.
Even when using a deep cycle battery, make sure that you don't completely drain it all the time. While deep cycle batteries can run very low, repeatedly draining it at every use can cause damage.