We use batteries of many types in automobiles, including Lithium-Ion, but can we charge them with a regular charger?
In most cases, the answer is no. This is because Lithium-Ion batteries need a constant voltage and constant current charge. Most lead-acid battery charges use varying voltage and current to charge and revive a battery.
This brief article describes how to charge a Lithium-Ion battery and the types of chargers you can use.
Can I charge a lithium battery with a normal charger?
In simple terms, the answer is a straight no.
Standard battery chargers do not provide the constant voltage and current that a lithium-ion battery needs. Some regular chargers may have the features required to charge lithium-ion batteries, but if you are unsure, don't use them.
In general, a regular battery charger will provide varying current and voltage to a battery until it is 80% charged and then switch to a trickle charge. This is a risky circumstance for lithium-ion batteries, as they are sensitive to overcharging.
The cells in a lithium-ion battery are charged to 4.2 volts, around 70% of their capacity. At this point, a dedicated lithium-ion battery charger will shut down. A standard charger will continue to charge with a high risk of the cell breaking down and expelling explosive gas.
Can a lithium battery be charged with other chargers? 
With lead-acid charger
Some automobiles now come standard with lithium batteries, specifically the LiFePO4 kind. For this reason, it's essential to know if you can use your old lead-acid battery charger with your lithium battery.
A few problems make charging a lithium battery with a lead-acid charger unadvisable. We discuss them below.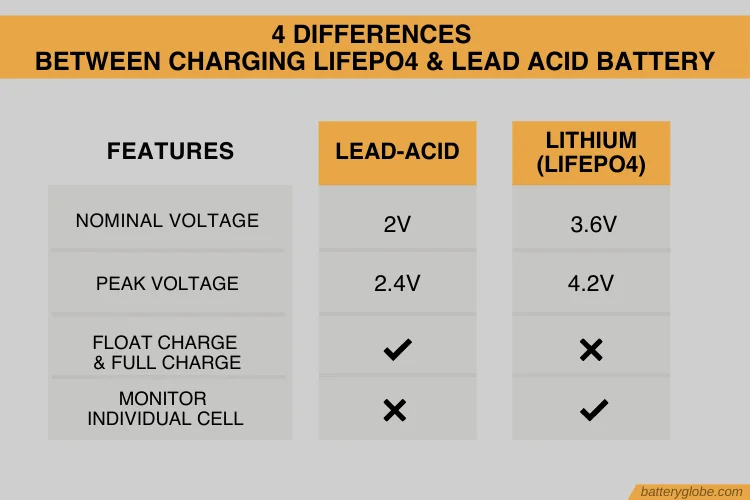 First, the individual battery cell voltages are different. LiFePO4 cells are generally around 3.6 volts, whereas lead-acid cells are usually 2.4volts.
A standard lead-acid charger is not usually suitable, as the charger's current and voltage vary during the charging cycle.
The charger may also include a maintenance stage, providing a trickle charge which will damage a lithium-ion battery. Many lead-acid chargers also have a float charge at the end of the cycle, overcharging the lithium-ion cells.
Lithium-ion batteries have battery management systems that monitor individual cells and balance the voltages. Lead-acid battery chargers cannot measure individual cell voltages, which could cause dangerous overcharging in a particular cell.
With a regular trickle charger
Never try to charge a lithium-ion battery with a trickle charger. If you do, you run the risk of the battery being overcharged, causing it to overheat and catch fire.
Once a lithium-ion battery cell reaches 4.2 volts, it must switch the charging circuit off. A trickle charger will continue to supply current and voltage.
With a solar panel
This is an excellent way of charging a battery since the electricity is free. However, you will need a controller that can provide the correct voltage and current for the battery you are charging.
With a car alternator
Yes, this is possible, but as with the solar panel, a specific charge controller must be used to ensure the battery is charged correctly.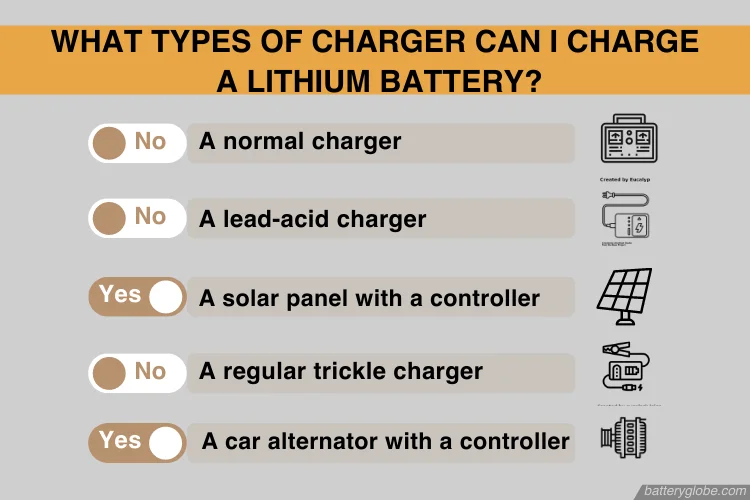 What is the best way to charge a lithium-ion battery?
The best way to charge a lithium-ion battery is to use a battery charger designed for the purpose. The charger should stop charging when the cell charge reaches 4.2 volts, around 70% charged. Chargers that do not shut off at this point could overcharge the battery and cause a fire.
Take a glance at the three best chargers for lithium batteries below
| | CTEK (56-926) | OptiMate TM-291 | NOCO GENIUS5 |
| --- | --- | --- | --- |
| Customer Rating | | | |
| Price | | | |
| Charging Current | 4.3A | 5A | 5A |
| Supported vehicles | motorcycle, car | motorcycle, car, ATV, mower | motorcycle, car, ATV, mower |
| Battery Type | 12V LiFePO4 | 12V LiFePO4 / LFP / LiFe / LiFe | 12V LiFePO4, 12V AGM, Lead Acid |
| Safety | Connect and forget charger – will not overcharge | Reset Battery Management System (BMS) feature | Fully automatic |
| Test battery health | No | Yes | No |
| Outstanding feature | Packed with safety features | External temperature charging adjustment | Excellent price and value for money |
| Score | 8 | 9 | 8 |
| | | | |
RELATED: Noco Genius2 vs Genius5 vs Genius10: Which Is An Overpriced Charger?
Lithium-Ion Batteries: Charging Guide for Maximum Endurance
With careful battery care, you can extend the life of your battery substantially. Here are a few quick tips to get the most from your lithium-ion battery.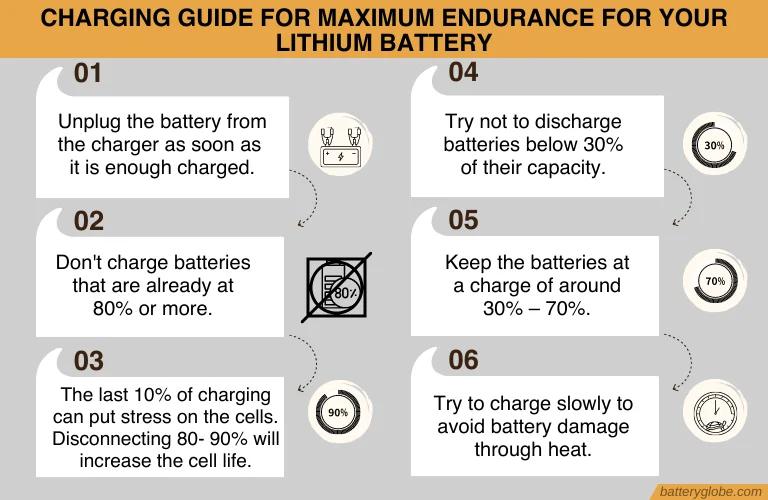 Unplug the battery from the charger as soon as it is enough charged. Overcharging it can damage the battery or even cause a fire.
Don't charge batteries that are already at 80% or more.
The last 10% of charging a battery can put a lot of stress on the cells. Disconnecting the charger at 80% or 90% charge will increase the cell life.
Try not to discharge batteries below 30% of their capacity.
Keep the batteries at a charge of around 30% – 70%.
Heat damages batteries and fast charging can cause internal heat. Try to charge slowly to avoid battery damage through heat.
Conclusion
Standard battery chargers, in summary, do not offer the continuous voltage and current required by lithium-ion batteries. If you demand and expect the best in Lithium batteries, the best option is to utilize chargers made exclusively for Lithium batteries.